This is the first article in a series of articles on the friendship between two African American artists, a "friendship beyond understanding". In every article The Harlem Renaissance plays a role.
Rob Perrée tries to answer the questions the friendship evokes.
First published April 2020
Portrait of James Baldwin, 1965 (oil on canvas). Chrysler Museum of Art Collection, Museum
Portrait of a Friendship 1
BEAUFORD DELANEY AND JAMES BALDWIN

Banner exhibition Beauford Delaney and James Baldwin. Through the Unusual Door, Knoxville Museum of Art, February-March, 2020.
The Village is no longer The Village. Manatus, my regular restaurant when I did not have a lot of money and did not want something special,, but wanted to eat something good, has been closed for a few years. There I met with my first New York love, celebrating the birthday of my always boisterous second and consolidating my marriage to my current husband. The building is still empty. As if its loaded history creates a barrier for potential buyers. From the 1980's on it was an important catering facility for the gay community of New York. You could go there day and night. One could say, It was a restaurant with a natural presence. If nothing else was open, you knew you could always go in there to eat a sobering Roquefort- burger- de luxe. I could never have imagined that Manatus would become the symbol of the decline of the West Village.
*
New York's uncontrolled rental policy forced the small businesses to make way for the Marc Jacobsen and Versacees of the world. The internet made most gay bars obsolete, the small theaters lost to the glitter of Broadway, Amazon caused the final sale of the bookstores, specialized cheese, drink and antique shops became expensive, so-called ecologically sound supermarkets. What was once a neighborhood for writers, artists, poets, actors, dandy's and homosexuals turned into a characterless neighborhood where money rules and history is sacrificed.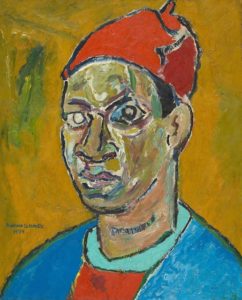 Beauford Delaney. Selfportrait, 1944, Collection Chicago Art Institute.
These thoughts occurred to me when I walked down Greene Street again and my eye fell on number 181. Hadn't I just read about that? For my research on the Harlem Renaissance? Wasn't that the address where the artist Beauford Delaney had his studio? On the fourth or fifth floor. That artist who made so many portraits of James Baldwin?
*
According to the annals, a somewhat confused 16-year-old teenager called to get advice. James Baldwin got the tip from a classmate. "You have to go to the West Village. There it happens. Famous artists and writers live there." I try to imagine his situation. An insecure black boy from Harlem, short and not very handsome, who not only struggles with his sexuality but also with his religious feelings and his loyalty to a stepfather who is a minister, asks permission to be received by a much older artist – 39 – who had already built up a name in the city, an artist who was said to be gay. It is difficult to reconstruct what exactly happened in there, but correspondence shows that they got along well immediately, that there was no lack of food for thought and lively discussions, that a basis was laid for a long friendship in which they helped each other, out of respect, to deal with difficult times.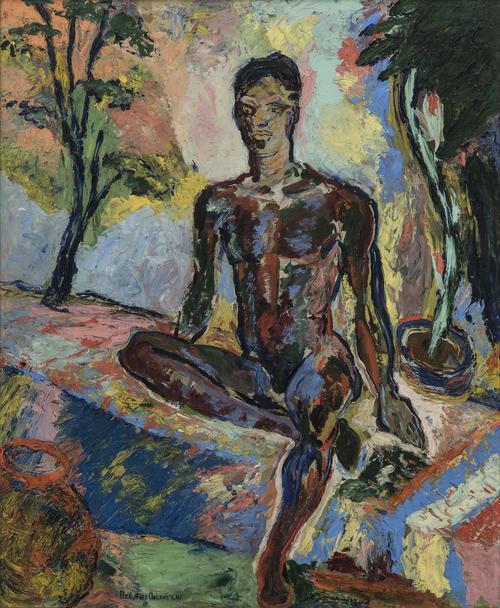 Beauford Delaney (Knoxville 1901-1979 Paris), Dark Rapture (James Baldwin), 1941. Oil on Masonite, 34 x 28 inches, Collection of halley k harrisburg and Michael Rosenfeld, New York. Image courtesy of Michael Rosenfeld Gallery LLC, New York. n© Estate of Beauford Delaney by permission of Derek L. Spratley, Esquire, Court Appointed Administrator
Although they differed in age and came from completely different parts of the country – Delaney was born in Knoxville, Tennessee, Baldwin in Harlem, New York – there were enough similarities to allow for years of friendship. They both came from a large family with a (step) father who was a minister. So they were raised with a sense of religion. They both grew up in an environment where racism was part of everyday life. Both Delaney and Baldwin struggled with their sexuality. For Delaney it led to isolation, it made Baldwin insecure, a feeling he tried to neutralize through his writing and his persona.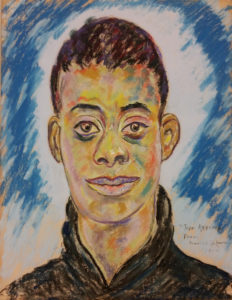 Beauford Delaney (Knoxville 1901-1979 Paris), Portrait of James Baldwin, 1944. Pastel on paper, 24 x 18 3/4 inches, Knoxville Museum of Art, 2017 purchase with funds provided by the Rachael Patterson Young Art Acquisition Reserve. Photograph by Bruce Cole. © Estate of Beauford Delaney by permission of Derek L. Spratley, Esquire, Court Appointed Administrator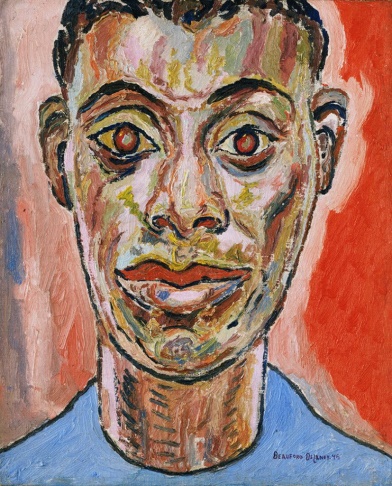 BEAUFORD DELANEY (1901-1979), "Portrait of James Baldwin," 1945 (oil on canvas). | Collection of the Philadelphia Museum of Art, 125th Anniversary Acquisition. Purchased with funds contributed by The Daniel W. Dietrich Foundation in memory of Joseph C. Bailey and with a grant from The Judith Rothschild Foundation, 1998
There were certainly also differences. Living in New York since 1929, Delaney was already an established member of the cultural elite of the Harlem Renaissance and the Post-Harlem Renaissance. He visited the salons of, among others, Charles Alston, artist, and met artists such as Jacob Lawrence, Augusta Savage and Romare Bearden and writers such as Countee Cullen, Richard Wright and Ralph Ellison. Although he continued to feel marginalized, he was no stranger to the art world, the intellectual and creative heart of the city, while Baldwin had just left high school and had only a friendship to offer with some anonymous classmates. Beauford Delaney nourished himself on his surroundings but refrained from political activities. James Baldwin would increasingly profile himself as the mouthpiece of the black community, as someone who seeks publicity for the cause. For many readers, his politically biased essays are even more important than his novels.
*
When Baldwin leaves for Paris in 1948 to escape the racist climate of his hometown and to reflect on his future in peace, it hardly affects their friendship. Baldwin even persuades Delaney to come to Paris too. In 1953 Delaney moves into a studio at Montparnasse. He would never leave town again, while Baldwin regularly returned to his country. Whether Delaney had a happy time in France remains to be seen. His traumatic childhood experiences – death of a close friend and of his father, in addition to the ugly racial discrimination – caused him to collapse mentally several times and even attempted suicide several times.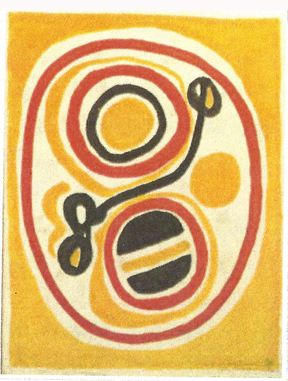 Yellow, Red and Black Circles, 1966
It is not strange to assume that they also had a homosexual relationship. This in itself does not matter, except for the artists who choose the struggle with their sexual orientation as an important theme in their work,then it makes sense to answer that. Maureen Kelleher knows the answer. In 2014 she published a somewhat hysterical article in the online magazine Art Times. With lots of exclamation points and swollen adjectives, she discusses a gouache of Delaney that he made in Istanbul after meeting James Baldwin (in 1966): Yellow, Red and Black Circles. An abstract work where she suspects an existential content: "It's phallic, it's penis and scrotum. It's long and lean with a big old tip and the line down the middle. It's swimming amidst the circles. It's balls on either side. " When she finds out that this work is signed "For Jimmy, love Beauford", there is no room for doubt anymore. "They were lovers."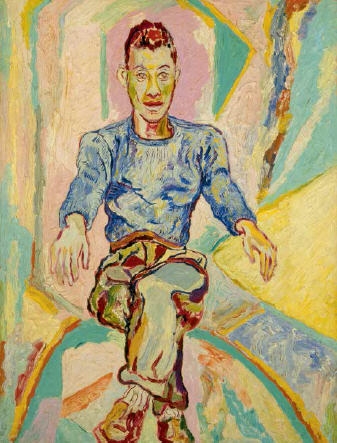 Oil on canvas board, 24 x 18 inches, Collection of halley k harrisburg and Michael Rosenfeld, New York, NY, Estate of Beauford Delaney, By permission of Derek L. Spratley, Esquire, Court Appointed administrator
It is striking that Delaney has painted and drawn many portraits of James Baldwin. Expressionist, intimate, loving portraits, sure, but whether that is proof? They have traveled together, lived and worked together in Paris for years, have been part of the artists' community there and those in New York, but I dare to doubt that counts as proof.
*
If it were, then that proof would never come from the artists themselves. Baldwin may not have been mysterious about his nature in the course of his life, Delaney never came out. They had too much respect for each other to make their private lives public.
*
Beauford Delaney died in 1979, James Baldwin in 1987. The first in Paris, Baldwin in Saint-Paul-de-Vence.
Rob Perrée, art historion, independent writer and curator, founder and editor in chief of Africanah.org. Lives and works in Amsterdam and Brooklyn.