This is the 4th article in a series of articles on the friendship between 'two' African American artists, a "friendship beyond understanding". In every article The Harlem Renaissance is the context of the story. This article is about the friendship between Wallace Thurman and the Niggerati.
Rob Perrée tries to answer the questions the friendship evokes.
First published Jult 2020
PORTRAIT OF A FRIENDSHIP 4: WALLACE THURMAN AND THE NIGGERATI
FIRE !! is published in Harlem on November 1926. It is a collection of short stories, poems, fragments from a stage text and a number of illustrations. Held together by a striking, red-and-black cover designed by Aaron Douglas. Contributions come from "the more adventurous and unconventional of the younger Afro-American intellectuals," as Harlem Renaissance expert Thomas H. Wirth describes them. They call themselves, not free from self-mockery, the Niggerati.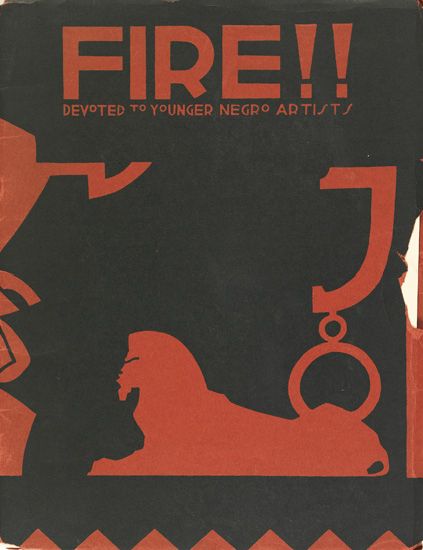 Cover of FIRE!!, magazine by the Niggerati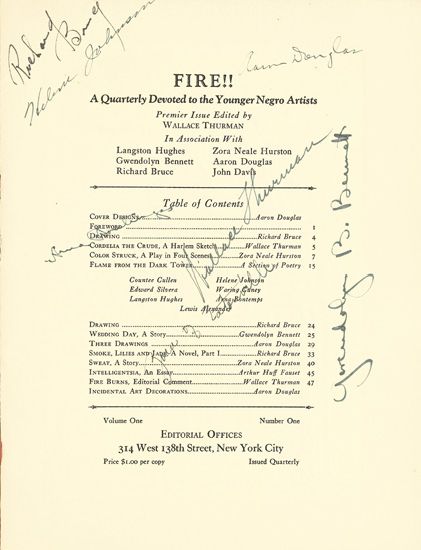 Page 3 of FIRE!!
Langston Hughes, Countee Cullen, Edward Silvera, Helene Johnson, Waring Cuney, Lewis Alexander and Arna Bontemps each deliver poems, Gwendolyn Bennett and Richard Bruce Nugent a story and Zora Neale Hurston a play and a story. The magazine is illustrated by Aaron Douglas and Richard Bruce Nugent. The driving force behind FIRE !! is Wallace Thurman. He does the editing and writes the first text: a story about the prostitute Cordelia.
Only one issue is published because the money runs out quickly, but also because the magazine is considered provocative by many and thus far from being a bestseller. In cities like Boston, sales are even banned. In Harlem it is not openly placed on the shelves.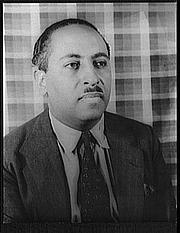 Arna Bontemps by Carl van Vechten, 1939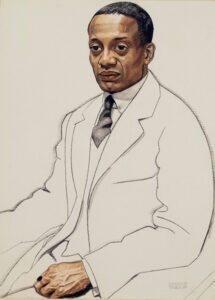 Alain Locke by Winold Reiss
It is not surprising that Wallace Thurman is committed to publishing FIRE !! He is a tormented man who has a strong urge to prove himself. Even if he provokes protest and kicks shins. Alain Locke, who compiled the authoritative book The New Negro, speaks more than 10 years after the publication of FIRE !! with disdain (or is it jealousy?) of the creators of the magazine: "(…) the bright young talents of the 20s who went cosmopolite when they were advised to go racial, who went exhibitionist instead of going documentarian, who got jazz -mad and cabaret-crazy instead of getting folk-wise and sociologically sober." If he were still alive, Thurman would probably have taken these words as a compliment. He and the others just wanted to oppose the generation of Locke and Du Bois. In his view, those leaders were bourgeois. They only showed the positive sides of the African American's life. The less attractive darkside or backside was ignored.
Wallace Thurman (unknown photographer)
Wallace Thurman was born in Salt Lake City, Utah in 1902. He grows up as a sickly child who therefore reads a lot. He studies at the Universities of Utah and Southern California, but does not finish at either school. His interest in writing, in literature, is stronger than his urge to graduate in medicine. That is probably not the only explanation. Thurman feels constantly rejected because of his deviant orientation, his blackness – he is "too black" he says – and the fearless way in which he expresses his opinion. He hates it when people beat about the bush. He was not a born diplomat. That's why he often comes under fire from his fellow students, while he wants to be appreciated and loved. Literary critic Granville Ganter aptly summarizes the 'philosophy' from which Thurman operates: "As an explorer, Thurman sought to examine aspects of black life – raucous rent parties, sexual relationships out of marriage, homosexuality – not governed by the mores and taboos of the black middle class ". A lot of people don't like this approach.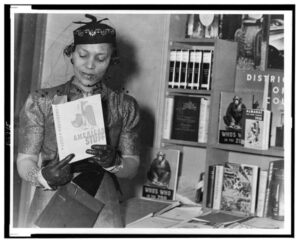 Zora Neale Hurston (unknown photographer)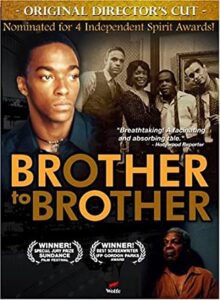 Poster for the film Brother to Brother. Director: Rodney Evans
The above shows that Wallace Thurman is not a man who makes friends easily. The Niggerati group is his friend. He feels kinship with those artists. He shares their views, their way of life, their common 'enemy' (the black bourgeoisie), their age and their artistic qualities. They value him for what he does and love him for who he is. They regularly meet at Niggerati Manor. That is "a rent-free space owned by a Black New Yorker, Iolanthe Sydney, and created to provide Black artists rent-free housing. More than anything, the house became an effective symbol of the more counter-culture figures within the Black art scene in 1920's New York. Zora Neale Hurston, Countee Collen, Langston Hughes, and Wallace Thurman often stumbled out of the boarding house decorated with wicker furniture, which was rumored to have bright penises painted on the walls by another house visitor, Bruce Nugent, " writes Jamaican writer Prince Shakur in Wear Your Voice. The apartment of Zora Neale Hurston, who calls herself the Queen of the Niggerati, is also a popular meeting place. Rodney Evans makes Brother to Brother in 2004, a film in which the life of the Niggerati is infectiously highlighted.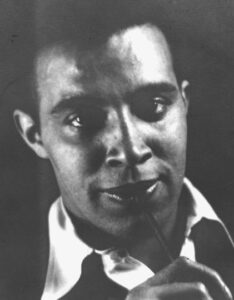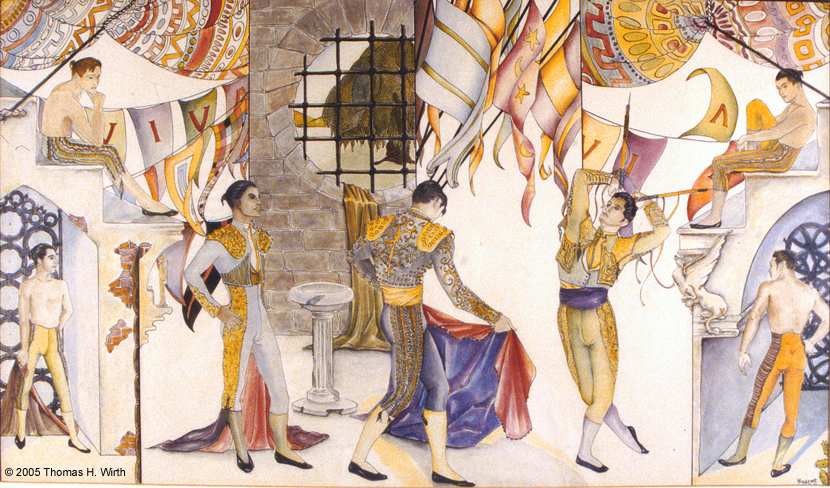 Richard Bruce Nugent/Richard Bruce Nugent, Bull Fighters, ©Thomas H. Wirth Estate
Thurman lives with Nugent – who is running away with the hormones of many men – for a few years, without it being clear in what kind of relationship. Room mate? Soul mate? Lover? An incident from a year earlier seems to clarify this. Thurman – a married man at the time – is caught in a public toilet engaging in – in police language – "a sexual act with another man". He immediately rejects the fact that this act is evidence of his homosexual orientation. That sounds like an incredible standard denial. It is a reason for his wife to separate from him.
Much later, Richard Bruce Nugent will nuance the 'case' and, by doing that, forces the overly gossipy researcher to make up his mind: "The matrix was defined by sophisticated, 'modern'attitudes and a general rejection of conventional sexual mores, not by sexual orientation". In another interview, he gives a variant of this opinion in plain language. "Harlem was very much like The Village. People did what they wanted to do with whom they wanted to do it. (…) Nobody was in the closet. There wasn't any closet. "
The Blacker the Berry, first edition, cover design Aaron Douglas
FIRE !! is not the first magazine Thurman creates. Still in LA, he starts Outlet, a magazine for short stories. His magazine Harlem: a Forum of Negro Life is published in 1928. In addition to recognition as an editor – the leading black magazine The Messenger hires him for this – he also deserves recognition as a novelist. In 1929 the semi-autobiographical The Blacker the Berry is released, three years later the ironic Infants of the Spring. That same year, his play Harlem, a Melodrama of Negro Life is performed in Harlem at the Apollo Theater.
*
He dies in 1936, aged 34. The Niggerati have long since disintegrated . The Harlem Renaissance has past its prime. Thurman slowly falls into oblivion.
Rob Perrée is art historian, independent writer and curator, founder and editor of Africanah.org. He lives and works in Amsterdam and Brooklyn, New York.