This is the third article in a series of articles on the friendship between two African American artists, a "friendship beyond understanding". In every article The Harlem Renaissance is the context of the story.
Rob Perrée tries to answer the questions the friendship evokes.
First published June 2020
PORTRAIT OF A FRIENSHIP 3
COUNTEE CULLEN AND HAROLD JACKMAN
We speak New York 1918.
The DeWitt Clinton High School is a monumental, stately, U-shaped, 5-story building located in Hell's Kitchen in Midtown New York, a neighborhood with an notorious criminal record (now it is the city's gay district). It is a school with a long history. The bar is set high. Even Latin and Greek are part of the standard educational package. The students are predominantly white, but also black students are registered, though not many.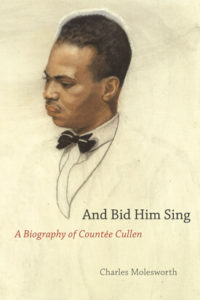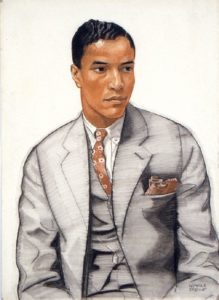 Portraits of Countee Cullen and Harold Jackman by the artist Winold Reiss (20's )
It is there that 17-year-old black Countee Cullen (1903-1946) meets the slightly older, light-skinned Harold Jackman. Cullen is the adopted son of a New York minister, Jackman (1901-1961) was born in London, child of a West Indian mother and an unknown father. The friendship ends in 1946, when Countee Cullen dies.
A friendship beyond understanding.
Countee Cullen is one of the most important poets of the Harlem Renaissance, the cultural revival that took place in the black district of New York between 1919 and 1929. He sets the tone with Langston Hughes. His poem The Shroud of Color from 1924 – when he is 22 – "was the talk of the intellectual and artistic black community" claims Gerald Early in My Soul's High Song. The Collected Writings of Countee Cullen. Hughes gains instant popularity with The Negro Speaks Rivers. Although both poets are respected, their poetry has great differences. Hughes' language is mundane, as if it is improvised, Cullen's is consciously lyrical and with attention to the (traditional) verse forms. There are also major differences in content. Cullen often shows himself as a tormented person who is struggling with his gender and has a hard time accepting his blackness. Hughes does not comment on his gender and acts as a combative black man. His work is related to jazz, while Cullen is more of a romantic in the English tradition, the Keats tradition.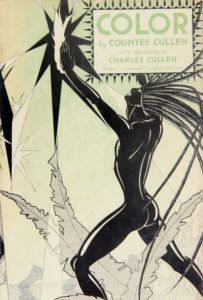 Cover of Color designed by Charles Cullen, 1925
Cullen's first collection of poems – Color – was published in 1925. In 1926 a couple of his poems are included in the anthology The New Negro, the theoretical foundation of the Harlem Renaissance, compiled by the black philosopher Alain Locke. Cullen starts that year also as editor of the Opportunity magazine.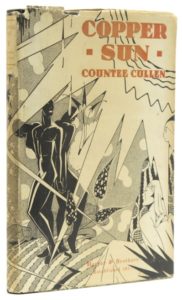 Cover of Copper Sun designed by Charles Cullen, 1927
Countee Cullen is gay but does not want to make it public. His environment is aware of it because it is impossible for him to hide it in his social life. His readers have to guess. His friends and colleagues are not really surprised when he marries the daughter of W.E.B. Du Bois in 1928. Du Bois is an activist intellectual who plays a major role in the New Negro movement, who is the editor-in-chief of the magazine for which Cullen was hired as an editor and who regularly publishes his poems. In a letter to Locke – with whom he had a father-son relationship according to diplomatic scientists – he describes Yolande Du Bois as "the solution of my problem". There is surprise though when he does not take his wife with him on his honeymoon to Paris, but Harold Jackman, "the most handsome man in Harlem", "The Proust of Lenox Avenue", to name a few of his flattering nicknames. It is no surprise that the marriage ends after six months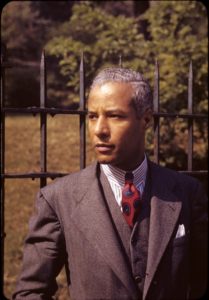 Harold Jackman by Carl van Vechten, collection Yale University Library
Harold Jackman is difficult to categorize. Almost no one knows exactly what he is doing. He is not an artist, not a professional writer and not a musician and yet everyone in the Harlem scene knows him. There is no doubt about it that he acts on the stage called the Harlem Renaissance. His strikingly handsome appearance plays a role in this. That he frequents the exciting nightlife will certainly have contributed too. He rarely misses the salons of fellow collector Alexander Gumby. Writers, artists and musicians regularly get together there, to have a good time, to meet new friends.
He has a university degree and is active in many organizations such as the Urban League and the Negro Actors Guild. In between his travels – Paris is his "special playground" – he works as a teacher. He is a collector of black cultural artifacts, letters and documents, an avid letter writer himself and for years he keeps a diary. It shows that he has a fair nose for people who matter. He appears as a character in several novels written in his time. For example in Nigger Heaven by Carl Van Vechten and Infants of the Spring by Wallace Thurman.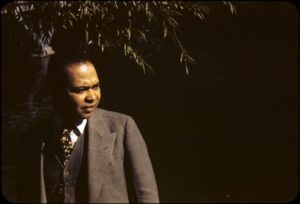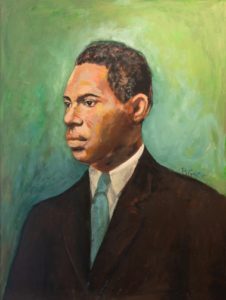 Countee Cullen in Central Park by Carl van Vechten, collection Yale University Library/ Countee Cullen by the artist Warren Goodson, 2011/Countee Cullen by Bernard Goss, c. 1960
Correspondences show that Countee Cullen has various, often short, relationships with men, including white men. That does not stop him from starting a second marriage after the first failed one. Jackman and Cullen are called the Jonathan and David of the Harlem Renaissance, a reference to the Biblical figures who, according to religious sources, had a Platonic relationship, but were indeed romantically linked according to more worldly experts. They allow that nickname to be undisturbed. Jackman is known to have a longstanding relationship with Edouard Roditi, a writer of poems and critiques, but he also likes to present himself in Paris and Harlem as a bachelor. Thomas Wirth, the biographer of another Harlem Renaissance writer, Richard Bruce Nugent, connoisseur of this striking period in black history, claims that the only evidence for a homosexual relationship between Cullen and Jackman can be found in the columns of tabloids. In doing so, he throws the research of serious scientists such as A.B. Christa Schwartz – Gay Voices of the Harlem Renaissance – and Simon Dickel – Black / Gay – in the bin.
*
True or not, romantic relationship or not, it is certain that Cullen's pinching pursuit of his true identity has yielded interesting and often impressive poetry. Judas Iscariot, Tableau, The Love Tree, Fruit of the Flower and many other poems are a convincing proof of this.
Love Tree
Come, let us plant our love as farmers plant
A seed, and you shall water it with tears,
And I shall weed it with my hands until
They bleed. Perchance this buried love of ours
Will feed on goodly ground and bear a tree
With fruit and flowers; pale lovers chancing
May pluck and eat, and through their veins a sweet
And languid ardor play, their pulses beat
An unimagined tune, their shy lips meet
And part, and bliss repeat again. And men
Will pilgrimage from far and wide to see
This tree for which we two were crucified,
And, happy in themselves, will never know
'Twas break of heart that made the Love Tree grow.
Rob Perrée, art historian, indepent writer and curator, founder and editor of Africanah.org. Works and lives in Amsterdam and brooklyn.