(…) like in former Prospects, the triennial "directs its focus southward, placing greater emphasis on art and artists that engage the Global South, specifically from North America, Latin America, the Caribbean, Africa, and the European powers that colonized this region (…).
Rob Perrée reviews Prospect 4 in New Orleans.
PROSPECT 4
Good, but less surprises
In 2005 hurricane Katrina destroyed large parts of New Orleans. About 1500 people were killed; thousands lost everything and had to leave the city. Many of these people never returned. The material damage was huge, the mental damage was huge, and the emotional consequences were so extreme that they are difficult to completely assess. Much of this is still being felt.
*
Curator Dan Cameron came up with the idea to organize a biennial-size art event spread over the whole city to give New Orleans a financial and moral boost. The concept of Prospect was born, a triennial with the work of internationally-recognized contemporary artists, supplemented with local artists, presented in existing cultural institutions, but also at remarkable (public) locations and unexpected temporary spots. The works of the selected artists need to have some relation to the city; to the characteristics, the topics or the problems of the city. It is important that the inhabitants recognize their city in the art and that the visitors get an impression of the city. Prospect 1 materialized in 2007.
Although the financing of the project is a major problem with every incarnation, possibilities overrun ambitions, this year's Prospect 4 proves that the concept still works.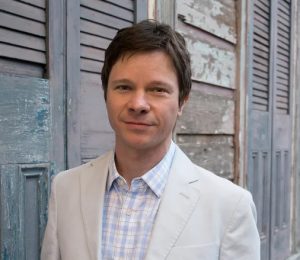 2.
Trevor Schoonmaker, curator of the Nasher Museum of Art, is the curator of this edition. He gave Prospect 4 the title: The Lotus in Spite of the Swamp. The title tries to symbolize the city: a beautiful flower rising above murky water and a city that overcomes arduous challenges. The natural environment of the city (bayous, lakes and wetlands) combined with the attitude of the inhabitants (whatever happens, it always manages to overcome disasters). The creative force of New Orleans – it gave birth to jazz out of the darkness of slavery – never fails.
*
New Orleans is a hybrid city. It has the largest black community of all American cities. Colonization, slave trade, migration and displacement create a mixture of people, traditions, spirits, habits and experiences. The selected artists have to be a reflection of that history. Therefore, like in former Prospects, the triennial "directs its focus southward, placing greater emphasis on art and artists that engage the Global South, specifically from North America, Latin America, the Caribbean, Africa, and the European powers that colonized this region", says Schoonmaker.
Since it is impossible to review the work of 73 artists presenting their work in at least 17 venues, I will talk about some highlights.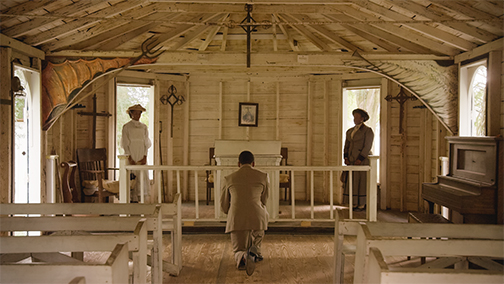 John Akomfrah, Precarity, 2017, three-channel video work, Courtesy LissonGallery.
3.
John Akomfrah (Accra, Ghana, 1957)
Akomfrah is a filmmaker from Ghana, he lives and works in London. He was one of the founders of the Black Audio Film Collective (1982). Since his video installation Vertigo Sea in the Venice Biennial of 2015, he has a large international following. For Prospect 4 he made Precarity, a multichannel video installation about Charles – Buddy – Bolden, a musician from New Orleans who is considered the first jazz player. He was very popular in his hometown – from 1900 on – but there is very little known of him. No recordings, hardly any photos or documents. In 1907 – he was 30 – he suffered an alcoholic psychosis and ended up in the Louisiana State Insane Asylum at Jackson, a mental institution, where he spent the rest of his life. Divided over three screens Akomfrah made an amazing installation about Bolden. He created a narrative out of the snippets of information and mixed it with archival material of the city and documentary-like footage of today's New Orleans. The narrative material is stunningly beautiful and slowly unrolls a fascinating but sad story within a very detailed setting. Because Akomfrah identifies himself with a jazz musician, the other images give the feeling that they are improvisations activated or inspired by the story. The soundtrack is full of surprises and the most impressive sound is the sound of silence.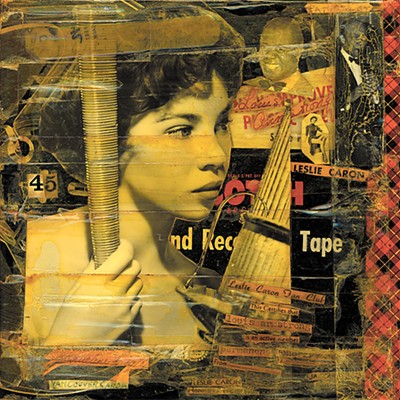 Louis Armstrong, collage on reel-toreel-box.
Louis Armstrong (New Orleans, USA, 1901-1971)
Armstrong was a famous trumpeter and vocalist, born in New Orleans, in the roughest neighborhood of the city. What only a few people knew was that he made collages on the boxes of his reel-to-reel tapes. On these boxes he improvised with images related to and originating from his world as a musician. I don't know if they would have ever been shown if his name was not Louis Armstrong, but I liked them because, like Akomfrah, he treated his visual material the same way he played with music notes. Jazz art, undiscovered till now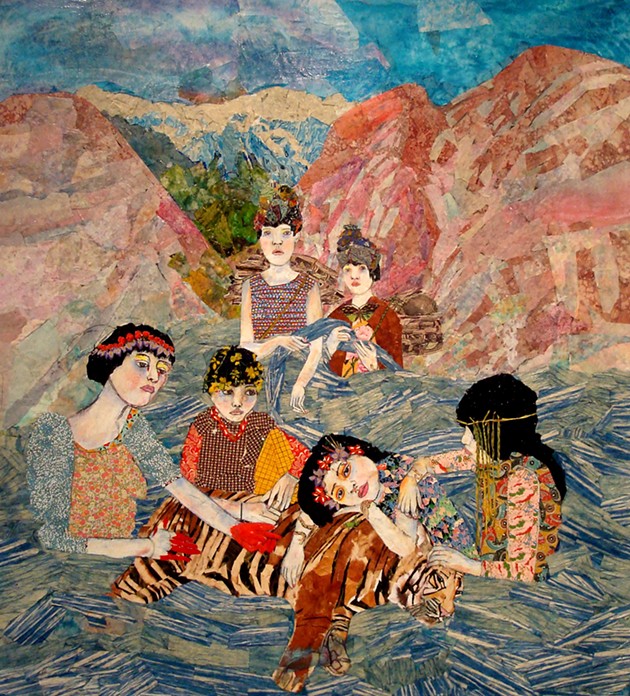 Maria Berrio, Syzgy, 2017.
Maria Berrio (Bogota, Colombia, 1982)
The large collages of Berrio are crowded with woman of all ages in natural surroundings. The landscape is a dreamscape, the reality is a surreal, the colors are very colorful. In fact her works are collections of made up fairy tales that are full of detailed information. Because Berrio combines layers of Japanese paper with the watercolor technique the works are tactile and look vulnerable. They are on the edge of kitsch. They are advertisements for nature comparable to the pictures in holiday brochures. Too good to be true. They are also ads for powerful womanhood, but dressed in romance.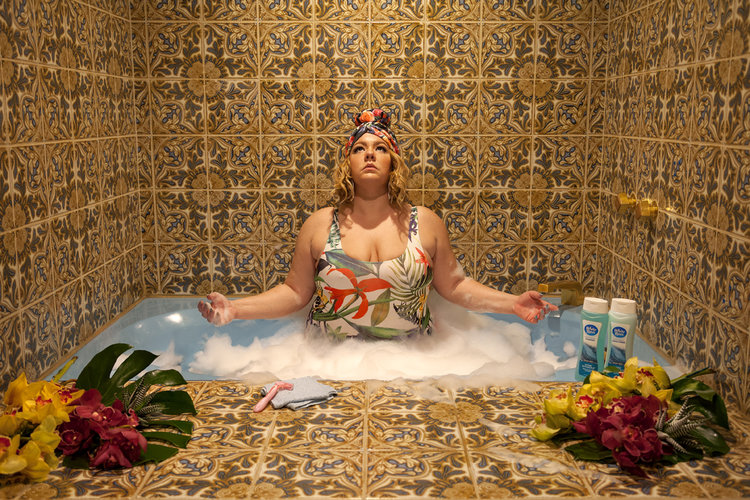 Genevieve Gaignard, White Rain, 2017, courtesy Shulamit Nazarian.
Genevieve Gaignard (Orange, Massachusetts, 1981)
Gaignard is the selfie version of Cindy Sherman. In her photo portraits she turns herself into a character: for instance a working class woman or a spoiled woman in a soapy bath tub. The photos have the casualty of a selfie: they are orchestrated but not very detailed and refined. They have a pleasant kind of roughness, of spontaneity. Gaignard is biracial and plays with the concept, like she plays with clichés and commercial codes. She also seems to play with time: the photos have a strong vintage feel. As if she refers to her mother's generation.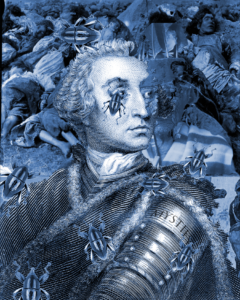 Patricia Kaersenhout, Les Eclaireurs (detail installation), 2017.
Patricia Kaersenhout (Den Helder, The Netherlands, 1966)
Invisibility is perhaps the keyword of the work of Kaersenhout. Invisibility of the father figure, of the truth in (colonial) history, in particular, of the role of black women in history, the oppression of black women, and the loss of their real identity. Kaersenhout combats history by (physically) correcting it. In this installation – Les Eclaireurs – she corrects the images of male heroes by mutilating them, making holes in their portraits. Through the holes the country they colonized becomes visible. She combines these portraits with Delft Blue portraits of white heroes attacked by insects and threatened by decay. Because the works are presented in a small, dusky room, the effect is rather frightening.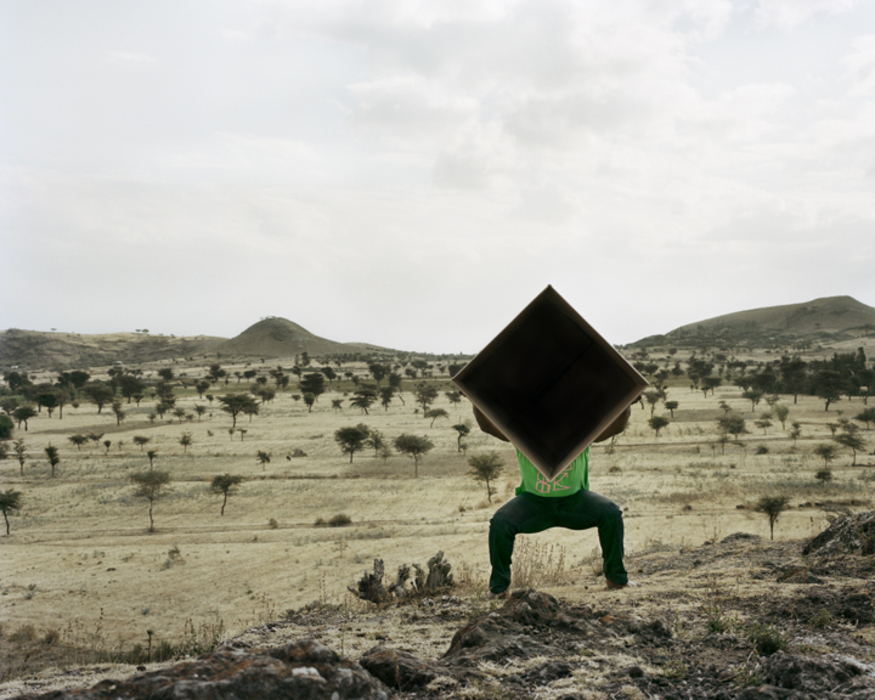 Dawit L Petros, Single Cube Formation No.4, Nazareth Ethiopia, 2011, courtesy Tiwani Contemporary.
David L. Petros (Asmara, Eritrea, 1972)
Petros' presentation has the allure of a solo show. Within that show The Stranger's Notebook plays the main role. A series of photos on "the experience of migration, identity, and the question of belonging". The people in this series hide their faces behind a mirror or a box. They make identification impossible. The photos are combined with voices speaking strange languages, referring to the importance of translation or mistranslation for migrants.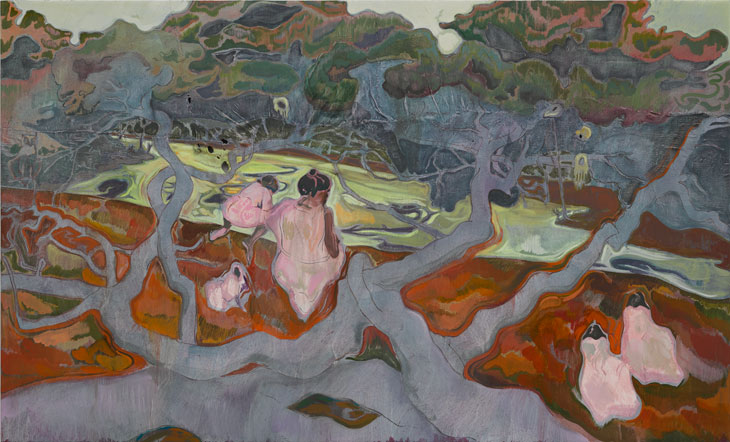 Michael Armitage, Baikoko at the Mouth of the Kwachema River, 2016.
Michael Armitage (Nairobi, Kenya, 1984)
Armitage weaves multiple narratives that are drawn from all kind of sources: the media, history, the internet, memories of his homeland Kenya. He paints his stories in a lush, sometimes even transparent and always layered way. On first sight his stories are dreamy and peaceful, but often there is an edge. The threat of violence or brutality, from animals or from people. Sometimes the mood is mysterious or very dark, as if death is around the corner.
In recent years he works on bark cloth. A rough material with holes in it that gives tactility and mystery to the surface. He freely uses influences of predecessors like Gauguin, Degas, but also Chris Ofili.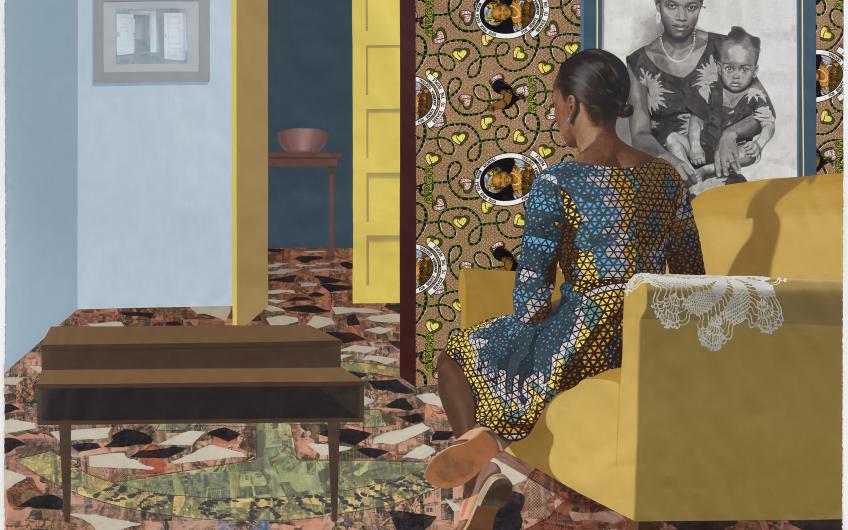 Njideka Akunyili Crosby, Mother and Child, 2016, CourtesyVictoriaMiro.
Njideka Akunyili Crosby (Enugu, Nigeria, 1983)
The paintings of Akunyili Crosby are often domestic, sometimes political and sometimes they refer also to the work of colleagues (Kerry James Marshall for instance). She mixes Nigerian culture (Igbo) with American culture (she lives in LA). Existing photo material and pieces of fabric are part of the overall collage. The setting – often a living room with a few family members – is filled with informative elements (in the leaves of plants, in the wall paper, on the floor etc.). Often the artist is at the center of the scene. The people around her have an influence on the 'mood' of her self portraits.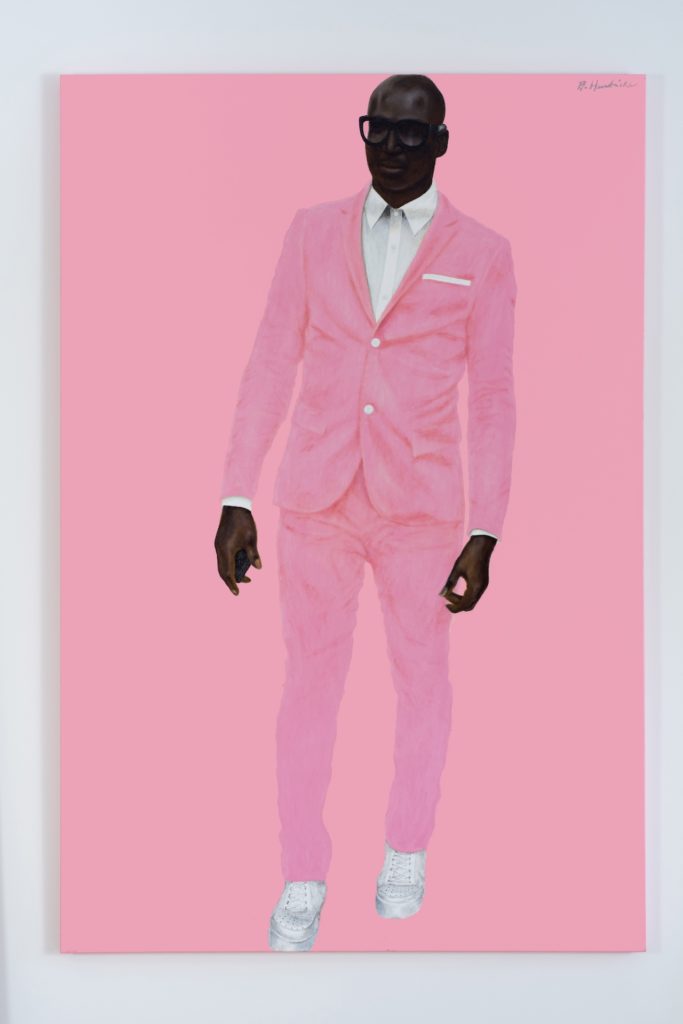 Barley L. Hendricks, Photo Bloke, 2016, courtesy Jack Shainman Gallery.
Barkley L. Hendricks (Philadelphia, USA, 1945-2017)
The works of Hendricks were presented in a kind of portrait gallery in the New Orleans Museum of Art. Like they do with venerable authorities in the City Hall of a big city. An applicable presentation. In a career of more than 50 years Hendricks portrayed his family members, friends and acquaintances, life-seize, against a monochrome background. Within that framework he managed to visualize their personalities and their characteristics. His ultimate goal was to give ordinary black people a place in the canon of fine arts in which so many white people were and still are dominating. In many of these paintings his 'engagement' shines through. His last pink painting can be seen as a gay statement or, more general, as a call for freedom.
Prospect 4 is a good show. However, with the exception of John Akomfrah and Michael Armitage there are not so many surprises. Trevor Schoonmaker selected sound and safe.
Rob Perrée is art historian, independent writer and curator, founder and editor of Africanah.org. He lives and works in Amsterdam and Brooklyn, New York.