Remmy's short coming however lies in his inability to zero down on a particular subject or themes that he could dance around to make a whole. He wobbles around multiple ideas that he fails to link into one.
Matt Kayem reviews the work of Remmy Sserwadda.
What's Up, 2020
Friend Request
Remmy Sserwadda had planned to open his maiden solo show on 12th June but Covid hit Kampala into the second wave and a lockdown had to be reinforced to save the situation. Remmy's show however opened on 14th August after the covid dust had settled down. I got a chance to sneak in there recently to see what the youngster has been cooking and pushing. Sserwadda is among the newest lot of artists on the art scene in Kampala having surfaced into art spaces in 2019 . The self-taught creator has however found his footing fast in the growing industry – getting to be part of Afriart gallery's annual Surfaces project of young talents back in 2019. And now doing a solo at Xenson Art Space, a new gallery that is trying to front the voices of the young ones.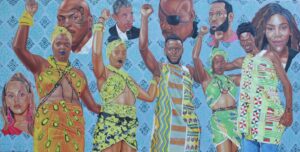 Black Lives Matter, 2020.
Sserwadda has ten paintings in oil at the relatively small two-storied gallery. The works are figurative and naturalistic in a fashion we have gotten used to seeing as a hot trend on the global art scene among creatives of colour. Remmy renders his African figures on top of a painted dutch-wax print background. This is also reminiscent of Paul Ndema's old style of which the young artist has apprenticed at his studio. Remmy's natural talent and technical prowess with the brush is obvious and therefore not up for discussion as he demonstrates a clear familiarity with the human figure. He is well versed with colour, line, tone ,gradient as well as perspective, proportion, composition which are elements and principles of an aesthetically successful artwork. Sserwadda's fine meticulous application and style of painting is very similar the Cameroonian's Marc Padeu, fellow countrymen Paul Ndema, Arim Andrew and others. One could think of Kehinde Wiley's work as well when they encounter Remmy's work.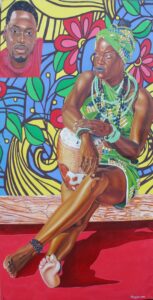 Friend Request I, 2020.
So he can paint like Africa's best but can he tell stories and tickle our brains like them? Remmy's short coming however lies in his inability to zero down on a particular subject or themes that he could dance around to make a whole. He wobbles around multiple ideas that he fails to link into one. In the body of work whose title I struggled to connect to the work, he seems to sympathize with the African-American struggle in paintings like Black Lives Matter. Other works are some sort of love letters to the African diaspora with whom he is bent on selling them an alternative picture of the motherland. His desire to connect the African diaspora to the continent is perhaps something I share with him but I just read about it in the exhibition statement. I do not feel that he relayed or passed on the message well. In Friend Request 1 , a girl sits with a drum wrapped in Dutch-wax print and adorning beads. In a small box in the corner appears Daniel Kaluuya's face, the Ugandan-British Hollywood sensation. This seems to be an interesting work as it is almost akin to a screen shot of video chat or live session from our usual social media platforms. Maybe this is the artist's way of saying the continent wants to initiate a relationship with our long lost brothers and sisters. In Black Lives Matter, there is a line up of these Hollywood celebrities at the back of a group of Africans holding their fists up. It is a simple and expected way for an artist to add a voice to the movement. Authors of Emotions and Good News are probably my best works in the collection for their cleanliness. They manage to stay clear from the unwanted clutter in the other pieces. For example, the floating football trophies in What's Up look out of place. Spoken Fluently also has the emotions and aura of the moment well captured and not to mention the balance and harmony of the sitters who exchange positions according to their gender.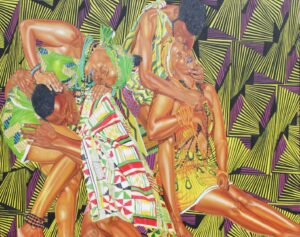 Spoken Fluently, 2020
It also feels like Sserwadda is playing a lot of safety here, wanting to follow the footsteps of his mentor and not creating his own path. And that's a problem with emerging artists, trying to walk the same footsteps as their established idols who they will risk getting compared to. The African wax print inspired background has been exhausted by Kehinde, J.P Mika, Evans Mbugua and others who often add their own individual spin to it. I feel like the rookie who has a lot of time to experiment and a whole career ahead of him should show us something new.
Friend Request is showing at Xenson Art Space, Kampala, Uganda till 25th September 2021.
Matt Kayem is an artist and an art writer/critic who lives and works in Kampala, Uganda. He can be reached on mattkayem@gmail.com