René Tosari, Suriname
Diversity is Power, 2009.
About:
"Sometimes they look like people, sometimes like animals, but often they seem like something halfway between human and animal. There are also shapes that look more like signs, like symbols. The small 'islands' are reminiscent of halved oranges."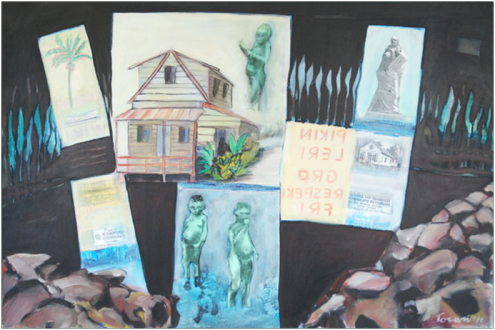 Coronie Wiki, 2014.
This is a sentence that I needed for this series last year, in order to describe the imagery of the large painting 'Diversity is Power' from René Tosari (Meerzorg, 1948). An imagery with detours, with signs and symbols of which you have to figure out the meaning; an imagery that is not averse to a touch of surrealism.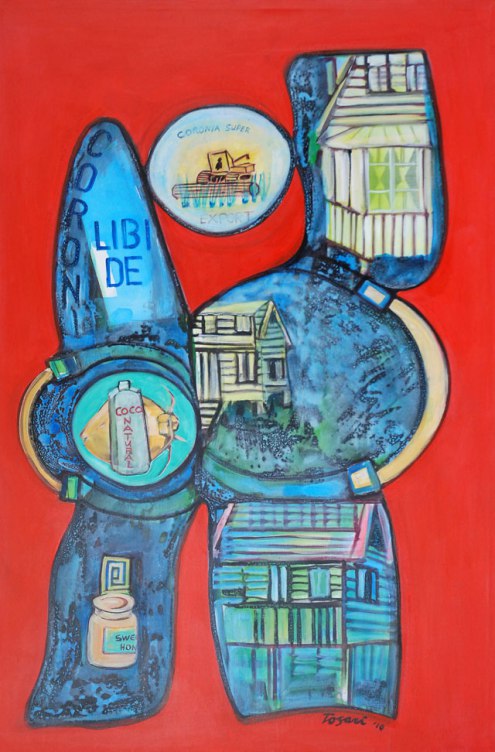 'Coronie libi de III (Coronie there is life III), 2010.
How different it is with this work. Here Tosari more closely approaches the reality, even if the formal setting is more artificial than reality. It resembles a collection of postcards that have fluttered down into a woodsy landscape. The images on the cards are clear: children, buildings, a statue, nature. The meaning can be deduced from the texts that Tosari has incorporated on the canvas. And from the title: The painting 'Coronie wiki' (Coronie wake up) is an appeal to the community – in this case the district Coronie serves as an example – to wake up and make sure that her children are provided with good education so that later on, they can be proud and know that they are respected. This looks like the 'old' Tosari. The artist with a mission. The artist who was, mostly in the eighties and especially through his graphical prints, deeply committed to changing his country. The artist who found it more important that his work had an impact, rather than it bringing him artistic appreciation or financial gain.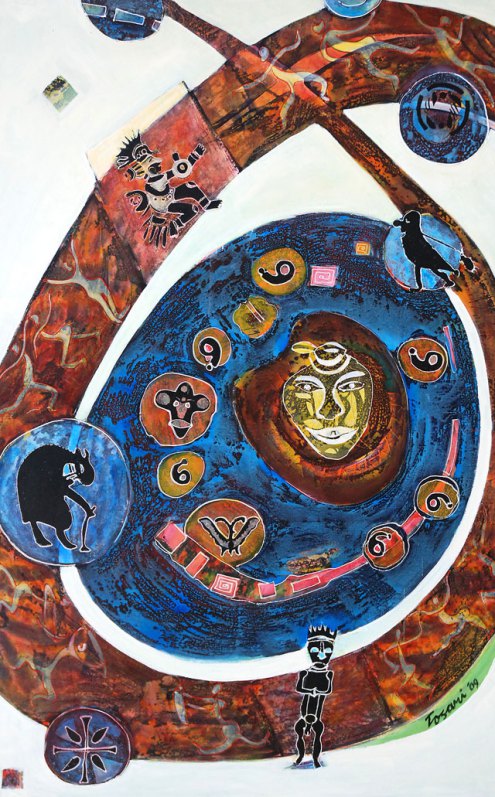 Dichtbij de Oorsprong, 2009.
It is striking that 'Coronie wiki' comes from a series of canvases that he made in his last year in the Netherlands. He would soon turn 65 and he had decided that he would return to Suriname. His task in the Netherlands was done. This task included among other things, that he wanted to give children the opportunity to develop themselves creatively. It seems as though he wants to pass that ideal on to his homeland. But this canvas, and other paintings in this series as well, breathe a sense of yearning for Suriname. It seems as though he has taken inspiration from old family photos. He has resurrected those memories in his work, in order to prepare for his return. In those memories a symbolic and a surreal imagery is of little use. Those styles stand for a sublimated reality. Tosari wants to return to the true reality. And … that includes a message.
Rob Perrée, Amsterdam, January 2015 (first published on Srananart, January 2015)