"I wanted to overturn the concept that blacks were always represented as victims. I want to deconstruct stereotypes. I want the stereotypical representations of women turning upside down, for their empowerment."
Rob Perrée in conversation with the American artist Renee Cox.
RENEE COX
I like the body, I have always liked the body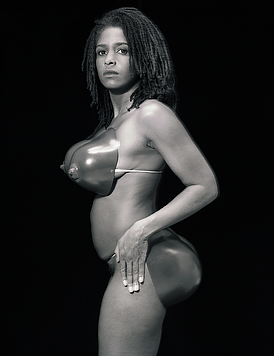 Hottentot Venus, 1995.
We know each other for more than 20 years. Her 'Hottentot Venus' was the poster picture of my travelling exhibition 'Postcards from Black America' (1998-1999). Although we have bumped into each other several times since then and although I have visited her studio a couple of times too, we never have really sat down and talked about her work.
Last month we had the chance to do it.
Renee Cox is outspoken, knows what she is doing and is hard to impress. She has a career of more than 30 years. She shocked some people with her work – ex-mayor of New York Rudolph Giuliani still hates her because of her 'Yo Mama's Last Supper'– but many people like her work just because it dares to be confrontational.
She is born on Jamaica in 1960, but the family moved to America when she was a young child, only child. Her father was a diplomat with a British passport. She is American, for many, many years now.
We meet in her studio in the Bronx, New York.
RP
You are born in Jamaica. In what way does Jamaica play a role in your work?
RC
Although I was living there only a couple of years, when I go back I realize that Jamaica gave me the license and the lack of fear to say and do what I want. In the US we are a minority, in Jamaica everybody is black. If I need a layer, he is black. If I need a plumber, he is black. White people could not live there; they could not stand the temperature, so they couldn't beat you over your head. The situation in the US is very different. Beside that, my father had a British passport, he hardly was aware of what was going on here. That ignorance was an advantage. I am not easily impressed. If white people react on me, I think: white trash, uneducated morons.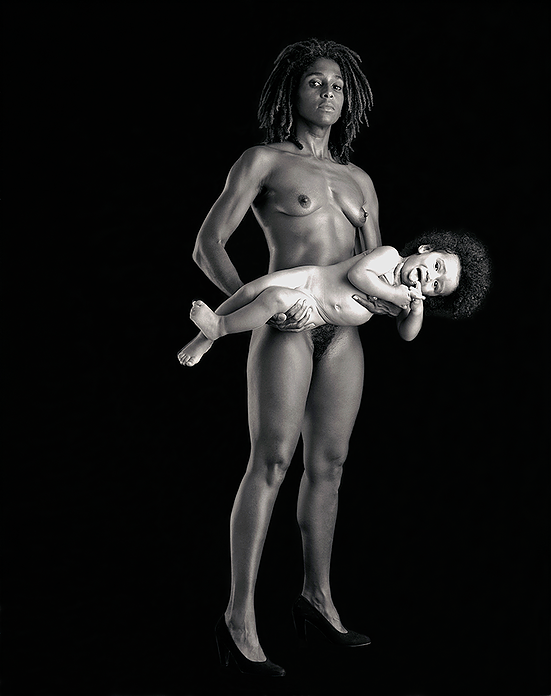 Yo Mama, 1993.
RP
You started as a fashion photographer. Did that influence your work as an artist?
RC
It was important for my technical skills. I learned how to use a camera, the importance of light, the importance of the detail, the importance of a composition. It helped me also how to articulate what I wanted to say, what I wanted to express. You have to know the rudiments of the medium. I know that a lot of young artists don't agree, it is not artsy, whatever that means, but I use the skills that I have proudly.
RP
You have lived in France for a couple of years. Did thát influence your work?
RC
From a fashion point of view, yes. The level of fashion, the quality of fashion, the style, I will always take it with me, but I was not 'The American in Paris'. I just had a job there. And I met my husband.
RP
When I met you the first time you, and other artists like Lyle Ashton Harris, were completely into the activist writer bell hooks. How come?
RC
We were into her books, not so much into the person. Her books were liberating and powerful. That aspect influenced my way of thinking and, as a consequence of it, my work. We idolized the woman because of that. When she later in a lecture talked about how to get a BMW fast, I realized that, as a person, she was not my kind of girl.
RP
What is the general theme of your work? The representation of black people?
RC
Representation, I don't know. I wanted to overturn the concept that blacks were always represented as victims. I want to deconstruct stereotypes. I want the stereotypical representations of women turning upside down, for their empowerment.We have a lot to offer, we have a lot of history, but we have a bad PR  department. I wanted to get rid of only that image. You can compare it to what Kehinde Wiley does now. The victimizing, I have to admit, still works today.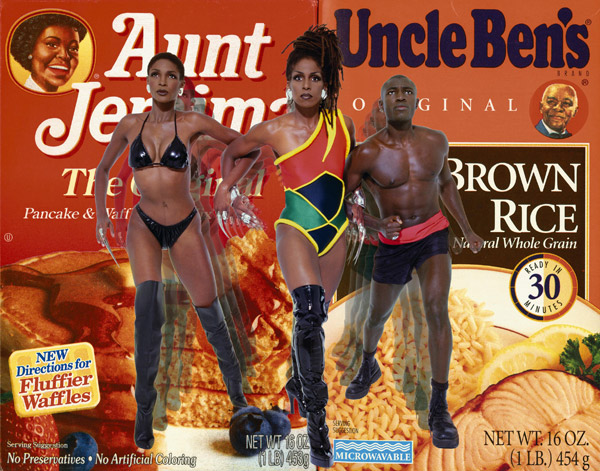 Liberation of Aunt Jemima and Uncle Ben, 1996.
RP
Your work has a lot to do with the representation of women in particular. However, you don't like it when people call you a feminist.
RC
It is who I am. I don't need to put myself in some group to validate what I do. I want to do what a man does. And, when I reached out for them in a meeting, because there was a black woman in the Bronx assaulted, they shut me down. Who fucking cares that you don't wear a bra, fine; they never cared about black women. I did not have a place there.

Yo Mama's Last Supper, 2001.
RP
In several works you comment on religion.
RC
I was forced to go to a catholic school. They told me there that everybody was equal. But I did not see a picture of a black god. I went to college in Florence, Italy. When I visited The Vatican, I saw that it was totally a business. They have their own bank. A bank! Why the fuck do they need a bank for? And look at the history. Thou shall not kill. What about the inquisition? Why was it possible to turn black people into slaves? I don't believe in that shit.
Yes, Giuliani reacted furious on my work. Fine, I don't care. He is a sleazebag, a racist. I am not your kind of negro.
RP
For a long time you put yourself in your work. Why?
RC
It gives the work the strength of the truth. It is powerful because you yourself are taking the risk by putting the message out there. It is about the gaze. You as a viewer look at me, but you don't get away with it, I am looking at you too. There is a pleasure in that. It is a power trip. I know that many women think these kinds of works are too confrontational. As if I jump from the wall and fuck their husband. I try to create a discourse about what I am talking about. I want to have a conversation with the viewer.
There is also a simple reason: I am always available for me. I don't have to make complicated appointments with other people. I myself am available.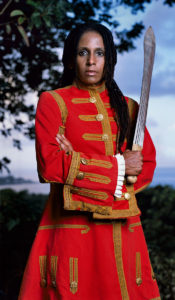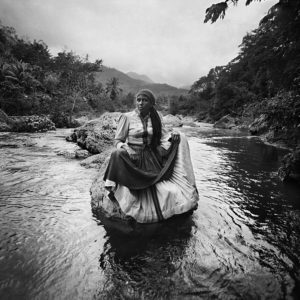 Redcoat and River Queen from Queen Nanny of the Maroons series, 2004
RP
Your Queen Nanny series is much less confrontational….
RC
It was about telling the story of Queen Nanny. She herself was fearless. There was no need for me to do more. I also wanted to portrait a community. And yes, I have respect for the person. She is a perfect example of the do-it-yourself-mentality: why not doing it yourself in stead of complaining or leave it to other people. Therefore I don't like it when black people complain about for instance the white Oscars. You have the resources, you have the knowhow, and you have the skills, why not doing it yourself. Look at Nollywood in Nigeria. They did not ask for permission. They are bigger than Hollywood.
RP
The work you have made the last couple of years is completely different from your earlier work. What happened?
RC
I was in a depressed mood. I felt sorry for myself. Why don't I get a retrospective? Why is there no book about my work? I felt ignored. I went to Bali to be away from everything and there I read a book of Eckhart Tolle, a spiritual philosopher. 'The Power of Now'. It made me realize that I was waiting for the world to validate me. Why? Asking crazy people to validate me? That is an ego trap. The negative thoughts were coming from my ego. Fuck it. When I understood that with my heart and soul I changed immediately. It opened me up. I felt free.
Home again I started a new body of work, Soul Culture. I took myself out of the picture and used digital photography. In that way it was possible to manipulate my pictures. I was inspired by the fractal, a very old mathematical concept, based on nature and used by many African cultures. (1) It was a challenge. It was fun to explore the medium more, to look for new possibilities. The work is still about the human body, but the body is now part of a design. Sometimes they don't even look like people anymore.

Soul Culture Series, 2014 – present
RP
It looks formal.
RC
My work was always formal. I am a classical photographer. And it is again about beauty. My work is always about beauty.
RP
And now in 3D. Why?
RC
To engage people, to make people look. To make them stop. To make them go out of their head. The other works you could go in, these works come at you. It is also to surprise people, to give the photo another dimensionality. In a way these works are portraits with all different people. We are all one.
RP
There is always an erotic element in your work.
RC
That's how you see it. I still like the body, I always have liked the body. If people find it seductive….great, it's fine with me. I like things that look good. I like beauty. Beauty lost significance. You must be depressed when you don't like beauty. The people in these works don't look like models though.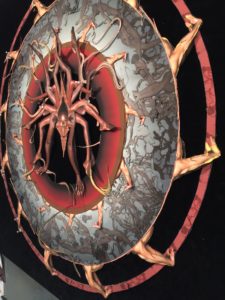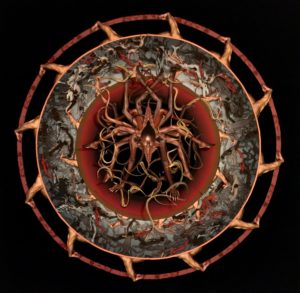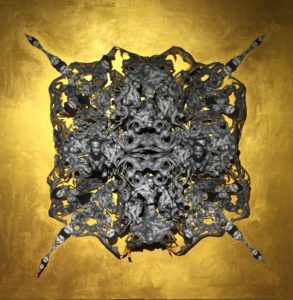 At the end of the interview she brings me to a room with her most recent creations. 3D into space. A totally different experience. Indeed, the works come at me. Shadows are entering the works. Cox plays with that element by painting the background of a number 'photos' gold. The view is expanded by side views. Insides which add playfulness and lightness to the whole. Is it still photography or do I see sculptures or assemblages or spatial collages or am I looking at installations? By creating that kind of, typical art historical, confusion – her work does not fit in a 'safe' category anymore – she forces me to have an open approach, to adjust perhaps my pre-conditioned opinion.
A refreshing experience.
1. A fractal is a never-ending pattern. Fractals are infinitely complex patterns that are self-similar across different scales. They are created by repeating a simple process over and over in an ongoing feedback loop. Driven by recursion, fractals are images of dynamic systems – the pictures of Chaos. Geometrically, they exist in between our familiar dimensions. Fractal patterns are extremely familiar, since nature is full of fractals. For instance: trees, rivers, coastlines, mountains, clouds, seashells, hurricanes, etc. Abstract fractals – such as the Mandelbrot Set – can be generated by a computer calculating a simple equation over and over.
Copyright and courtesy: Renee Cox
Rob Perrée is art historian, independent writer and curator, founder and editor in chief of Africanah.org. He lives and works in Amsterdam and Brooklyn.