Sebastian Hernandez
About:
My work is an interdisciplinary practice that incorporates movement, performance, sculpture, photography, video, and sound. I'm interested in performance that merges visual art and movement at an intersection that places aspects of my gender and queerness in a difficult conversation with histories of power and racialized capital. This manifests through the transformation of materials I interact with in my work. It's important for me to work with materials that are commonplace in working class, Brown (Latinx working class Mexican and indigenous) communities. These materials range from fruit, to decorative party objects, and utilitarian objects like grocery bags. These objects are culturally specific and together inform what I consider a Brown aesthetic. It's this aesthetic that I interrogate through performance and attempt to understand as a language. These materials also function as works in and of themselves as objects I exhibit in gallery spaces.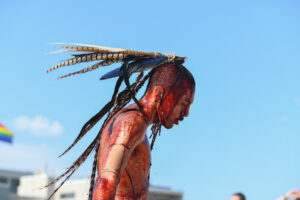 In 2013 I attended a 2 day conference at The Hammer Museum titled " Dancing With the Art World" where critical reflection was emphasized on the historical relationship between dance and art; particularly dance within art spaces like museums and galleries. At the time I was familiar with performance art in Los Angeles but had not really taken into consideration the presence of "dance" as an included art form. Yet I had grown up with dance in church performances, house parties and Aztec dancing that would eventually become a foundation for my understanding of movement. This conference remains seminal to formative ideas I have about my practice as a maker. It prompted me to seek formal training in dance once I entered UC Berkeley.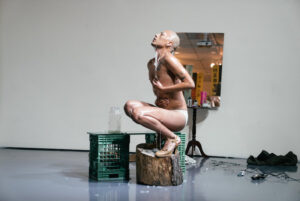 In 2017 I developed and performed FTZ (Foreign/Free Trade Zone),a research based installation and performance. The installation/performance initiates a transaction between the viewer and myself, exchanging intimate photos concealed in an envelope with money. The transaction is contextualized in a space surrounded by photographs from a project I started titled "brown commonz". "Brown Commons" was inspired by the writtingsof queer thoerist Jose Esteban Munoz, whom wrote about the commonalities that bonds brown people by the ways in which they suffer and flourish under duress. It is a photographic project documenting contemporary brown masculine subjects coming and going to work along with images of objects, places, and people that physically represent a sense of brown to me; a furtive research project that I practiced over the course of a year. I juxtaposed images from Brown Commonz with images from Leonard Nadel's documentation of Mexican laborers being sprayed with a toxic pesticide to show a historical anecdote of the trauma and exploitative history the brown body in the United States. The installation implicates the viewer in making a trade for a product unbeknownst to them with a value only revealed if the trade is made. In the performance which culminated in a dance space near the gallery, I used plastic bags filled with colored water as reservoirs harnessing trauma from events I researched; such as the dehumanizing treatments of Mexican migrant workers in the Bracero Program (1942-1964). I embellished my body in pink foil curtains which I wore as a headpiece representing an Aztec headpiece and walked in pink heels, presenting myself as a gender queer body. I painted cardboard Aztec glyphs on cardboard and spread them around space as grounding objects of my cultural heritage. I used movement scores improvised to sound and voice over texts by Comandante Esther from the EZLN (Zapatistas) demonstrating what it means to enact beauty in spite of fascism, the violence of globalization, and violence against indigenous women.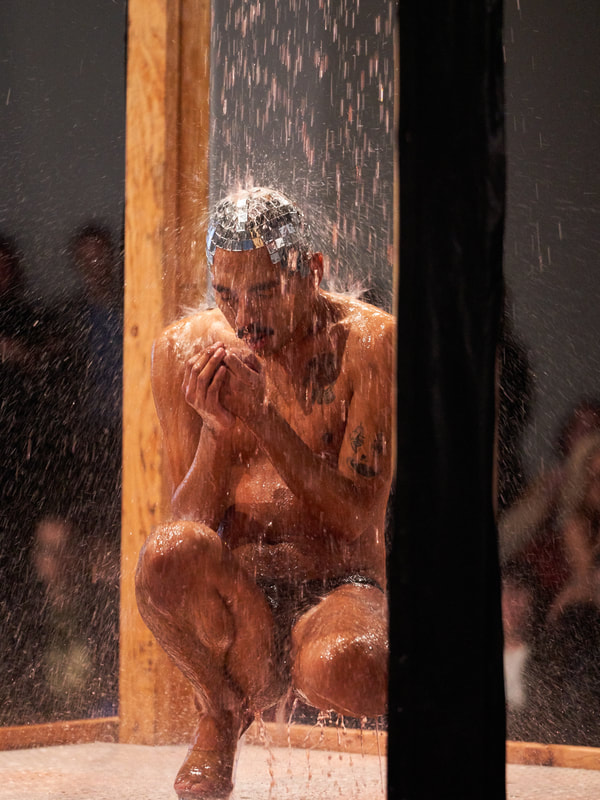 In 2018 I presented a video and sculpture in an exhibition titled Pasado Mañana . In a video titled Brown Zero, I created an immersive palimpsest containing video documentation and visuals of combat video games, vogue dance, Cumbia dancing, and personal footage of my Aztec dancing, overlayed with lasers, Latino queer porn , rose petals falling and images of buildings getting destroyed. Riffing on "ground zero," Brown Zero pivots from Eurocentric art canons to center an indigenous perspective that too often feels like building from scratch and very few remnants of knowledge of my cultural history due to colonization. Adjacent to the video, I installed a sculpture titled Falling Up that was composed of materials I had previously been familiarizing myself with in performances. I created a cascade of plastic water filled bags hung from the ceiling with jute twine that created a yellow to dark green ombre gradient. The sculpture emobodied the vulnerability and fluidity of my trans femme body through its undeniable presence in space and fragile vaporizing ephemerality.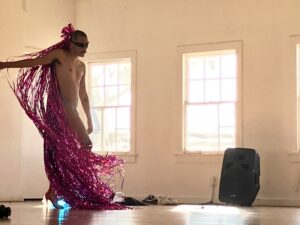 Early in 2019 I presented a work titled Hypanthium. Hypanthium is a trio performance performed at REDCAT theater that confronted my own experiences and ideas about sisterhood, space and power through an experimental collage of video, movement, and sound. I created an experimental video of myself that used slow motion, quick cutting and layered video effects. It initiated at the beginning of the performance where an emotionally distraught femme figure ran across a bridge that connects the East Side of Los Angeles to downtown while fireworks were exploding in the sun setting background. The video queered and took note of the violent war like political climate we find ourselves now. I worked with self identified dancers to choreograph a performance and dance that was a fast paced, supple, and grounded. The dance incorporated an emphasis on rigorous floor work that mixed modern dance technique with subtle gestures of vogue and every day feminine body gestures. The dance balanced masculine and feminine energy. I curated a contemporary list of sounds that flowed with the perfromance from start to fninsh; electronic dance music, heavy industrial soundtracks, experimental poetry, gabber and a hint of pop that kept the flow of the performance exciting, intense, and erotic. A significant part of this project was inviting and collaborating with artist who's visual and performance work I've resonated with and whom I had exhibited and worked with in the past. I invited artist Maria Meae who works with ice and fruits in her art making. We collaborated on making "fashionable" ephemeral ice bags that the trio would use during performance. I also collaborated with Rafa Esparza to create arrestive wooden chairs that served as sculptures that became activated by each performer. I brought artists and their aesthetic lineages into a theater space where materials used by performers were not props but instead valued art objects that together worked with dance and performance art.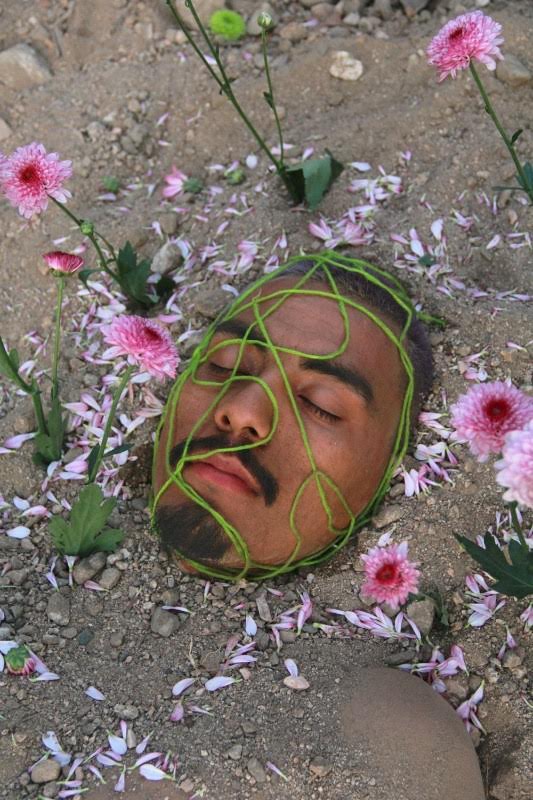 I'm continuing to experiment with my relationship to objects and movement by building on the modality that Hypanthium progressed through. Im interested in continuing to collaborate with other artists and build on my relationship to making and performing with sculptures and experiment with video and sound. I'm committed to contributing culturally and politically significant art that makes a queer trans femme and decolonial identity of Browness visible.