Every week I feature one photograph and the photographer who took it. You'll read a short introductory note from me, and more importantly, a statement from the photographer.
Emmanuel Iduma on his Tender Photo project.
Tender Photo
A newsletter on African photography.
My goal for Tender Photo is to create a publication where people can learn about photography together, through the work of African photographers I admire. I want to reach readers willing to give some thought to how photography impacts their lives and shapes their perceptions. And I want to pay homage to the work of a diverse group of African artists working in different forms of photography, including fine art, fashion, documentary, and editorial photography.
The process of choosing the photograph I present is simple but collaborative. I send 3 photographs to a photographer born or based in Africa (selected from their portfolio). They choose one of those photographs and respond to 5 simple questions:
1. Where was the photograph taken?
2. How did you go about taking the photograph?
3. What makes this photograph special to you?
4. Can you describe your approach to photography?
5. In what ways do you think photography is impactful?
Then, I edit the responses into a short statement that forms the main content of the weekly newsletter.
Here's what you can expect when you subscribe to Tender Photo:
A diverse group of photographers. I am constantly reaching out to photographers, most of whom are in the early to mid stages of their career.
An eclectic range of photographs. I place no restrictions on the type of photographs I feature.
What the photographer is thinking. We often see photographs without knowing how (or where, when, or why) they were taken. Each photograph featured in the newsletter will be contextualized by the photographer.
An unexpected way of looking at photographs. In writing my short introduction, I do not explain the photograph or tell you what to think about it. I simply provide a statement of what I see or think or feel when I look at the photograph.
Tenderness—warmth, affection, care, love—is the guiding principle for how I work on the newsletter, which photographs or photographers I feature, and what I hope to communicate to you.
Thank you for reading, and sharing with your network.
Emmanuel.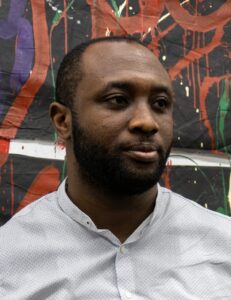 Emmanuel-Iduma by-Ayobami-Adebayo
About:
Emmanuel Iduma was born and raised in Nigeria, where he trained as a lawyer. He is the author of the travelogue A Stranger's Pose (Cassava Republic Press, 2018), which was longlisted for 2019 Ondaatje Prize. He has contributed nonfiction and criticism to Granta, the New York Review of Books, Aperture, n+1, Artforum, Best American Travel Writing 2020, Art in America, among other places.
His art writing has been honored with the Andy Warhol Foundation Arts Writers grant, the inaugural Irving Sandler Award for New Voices in Art Criticism from AICA-USA, and the C/O Berlin Talent Prize for Theory. In 2020, he was listed in Apollo International Art Magazine's 40 under 40 Africa for the broad social impact of his work.
I Am Still With You, his memoir on the aftermath of the Nigerian civil war, was awarded a Silvers Grant for Work in Progress, and is forthcoming from Algonquin (US), and William Collins (UK) in March 2023.
He received a Windham-Campbell Prize for Literature in 2022.
An example:
https://tenderphoto.substack.com/p/thero-makepe?utm_source=substack&utm_medium=email