Thameur Mejri
Galerie Elmarsa, Unit 23, Alserkal Avenue, Tunis, until 24 November 2017
The Present is Obsolete, 2017.

Mejri's paintings deal with brutality, bestiality, war, bigotry, intolerance and communication breakdown. In his work we are given glimpses of guns, skulls, torn feet, mutilated bodies, masks, knives, batons and various creatures, all mute spectators of violent disasters. Ambivalent characters come in and out of focus as disarticulated figures and objects overlap and converge.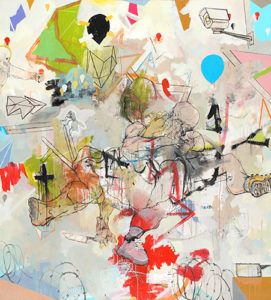 This is the future you have created, 2017.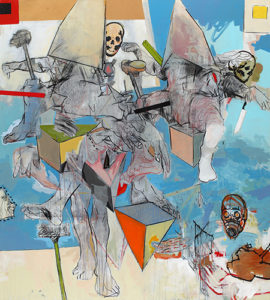 Spit the Ground 2, 2016.
The body is central to Mejri's practice and is a means to address topics that may be considered taboo. His deconstructed portraits question sexuality, the sacred and the profane, nudity and religious dogma. As the image of the body is destroyed and re-defined in new hybrid forms, the artist enacts an exorcism of contempt and hatred. Mejri achieves a careful balance between his chaotic execution and the sensitive treatment of his subject matter.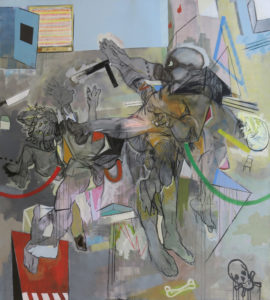 Destroy the Source, 2016.
Mejri was born in Tunis, Tunisia, in 1982. He now lives and works in Nabeul, Tunisia. His works have been acquired by the Barjeel Art Foundation, Sharjah, and the Sindika Dokolo Collection, Luanda.(text Jack Bell Gallery)