The very fact that 1-54 exists sends a huge message out to emerging black artists and we get to see important and interesting works expressing a dialogue that we can relate to and can understand. Because 1-54 attracts a broad audience it provides an amazing platform and has an incredible reach.
Christabel Johanson in conversation with participants of the 1:54
The influence of the 1:54 Contemporary African Art Fair
A conversation with a gallery owner and an artist
The 1-54 Contemporary African Art Fair was founded in 2013 and took at first place in Somerset House in London. Later venues in New York and Marrakech were added.
I had an interview with gallery director Elizabeth Lalouchek and artist LR Vandy to discuss the fair and the state of African art now and in the future.

A graduate from the Royal College of Art, Elizabeth Lalouchek has won numerous awards and has had studios in cities as London and Paris. She currently works as artistic director for the October Gallery and has been involved with the 1:54 for the last six years. "It's in a superb location with contemporary artists from all over the world including African artists. The fair has grown on a larger scale and now takes over two wings of Somerset House." Although it has flourished she recalls a time when the future was still unknown. "The first fair had a vast amount of pressure. Who were these artists?" she remembers, however the event was always a huge opportunity for artists to show off their work.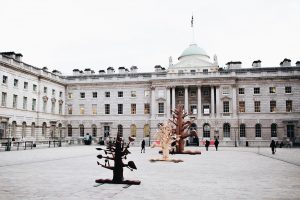 Somerset House, the venue of 1:54 in London
LR Vandy was one of these artists whose work was shown at 1:54. In London, last month. Vandy grew up in the south of England, first on the countryside then to the coast. She went on to study for a BA in Graphics at Camberwell Art School and then onto the Royal College of Art in MA Furniture Design. After that she moved into jewellery and metal forging as well as into making various pieces for interiors in England and the United States. Vandy also worked for commercials and television  until she focused on making art work again.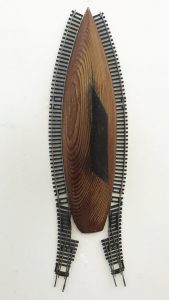 Wooden Hull, 2017
The October gallery invited her to exhibit at 1:54, "It was very exciting to be invited to show with two very acclaimed artists, both of whom I admire, namely Alexis Peskine and Gérard Quenum. They thought that my work would resonate well with both the other artists showing, which made the idea of giving me an outing before a solo show feasible."
Before this opportunity Vandy had visited the fair for the last four years and seen it grow in both stature and standards. She believes that its importance and cultural impact in the coming years will be extremely significant.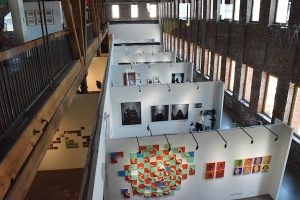 Pioneer Works, the 1:54 venue in Brooklyn, New York
Indeed it brings very good clients from around the world and becomes a platform for international exchange. Elizabeth recalls that from the early 2000s on contemporary African art was building interest. "At a similar time the Tate was going to collect it. There was an eternal interest in African art but only in 2008 [due to the credit crunch] newspapers were asking about its future. It still hasn't reached its peak and continues to grow."
*
As with all trends however critics will claim two sides. The fair has certainly impacted on the attention and development of contemporary African art. "The very fact that 1-54 exists sends a huge message out to emerging black artists and we get to see important and interesting works expressing a dialogue that we can relate to and can understand. Because 1:54 attracts a broad audience it provides an amazing platform and has an incredible reach," says Vandy. Likewise Elizabeth believes it hasn't "lost the edge it has. People are excited to be seen there. There is a vibrancy. It is a place to appreciate art and to communicate." Nevertheless there is always a danger that African art could end up becoming over-commercialised. Yet as Vandy comments, "Art has to be commodified if artists are to make a living from their work. It's about time that contemporary African Art is as highly valued as any other art and that black artists are recognised and rated equally."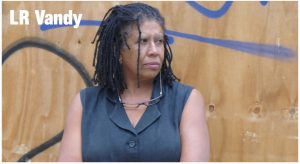 But what of Vandy's work itself? In her own words she describes her art as exploring the contrast between the contradictory images of transportation. "The romance of cruises and train journeys contrasts starkly with the grim exploitation of moving human cargo around the world and the historic use of slave labour to construct these networks." Her experience of growing up as a black woman in a predominantly white society of course informs her art and in turn her work reflects these experiences. "I am exploring ways of making pieces that echo or reflect these opposing and conflicted realities."
With both Hull with Fluorescent Floats and Golden Waggler, each piece uses color to make a bold statement. Tribalistic in design, the spikes are aggressive and alluring and remind the viewer of African masks. Both pieces were made out of model boat hulls which reference the movement of commodities tied into the slave trade and black experience.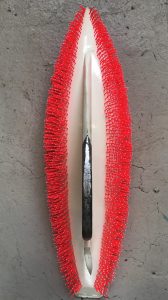 Hull with Fluorescent Floats, 2017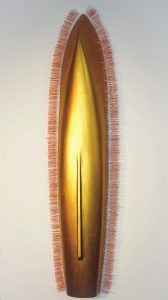 Golden Waggler, 2015
This merging of symbols – transportation, slavery, old and new – is something Vandy has spent time exploring in her own and in others' work. "I've always enjoyed the iconography in Renaissance paintings and this has led to an interest in the language of graphic symbolism across all cultures." Indeed art and certainly Vandy's art delivers its meaning through symbolism.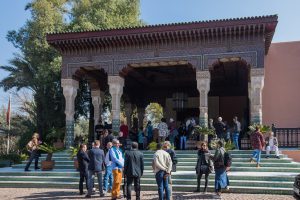 The 1:54 venue in Marrakech
When expressing complex and emotional topics like black experience, slavery or prejudice there are many creative presentations of contemporary black art at the 1:54. "It's hard to say where the new frontier is," says Elizabeth. "We are always speaking about contemporary black artists in Europe. But what about European artists in Africa? Then it will be cross communication and not just one way. What's important is that now the doors are open – not like the 1990s when I first started. I hope that things continue to change. I would like more presentations of artists in galleries and exhibits."
Big events now have a range of artists from Africa that they did not have 20 years ago. From Vandy's point of view one of the most important things is to find like-minded people and forge communities as eventually these communities will "overlap and larger networks will be created. We all need to support each other and remain connected physically and digitally."
It is safe to say that from a commercial perspective artists these days are luckier than in the past, as there are many more of these community networks around. Specifically black culture and art has formed its unique identities. The foundations of these were set as part of the legacy of previous work such as the Caribbean Artists Movement and other trailblazing initiatives.
As for aspiring black artists who would one day like to exhibit their work in a gallery or at the 1:54 Elizabeth assures that "galleries are looking out for young, new interesting work. Study what is out there. The work of art is the most important thing – to develop your own vision and power. Some people can be fooled, but not history. Keep on trying and don't fall when hurdles come."
Photos LR Vandy's work: Fiona Cunningham-Reid. Courtesy the Artist and October Gallery, London.
Christabel Johanson is a writer and a curator from London. She has had previous writing and poetry published and is currently involved in organizing her cultural nights "Christabel Presents…"