"It becomes dangerous when artists pretend to be socially engaged or are not taking the reality of a community into account and only focus on creating a good artwork. But the most important issue is continuity. If there is no continuation or involvement that contributes to certain goals, than it could cause a lot of damage."
Tirzo Martha reacts on Lih-Lan Wong.
Ex-Surinamer (detail), 2015.
On residencies, Caribbean identity and the struggle for acknowledgement
An interview with Tirzo Martha.
This summer I met artist Tirzo Martha (1965) in Surinam. We were both involved in the Moengo Festival of Visual Arts (MFVA). Martha was one of the participating artists from Curacao. The exhibition was located outside the institutional context: in the Marowijne district's former industrial bauxite town. Here, the aftermath of the 1980's guerilla war is still tangible, unemployment an unfortunate reality and those in power very committed to maintain the status quo. In this reality 'the life project' of artist and MFVA's initiator Marcel Pinas is taking place. Next to annual festivals, there is an artist-in-residence program aimed at contributing to the sustainable development of the community and in particular the local youth.
Residencies are omnipresent. They provide new opportunities for artists in the presentation and production of their work, broadening their network, guidance by art professionals and reaching new audiences. But residencies are not just about art itself. My experiences in Surinam made me think about residencies such as Moengo, aimed at playing a role in local development. What are the effects on the community? How are artists guarded from instrumentalization? And, how does Moengo profit from all of this? During the festival I discussed exactly these issues with Tirzo Martha. Many characterize him as a socially engaged artist concerned with the sociopolitical state of the Caribbean. This focus is also reflected in his activities as co-founder of the art institute Instituto Buena Bista Center for Contemporary Art (IBB) in Curacao. Three different artist-in-residency programs at the IBB support the pre-educational art school.
We have both been to Moengo (Surinam), and if you look at Marcel Pinas' artist-in-residence program, you will notice that he pursues a clear goal: rebuilding Moengo and investing in the younger generation. I was wondering, what was driving you to start the Instituto Buena Bista in 2006?
It all started with us [IBB was founded together with artist David Bade] working for years on different social projects. On a certain point we met so many young talent that we thought: we have to do something with this! They need a place where they can be guided, supported and where their qualities are being developed. At the same time we wanted to create a base for the development of the visual arts on this island. However, starting an art academy costs al lot of money. Moreover, it means you are tied to teachers and a fixed structure. We wanted to be flexible. So we decided to start a residence program where artists come to work and teach our students for a maximum period of four months. In this dynamic structure we are able to welcome artists from different cultures, backgrounds and perspectives. At the end of the program the artists are asked not only asked to present the results of their work but to also donate a work to the IBB. Our community is not familiar with museums, galleries or contemporary art. Most people relate art to figurative, colorful, appealing and sweet imagery. With our growing collection, they will get more insight and references of what contemporary art is about.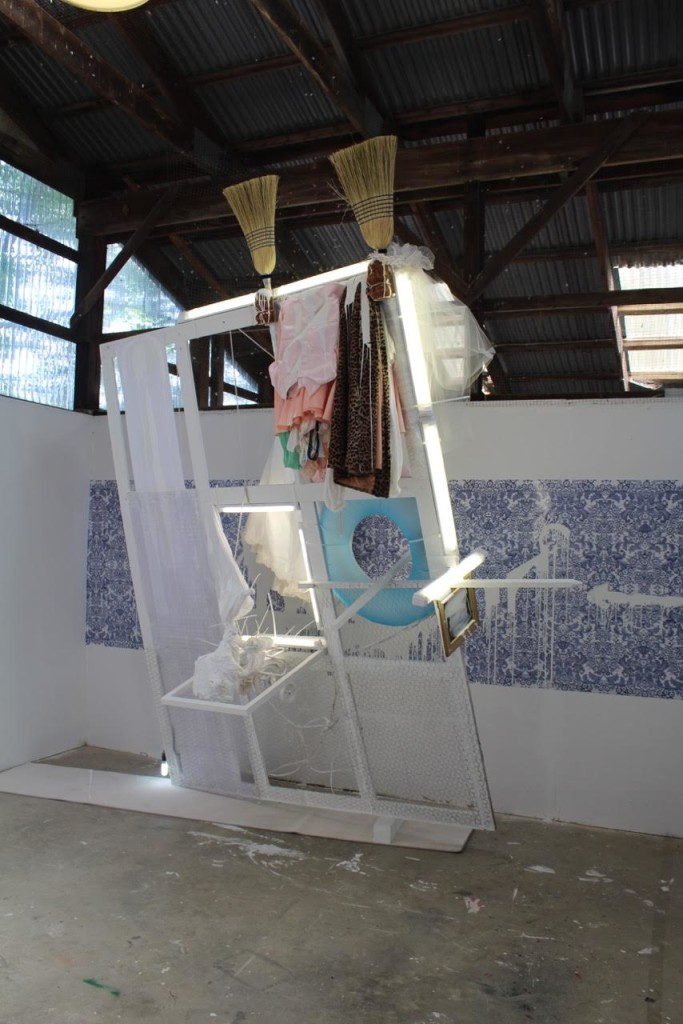 Portrait of my family, 2015.
Many residencies are aimed at offering a free place where artists can work autonomously and are not influenced by the outside world. With IBB it's exactly the opposite. IBB is more related to residencies that ask artists to intervene in all kinds of social, political and economic contexts. What is your view on the threat of instrumentalizing artists for all sorts of purposes?
You have to be prepared of what is expected in advance. I don't mind the fact that visual arts and the process of creation are used as a means for development, change and possibilities. With IBB it is really about contributing, developing and educating. I also do this in my autonomous art practice. It becomes dangerous when artists pretend to be socially engaged or are not taking the reality of a community into account and only focus on creating a good artwork. But the most important issue is continuity. If there is no continuation or involvement that contributes to certain goals, than it could cause a lot of damage. An example is working with people and giving them hope for a short period of time and after its over, leaving them behind in emptiness. Also at IBB this continuity is a real challenge.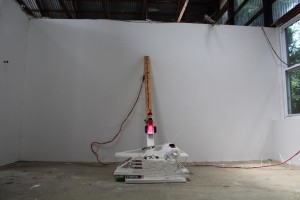 I tried, 2015.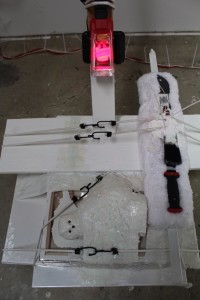 I tried (detail), 2015.
Do you experience the massive increase in different artist-in-residence programs worldwide as a positive development?
No, to be honest, I don't. Not all residencies have a purpose that I experience as a value to art, the community or the artist. Often artists become a touristic attraction. Residencies should be about creating awareness and good art. Of course you still have lots of good programs, I was nominated for OMI International Arts Center last year. Generally I find residencies a limitation of my freedom because you are stuck somewhere, but OMI was a very positive experience. I could really focus on my work. In the U.S all materials you need are at hand and cheap, so I could really experiment.
Artists teach at IBB, they give a lot to the students. What do they get in return, what is it that they learn at IBB?
They are confronted with a complete different environment. We hope they learn from this challenge. In Curacao materials are scarce. This creates a situation where they are forced to search for alternatives. It often leads them to other possibilities and new ideas. They are encouraged to improvise with what is present and absent on the island.
Where do you see IBB in the Caribbean art discourse? And where do see yourself as an artist?
Both the IBB and me strive to preserve and strengthen the existence of the visual arts in Caribbean. We want to generate attention. Appreciation and awareness does not only need to come from outside but also from inside; it has to grow in our own region. We have to write and develop our own history. Just like anywhere else in the world. We have to create a solid identity and our own important places and exhibitions. The visual qualities and content must be reinforced and lifted to higher levels. At IBB we work on a new heritage that brings continuity to our history and changes our attitude, mentality and vision of the future. It is a reference of what we have accomplished and achieved.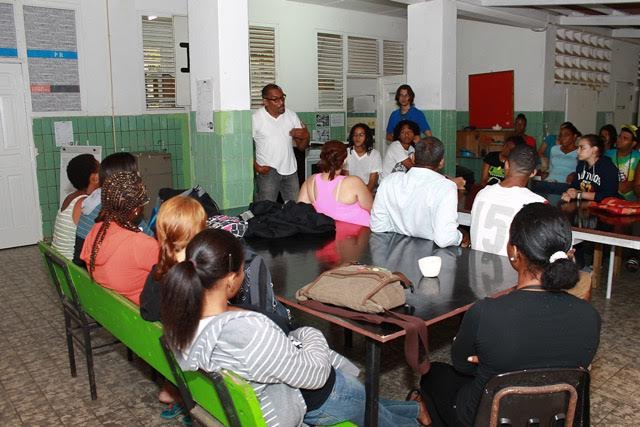 IBB Curacao.
Do you believe that cultural barriers are being bridged and global communities shaped during artist-in-residence programs?
I understand that view. During these programs you meet people from all over the world. So, yes, I do. What I myself observed are developments that are very important for the visual arts in certain countries where people are limited in visualizing their needs and urgency. Works become stronger, there seems to be more freedom. During my residency there was an artist from Iran. It was a very interesting work. There are so many preconceptions about Iran: the Islam, suppression, having no representation or contemporary art, but there is! When I am working with my students, I experience how media influences them. They look at CNN and see all these negative images. They cannot imagine that this artist makes such great work.
Do you also feel a responsibility to globally visualize the Caribbean identity?
Definitely. Art is most of the time analyzed and described from a western perspective but there are so many other realities here that existed for centuries. Most of the time it's not documented, so people are not aware of these exceptional traditions and extensive knowledge. Because we lack solid foundation it stays invisible. People tend to ignore it. There is still a cliché view of Caribbean art that dominates; that it's very tropical or writing about me as a "colorful artist", which makes no sense, as my art is not about that at all. We have such a strong representation here in the Caribbean, but the nuances are complex. We don't need the western philosophical perspectives we have our own context. Maybe not in writing, but it's narrated from father to son, or mother to daughter. We have a large oral history.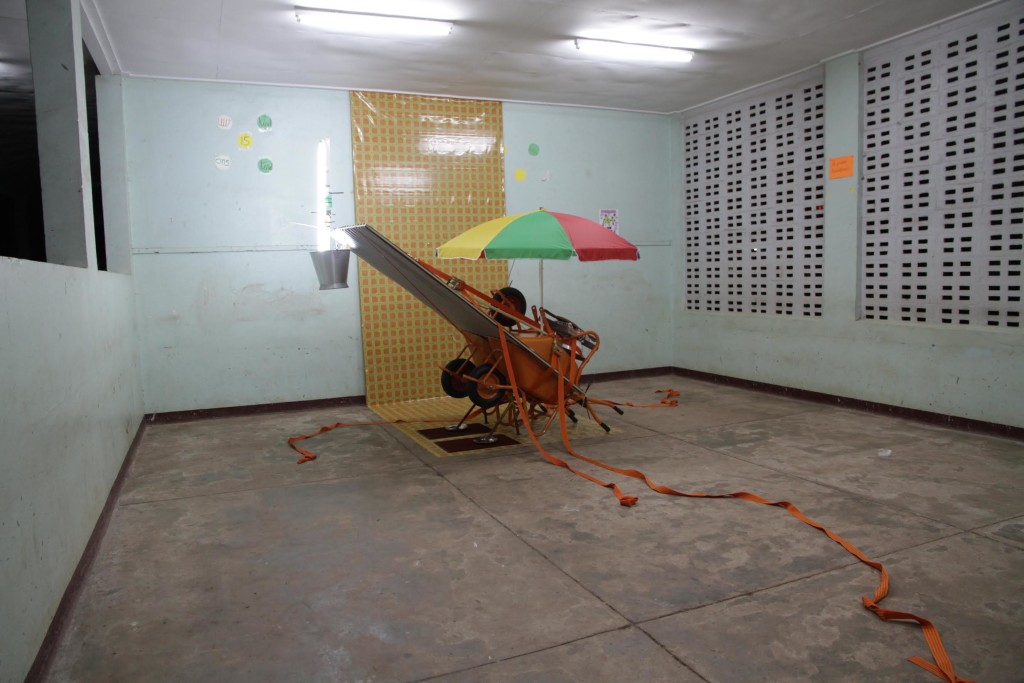 Ex-Surinamer, 2015.
Is this not exactly what your work is about in Moengo, titled 'Ex Surinamer'?
Yes, it's about the stories my grandfather told me, and how the Surinamese cope with it today. It also has to do with our identity. Who are we? How do we survive? As I said to you in Moengo, it's very simple: we can fight very hard to be part of the Venice Biennial or the Documenta in Kassel but we are not using that same energy to realize an exhibition like that here in the region. I called the work 'Ex-Surinamer', but it could as well be about 'Ex-Caribbean' people. Because we fight so hard for acknowledgment, for the great stages in the West, but we will not fight as hard for the development of our own stage, even if it's smaller.
How do you unite that with the fact that lots of local initiatives are financed by organizations that you call "the great stages in the West"? For example the Mondrian Foundation, a Dutch institute that finances a great amount of projects in the Caribbean, both the IBB and Moengo festival. I wouldn't say its wrong, but projects are being honored on the basis of oversee committees.
That is a reality. But I made a choice that consists out of two things: there is the Netherlands, and there is the rest of the world. I have positioned myself as an artist whose world is not just the Netherlands or Curacao. I find it very important to broaden my references and practice because it's all about the world we share. That is the first. The second thing is: I am still very happy that the Netherlands appreciates what we do and that they are supporting it. The reality is that I am here in Curacao and the financial opportunities are limited, not because there is no money but because there is no knowledge, awareness or insight in what the arts can mean for a society, mentality or development. The support came from the Netherlands and it is something I welcome and cherish, but we need support from here: Curacao. And that is part of our battle. That awareness and appreciation needs to come.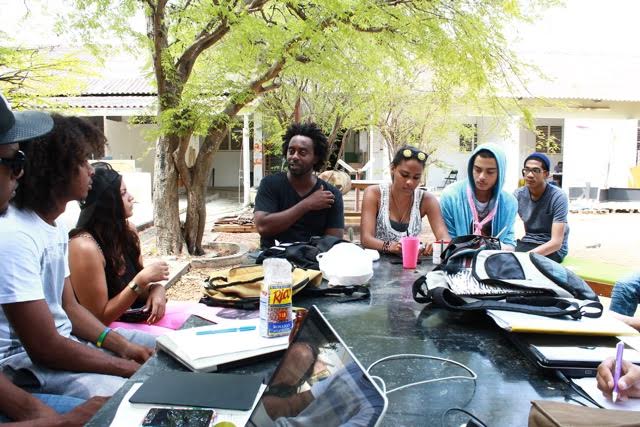 IBB Curacao.
Lih-Lan Wong : MA Art history/production &communication. She worked for W139, a development-orientated artist-run space in Amsterdam. She was co-producing the Moengo Art Festival in Suriname.