Where is home and why might people feel like they don't belong in the very city they were born? Karuti will generate the feeling of being in today's Nairobi, where so many doors are closed to the ordinary citizen. She will use physical doors, some open, some closed, and others that open to a wall, to simulate the feeling of being both incarcerated and exiled by one's own city.
Zihan Kassam on the work of Kenyan Jackie Karuti.
Photo: Joel Lukhovi.
Pedal to the Medal
Young Kenyan artist Jackie Karuti steps on the gas
Some people coast through life, freewheeling as they go. Others are more conscious of their surroundings; more deliberate about the direction they take. Jackie Karuti is among this purposeful, cerebral contingent.
A truth-seeker and a trailblazer, her artwork is carefully designed to trigger questions about the customs we often mistake for truth. From painting to performance and installation, her provocative oeuvres occupy the front-line of Kenyan contemporary art, luring new audiences into the world of the conceptual. Scrutinizing our monotonous ways and erroneous belief systems, Karuti is a game-changer, prodding us to devise a better existence.
Born in 1987, Karuti grew up in a Nairobi caught between declining collectivism and lawless capitalism; a city losing its past without having secured a future. As the city mutated, the old customs dissipated and new lifestyles emerged. A few children of this transition envisioned an alternative transformation, one that questioned new-world traditions in the hope of creating a different society. In a new-fangled Kenya, these creative prodigies led breakthroughs in art, music, dance and film.
And so, open-minded artists like Jackie Karuti began to ask big questions, the right questions, like, why do we do the things we do, especially the things that seem irrational or cruel? Sitting in the back of a matatu on her daily commute, Karuti watches the energy of the metropolis fly past, trying to see Nairobi as if for the first time. Making believe that she is from another planet, she questions our bizarre behaviours and the fate of our race: How does information pass from one person to another? What happens to this planet if we continue to neglect it? Why do we sustain gender norms with no rational basis? How will the people of tomorrow look at our today?
A student at Mank & Tank multi-media school, Karuti trained and worked in illustration and multi-media design before changing course in 2011, when she moved to Kuona Trust Arts Centre, where she worked amongst other Kenyan artists. Developing her drawing and painting skills, she was not quite in her element. It was when she met acclaimed Kenyan performance artist Ato Malinda, who led a workshop on conceptual art at Kuona, that something sparked Karuti's interest. She continued painting while researching different art forms and interesting artists from Africa. "I didn't know what I was doing for a year," Karuti admits, "and when I was accepted to the second edition of the Asiko Art School held in Lagos, I was eager to jump into a project that took me away from my usual way of working."
Organized by the Centre for Contemporary Art, Lagos, the Asiko programme consisted of seminars, discussions, workshops and exhibitions devised to develop critical thought and to encourage artists in their research and implementation of conceptual ideas.
A workshop, residency, and informal art school at once, it was a unique place to be. "This was the launching pad for my career," Karuti explains, "I met other emerging African artists and learned how to create idea-based art. It wasn't about the end product anymore, not about point A and point Z, but rather what happens in between."
Karuti returned to Kenya eager to use the tools she had begun cultivating, but things were moving to a different rhythm in Nairobi, and she had to steady herself. She applied her new ideas one at a time, and patiently shared what she had learned with fellow artists and friends. Attending the ReFiguring Women workshop in Johannesburg in 2012, she was again surrounded by talented artists and curators with whom she has kept in contact with. Karuti felt an urgency to step up her game, and with a clear mind and strong ambition, she began to produce artwork that had an impact on her audience. With a refreshing ability to articulate her objectives, she shared her learning and made intelligible artwork that people grasped and responded to.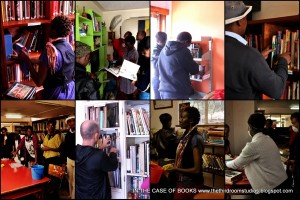 In The Case of Books, 2013.
In 2013, Karuti began her library project, 'In The Case of Books' where volunteers travel to different library spaces to dust books and to talk about the books they find in each space. It is a mobile, interactive performance that will culminate in a video installation. Participants include renowned Kenyan artist Peterson Kamwathi, and Cape Town based art critic Sean' O'Toole. "The project is about the importance of libraries and alternate reading spaces, as well as the relevance of not just the written word but also the physical book. I think despite the digital wave that has rendered the physical book almost useless, chronicles of the world in the distant future will still be documented in books. Books will be rare and almost impossible to access and acquire," Karuti explains.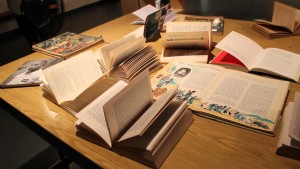 Where books go to die, 2014.
Like many of Karuti's endeavours, this was an ongoing project, and 'In The Case of Books' has evolved. In March 2014, Karuti set up 'Where Books go to Die', an installation at the Goethe-Institute, Nairobi. With empty bookshelves, a fan slowly blowing the pages of a book, resin sealed bibles, a burnt copy of Animal Farm, a makeshift water fountain, and a peculiar mannequin librarian demanding silence, every detail of the installation was deliberate, prompting questions about how we store and value the information we find in books. Working with the four elements as and an underlying theme, Karuti used earth, air, water and fire to show us that, regrettably, the library and the book are the subjects of decay.
Delving deeper into the human psyche, Karuti began to explore atypical and forbidden subject matter. Advancing subtly, she looked at the invisible prisons imposed on us by societal constructs, as well as the self-imposed. Observing the banality of our existence, she contemplated death as a release from the fetters of this mundane, unjust life. What if beyond this laboured life, there lays a better place for us? "Living in Kenya, against all odds and despite so many changes, we are still quite conservative, and we oppose a lot of freedoms," Karuti shared, "People are not as liberal as you might think and you sort of feel like you are living in a cocoon." For a free and forward thinker, living in Nairobi has its frustrations.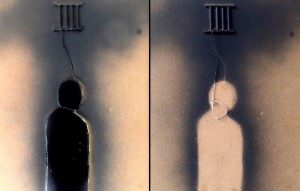 A great perhaps, 2014.
In 2014, at the Bag Factory residency in Johannesburg, where she felt an overwhelming sense of isolation, Karuti immersed herself in the theme of suicide. Neither applauding nor demonizing the act of taking one's own life, her series 'A Great Perhaps' began with vague characters, noose around neck, confined within a three dimensional cell made of wood and elastic. "The world can be too much for some people. It's too loud and perhaps the people who choose to exit it are the brave ones," she says. Karuti wondered if these people saw the futility and tedium of this life. Leaving South Africa with the haunting feeling that the series was incomplete, Karuti returned to Nairobi and continued to develop her ideas, resulting in 'Labyrinth': Karuti's first solo exhibition at Kuona Trust Arts Centre, in January 2015.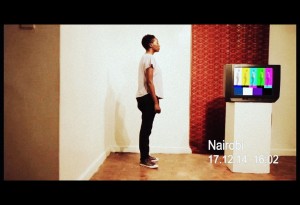 Lost in trans(mission), video still 2015.
'Labyrinth' consisted of the video 'Lost in Trans(mission)', the 'Exit' installation with a door that opens to a blank wall, and mixed media paintings on paper and wooden planks. Karuti's motifs became an image of an inmate or soldier behind three prison bars, or motionless jailbirds waiting in line. Although her figures appeared stencilled, each of them was hand painted in black acrylic, left to dry for two days, and then sand papered and run through water. It seems her technical process would put the inmates through the wringer once more.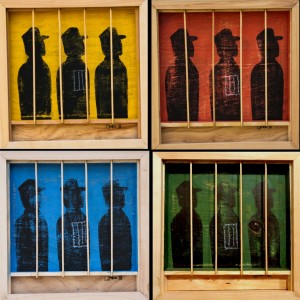 Bars and Windows, 2015.
So, what had happened to these expressionless souls in Karuti's artwork? "I started paying close attention to what people were telling me, I was more conscious of what they were feeling, having good conversations where friends shared their feelings. Some were stuck in their jobs, others depressed. The people who were feeling this way seemed to multiply. There are so many people going through a tough time or trapped by circumstances." The video and door installation, and a few of the paintings on wood from Labyrinth are currently part of a group exhibition in Sweden curated by Elise Antangana. It is called Entry Prohibited to Foreigners and it runs from June 6th to September 27th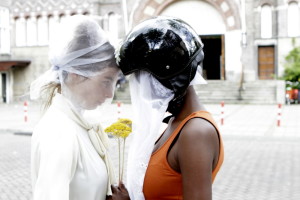 I can't wait to see you, video performance, 2015.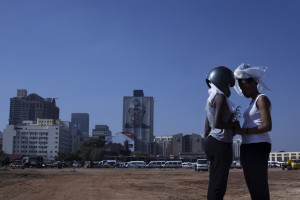 I can't wait to see you, video performance, 2014.
Another intriguing ongoing project is Karuti's 'I Can't Wait To See You' video performance. Engaged in a ceremonial stance, a woman wearing a wedding veil stares intimately in to the eyes of another woman wearing a helmet. They stand perfectly still, holding hands, with a flower between them. The performance is being staged at public spaces in Nairobi, Amsterdam, Johannesburg, Berlin and Kampala, with Johannesburg and Amsterdam completed. Through video and photography, the audience will be privy to the reactions of people in different cities, with varying levels of tolerance for the atypical arrangement. People in Kampala might have a very different reaction to those in Amsterdam for example, and the feedback will speak to discrepancies in sexual freedom and human rights.
In July this year, Jackie Karuti, Gor Soudan and Wambui Kamiru participated in a collaborative exhibition called Fore.cast, which explored the human experience of past, present and future. With an alluring narrative by each artist, Fore.Cast was another step forward for Kenyan art, authenticating the era of performance and installation. Karuti and Soudan's collaborative performance Seer used fire, smoke, video, and sound to emphasize the legacy of the jiko (cook stove), another "dead or outer thing" as Soudan might say. The jiko continues to be a necessity for cooking in Kenya, but it is also detrimental to environmental ecology and the planet's climate. Seer will play at Gor Soudan's solo exhibition 'Join the Dots' at Circle Art Agency on September 10, 2015.
Time Capsule, installation, 2015.
Karuti's refrigerator installation 'Time Capsule' also received a lot of attention from a wide-spectrum audience. A common denominator in all of her work, it explored the dynamics of memory and how future generations will interpret the details of our present day reality.
Relentlessly researching different ideas, and foraging for meaning buried books or on the streets of Nairobi, Karuti is considered more of a thinker than an idler, more a mental voyager than a casual contestant of life. Next on the agenda is her 'City of Exiles' performance installation that will draw from her 'Exit' door installation and contemplate the idea of belonging. It will revolve around the question: Where is home and why might people feel like they don't belong in the very city they were born? Karuti will generate the feeling of being in today's Nairobi, where so many doors are closed to the ordinary citizen. She will use physical doors, some open, some closed, and others that open to a wall, to simulate the feeling of being both incarcerated and exiled by one's own city.
Jackie Karuti still holds a studio at Kuona Trust Arts Centre in Nairobi. Sharing her experiences and evolving concepts, she continues to bring local Kenyan and international audiences into the realm of performance and installation. She is currently in residence at 32° East in Kampala, Uganda. For more information visit: thirdroomstudios.com
Zihan Kassam is an artist and art writer living and working in Nairobi, Kenya. Her writing focuses on Kenyan contemporary painters and the evolving art landscape in Nairobi.