"I was captivated by it. It convinced me of the power of limitless, passionate phantasy, of storytelling as a concept and of sadness in combination with liberating humor. It proved the artificiality of the difference between low art and high art and, yes, it showed that Darger has looked over his shoulder."
Rob Perrée on the work of Trenton Doyle Hancock.
Trenton Doyle Hancock
THE MAGIC OF STORIES
In 2008 the American Folk Art Museum in New York presented a remarkable exhibition. "Dargerism: Contemporary Artists and Henry Darger" pointed at the influence of the American artist Henry Darger (1892-1973) on a large group of contemporary artists. This hermit artist made in fact one work: 'The Story of the Vivian Girls, in what is Known as the Realms of the Unreal, of the Glandeco-Angelinnian War Storm, Caused by the Child Slave Rebellion'. A story of 15000 pages illustrated with hundreds of watercolors and collage paintings. Because of his isolation but more so because he was a self-taught – read amateur – artist he did not get the credit from the art world he deserved. For long the beauty and the complexity of his work was not seen, his unhampered fantasy was not acknowledged. He was just a weird man making folk art.
In this exhibition I saw the work of Trenton Doyle Hancock for the first time. I was captivated by it. It convinced me of the power of limitless, passionate fantasy, of storytelling as a concept and of sadness in combination with liberating humor. It proved the artificiality of the difference between low art and high art and, yes, it showed that Darger has looked over his shoulder.
Skin and Bones, installation view, 2015.
This year the Studio Museum in Harlem presented 'Trenton Doyle Hancock. Skin and Bones. 20 Years of Drawing'. An amazing exhibition. Hancock had filled the rooms from bottom to top. If there were spaces left, he had filled them with texts or text-like images. There was some regulation – there were sections around one theme – but every section looked like a shook up Gesammtkunstwerk and all the sections together were an even bigger, more complex and more confusing Gesammtkunstwerk. My eyes got lost in it. I had the feeling that the imagery looked at me from all sides, attacked me. I did not know where to start and where to end. Until I realized that it didn't matter. I could make my own stories or I could pick the details that touched me or made me laugh. Darger had used the form of a book; Hancock used the walls, the ceilings and floors as his pages. In Darger's book there was a certain chronology; Hancock preferred the endless possibilities of space and spaces over the limitations of a strict timeline. Darger wasn't looking over his shoulder anymore; he was looking in admiration from heaven, for sure.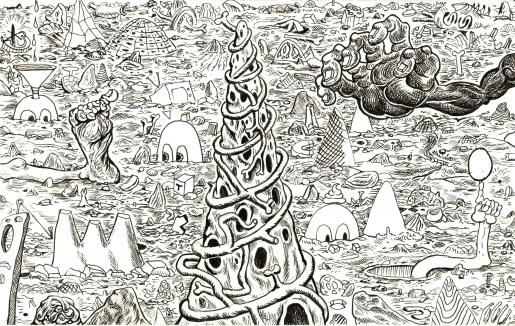 Cave Skape # 3, 2010.
Hancock (1974) grew up in the southern US, in Paris, Texas. A small city dominated by religion. He loved graphic novels, comic books and cartoons, but also films, music and toys. He studied art at East Texas University and the Tyler School of Art in Philadelphia. It must have been there that the imagery of cartoonists like Robert Crumb was supplemented with the imagery of artists like Peter Saul and Kenny Scharf.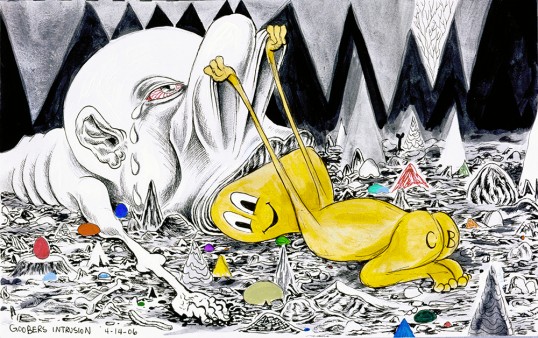 Goober's intrusion, 2006.
Perhaps it is hard to prove, but the influence of Paris on Hancock must have been considerable. It is a city with a bloody history. Segregation is deeply rooted. About 75 % of the population is white; a bit more than 20% is black. Several lynchings took place in Paris. They were organized as public spectacles. "Lack of evidence" was often used as an excuse for crimes against blacks. It could be an explanation for the big role religion played and still plays in the black community. African heritage, slavery and religion go with stories, with storytelling, with (folk) art that wants to explain, with art that wants to deal with moral issues, like race.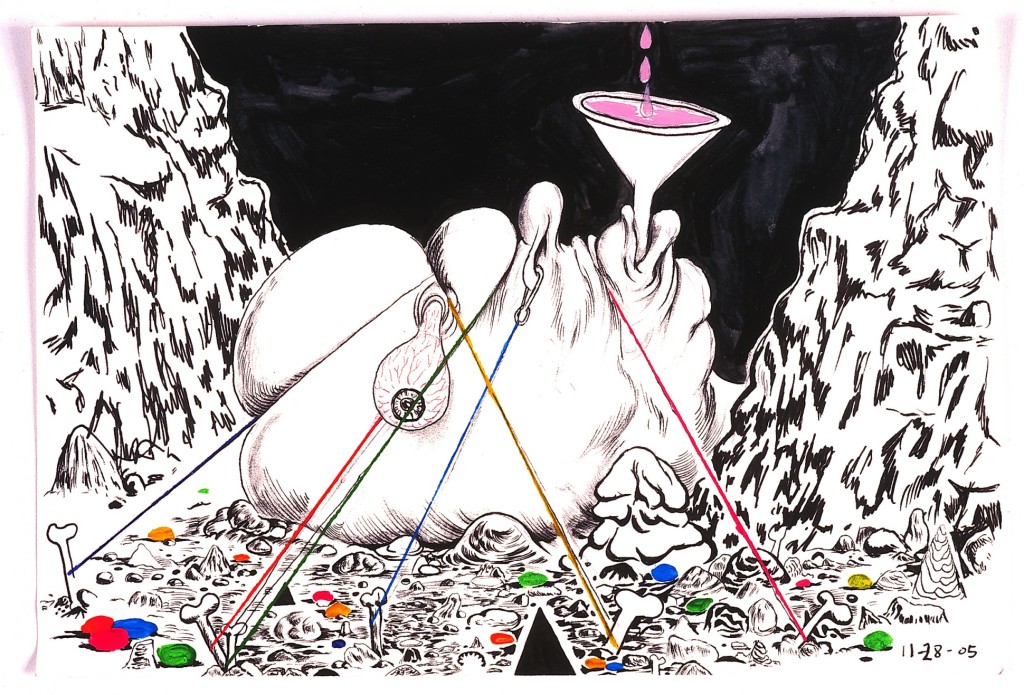 To Get Ahead One Must Sacrifice Certain Freedoms, 2005.
Growing up in a little city like that, were a fake Eiffel Tower is the main attraction, demands other ways of entertaining yourself. Comic books, films and music are almost logical alternatives.
Like Darger Hancock creates an overall story as the common thread in his work: the battle between the Mounds and the Vegans. In an interview he explains the meaning: "Mounds are these half-human, half plant mutants that came to life about 50.000 years ago, when an ape-man masturbated in a field of flowers, and up sprang these creatures, and they're called Mounds. Since then, many of them have died off for various reasons, but the main cause of death of Mounds is the premature death caused by creatures called Vegans who are evil creatures who can't stand Mounds at all." His alter ego Torpedo boy is one of the actors in his stories. "I even have an outfit, a Torpedo boy outfit that I wear while I'm painting. In a way, it's as if when I go into the studio I have to get into character. Torpedo boy's uniform is pink and yellow, one of the most obnoxious color combinations that I could think of. It's very loud, and that's what he's all about. His ego is his force field. That's just how he takes on the world."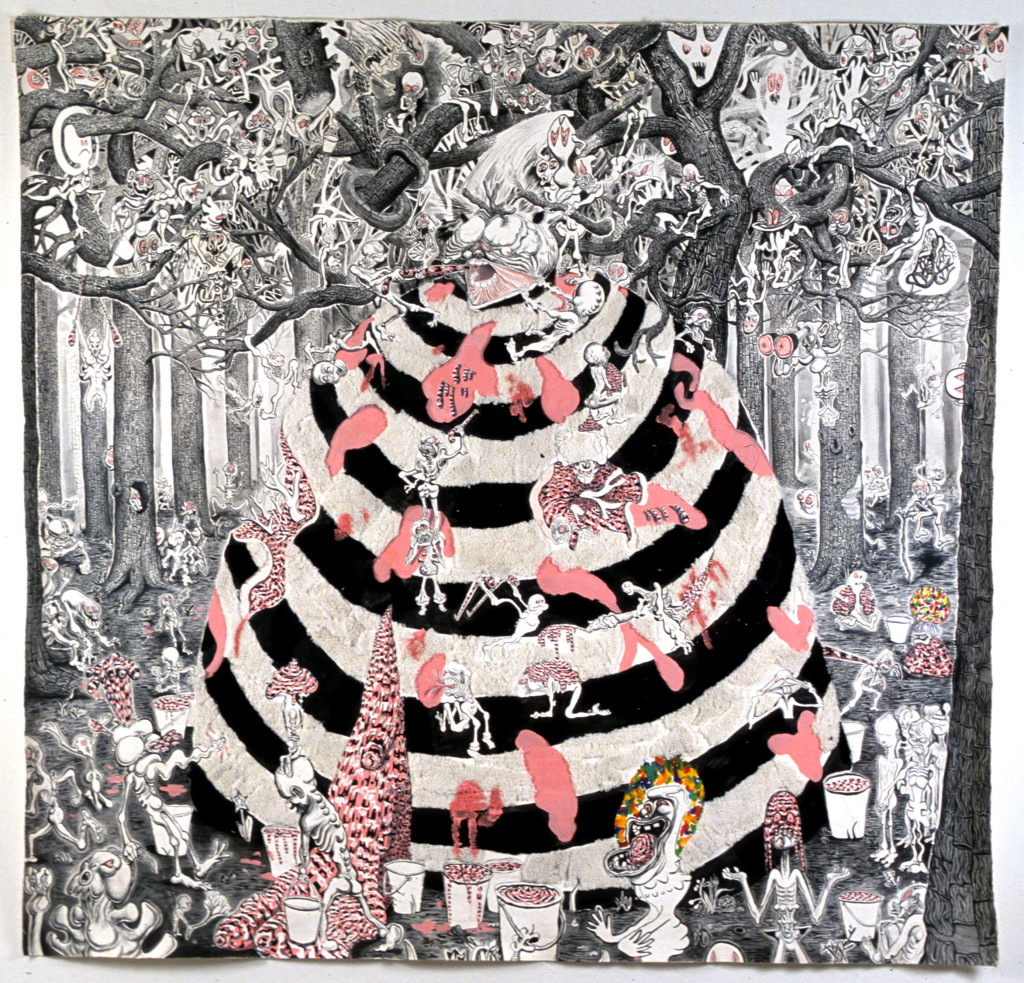 'The branches become as storm clouds' (2003) is an exemplary work. It shows a lot of elements that are characteristic for the oeuvre of Hancock. It is a combination of a drawing and a painting, but the basic form, the starting point is still a drawing. The work is mainly in black and white. That aspect changed over the years. At first, he says, he was afraid to use color, because he thought that color is too seductive, too much of an emotion. In his recent work he proves that he wasn't right. He uses color to give the players or actors in his stories more identity or he uses color to add more symbolic meaning to his characters or to create a certain mood. The work looks like an overcrowded playfield. A lot is going on and it is hard to find out what exactly. Only by combining different elements yourself, creating your own story, you can make sense out of it. It forces the viewer to slow down and to concentrate. It reminds me of a book fallen apart. The pages are whirling on the floor destroying the chronology. The amount of details is amazing. Little lively scenes tumble over each other as if they are fighting for space. Sometimes they look scary, sometimes they are very funny and other times they make you sad. "I think that there needs to be humor to explore the range. Just like crying needs to be in the work, there needs to be laughs as well." The work as a whole is balancing on all these different and often contrasting emotions. In the exaggeration of the imagery one can see the influence of cartoons and comic strips. Although he picks elements from reality, he transforms them into a surrealistic, magical story that wants to talk back to the reality.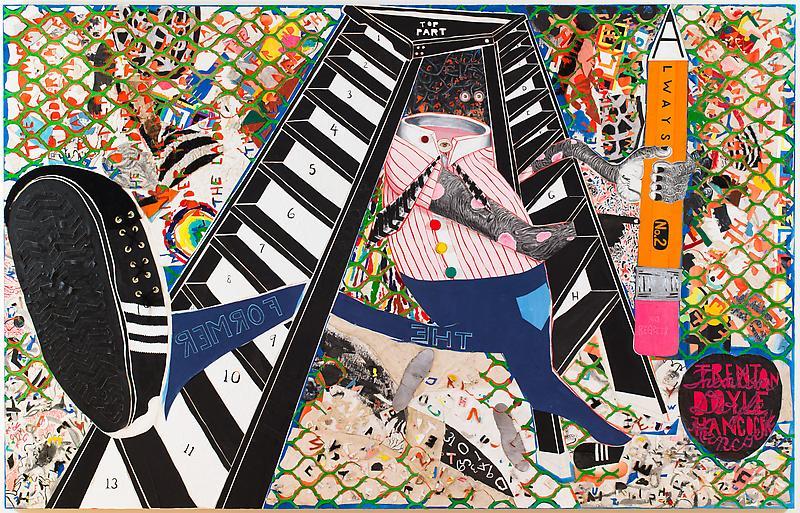 The Former and the Ladder or Ascension and a Cinchin, 2012.
Trenton Doyle Hancock made many self-portraits. Not to stroke his ego, but more as a loose form of self-criticism. He enlarges his features, he exaggerates his expression and he uses his glasses as his logo. In this way he not only underlines the personal character of his work, but he also refers to the relativity of his work, I think. His work often has a message, it talks about good and bad, but it is also highly entertaining, touching, funny, playful, beautiful, intriguing and surprising. You must take it seriously, but with a smile on your face or with little lump in your throat.
Courtesy: James Cohan Gallery New York. Until October 29 2022 at Shulamit Nazarian Gallery, Los Angeles. First published October 5, 2015.
Rob Perrée is art historian, independent writer and curator, founder and editor of africanah.org.
http://www.newsblur.com/site/197048/hyperallergic