Tyna Adebowale (b. 1982) is a mixed media artist who utilises texts, pigments and found materials to explore issues of gender, sexuality and identity. Her work comments on topics spanning Nigeria's dysfunctional political landscape and the impact of social media in contemporary society.
Red Line 8, 2015.
A graduate in painting from Auchi Polytechnic, Adebowale has completed residencies at the Instituto de Arte E Cultura Yuroba in Brazil and Asiko Art School in Ghana.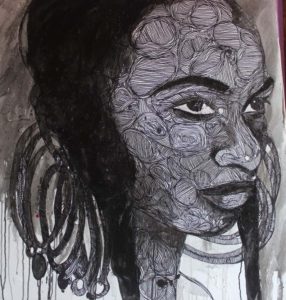 The Stare, 2015.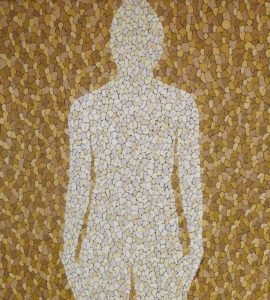 In the closet series, 2013.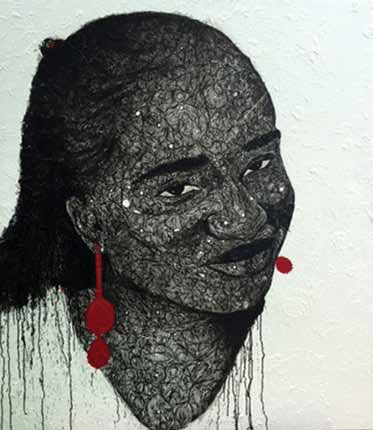 Mystic, 2016.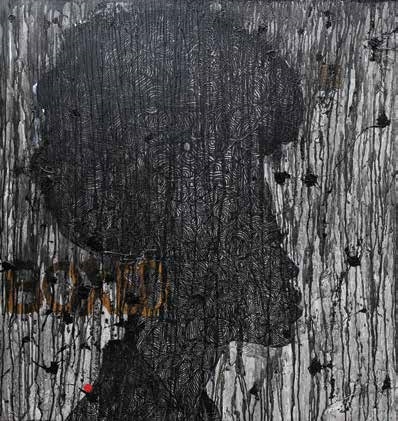 Bodi #007, 2016
Raised in Edo State, Nigeria, Adebowale moved to Abuja after her education, where she practiced as a fulltime studio artist for five years. Adebowale has exhibited widely both locally and internationally. Recent exhibitions include The Archive: Static, Embodied, Practiced (3rd International Art Programme, Accra. Foundation for Contemporary Art, Ghana & Centre for Contemporary Art, Lagos); Plights of Women (Female Artists Associationof Nigeria (FAAN) art exhibition. French Cultural Centre, Abuja); and The Maker: New Contemporaries (African Artists' Foundation, Lagos). This year she attended the Global Crit Clinic in Accra, Ghana, a two weeks intensive MFA programme, where she had the opportunity to focus on her art practice through various critical sessions.