Vickie Pierre: Poupées in the Bush Series
About:
Vickie Pierre is a multimedia artist, born and bred in Brooklyn, New York where she graduated from the School of Visual Arts in 1997. The artist currently lives and works in Miami, Florida.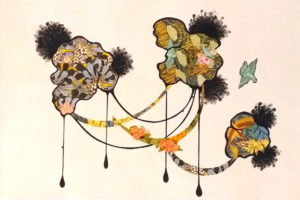 STATEMENT
My creative process is informed and inspired by memory, fantasy, surrealism, popular culture and the decorative and ornamental arts. This inspiration has manifested itself in years of collecting diverse materials that often serve as muses in my daily practice and as actual, physical elements within my assemblages and installations. My continued focus is on the universal themes of identity with references to design and nature, as well as the interconnectivity between my Haitian heritage (including the larger Caribbean community) and global cultural mythologies while concurrently considering feminine and historic tropes relative to contemporary cultural politics.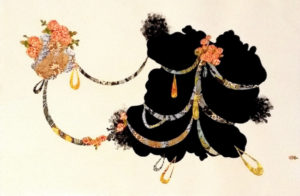 Within earlier paintings and drawings, I utilize rubber stamp imprints of the dresses of mass produced, Disney icons: Snow White, Cinderella and Sleeping Beauty. These female characters present a challenging precedent for young girls and may perpetuate deep seeded ideas into adulthood regarding identity and femininity. As global icons, they can be powerful yet manipulative, regardless of their endearing cartoon appearance. In my process, these icons are reintroduced as anthropomorphic shapes set against pastel monochromatic backgrounds. They are no longer recognizable fairy tale sweethearts. Stamp imprints of the dresses are maneuvered into new characters that are sensual and languid, self-generating and otherworldly totems. The deconstructed groupings and clusters now recall the natural abstractions and distortions of flora as well as human anatomy. Written text within these works as well as their titles, stem from song lyrics, poetry or artist musings. The text records an ongoing personal narrative and expresses a reciprocal, romantic sentiment or pervasive sense of melancholy or longing in a skewed homage to the very stories that these fairy tale characters emerged from.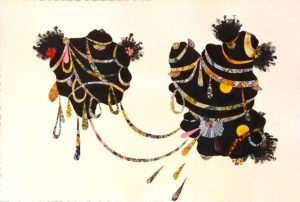 The assemblages and installations are abstracted physical manifestations of the "stamp" works. The objects used in the works are mass produced home decorations and gender-loaded personal objects, namely, vintage Avon perfume bottles shaped like young girls and women in large hooped skirted and petticoats from the 18th through early 20th centuries. The glass bottles function as vessels, of scents, of femininity and of history. The upper segment of the perfume bottles / dresses are removed, in a sort of deconstruction (in the spirit of artist, Hans Bellmer's La Poupée dolls) then paired with vintage sconces, hand strung beading and touches of jewelry. The addition of manipulated and cut decorative resin wall art also intentionally reflects a historic period in their design. The combination of these re-contextualized objects along with the titles and vinyl texts constructs a "stream of consciousness" narrative that references femininity and whimsy. Alternately, the compositions allude to biological and botanical structures, bringing the outside world inside, while maintaining base sentiments of beauty, decadence and sensuality.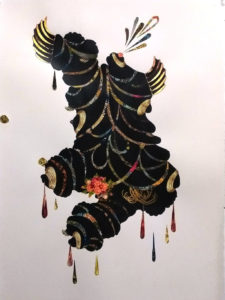 Poupées in the Bush series continues the theme of the abstracted female form, deconstructed princesses and perfume bottle dresses. The muses of this series are presented as feminine characters that are adorned with jewels and embellishments. They are physically wrapped and bound in visual, colorful motifs of the natural world. This series exemplifies wild, abstracted femininity and beauty, as well as the underlying inter-connectivity that exists between "the she forms" (the biomorphic shapes that represent the reclaimed black female body) intersected with collaged elements of flowers, foliage and vintage jewelry. The collaged elements are decorative wrapping papers from the Art Deco, Arts and Crafts and Art Nouveau movements as well as clippings from nature, vintage jewelry and interior design magazines. These regal mistresses are warriors and also concubines. They are fantastical, fierce, sensual, meandering, roaming creatures that are bejeweled and armored. They walk the earth and sail the seas, speaking different languages, referencing mythical and historical pasts. They stand tall in ceremony and dance while lamenting their lost loves to the mysteries of the universe.(text website artist)