Winfred Rembert
Sugar Cane, 2009
About:
WINFRED REMBERT was born in 1945 in rural Americus, Georgia, and grew up in nearby Cuthbert, where cotton and peanut farming were the toil of living. After working in the fields since early childhood, being arrested during a civil rights demonstration, surviving a near-lynching and serving 7 years in prison, Rembert got married to his beloved Patsy and moved to Connecticut in 1975 where they raised eight children. Rembert began to make his colorful tooled and dyed leather works at the age of 52 to visualize his memories and tell the stories of his youth. He has since become a highly lauded self-taught artist with major museum exhibitions, including Yale University and the Hudson River Museum.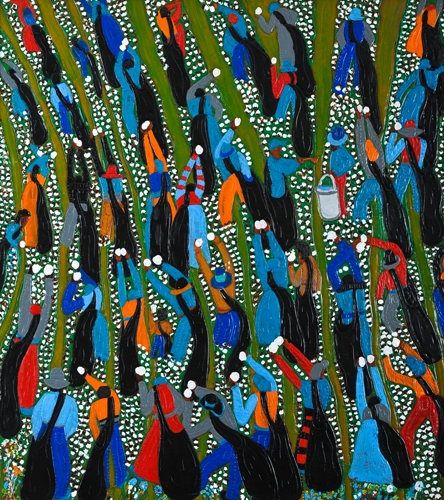 Picking Cotton, 2005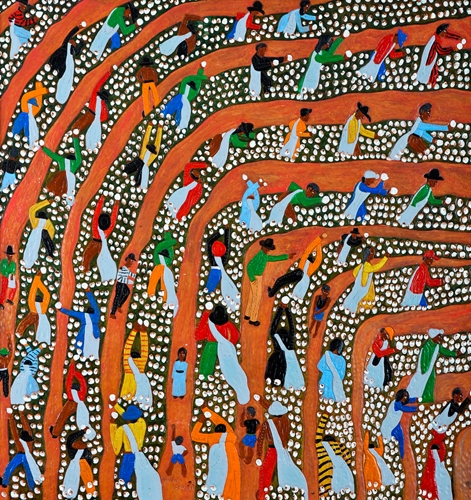 Picking Cotton, 2009
A feature-length documentary, All Me: The Life and Times of Winfred Rembert, was released in 2011. Produced and directed by Vivian Ducat, the documentary has been presented in festivals and museums across the US and Canada and aired on PBS, and has won numerous prestigious film awards.
Born out of wedlock and abandoned by his father, Rembert was three months old when his mother gave him away to his great aunt who raised him. "Mama", as he called her, worked picking cotton, shaking peanuts and pulling corn from sunrise to sunset. Rembert began picking cotton at the age of six for fifty cents or one dollar a day. He was schooled very little and worked a lot. He dropped out of school altogether to work full-time in the fields. Otherwise, he liked to draw and make his own toys, and on Saturdays go to the bustling stores and dance halls of "Nigger Corner" or "Colored Folks Corner" as Rembert now politely and fondly refers to it. Drawn to the growing civil rights movement, at the age of nineteen he was at a peaceful sit-in that became a riot with shots being fired. While running for his life he stole a car to get away to safety. He was caught, however, and jailed with no charges and no trail. Sometime later when a deputy sheriff came into his cell to beat him and drew his gun, Rembert fought back, took the sheriff's gun and escaped. After being recaptured he was taken to a remote area where there were trees with three nooses. He was strung-up by his feet, but after being cut and taunted with near castration they let him down. (Rembert has haunting memories from when he was very young of seeing a man and his son hanging from a tree after being lynched.) He was sentenced to 27 years, of which he served seven in a maximum-security prison and endured sweatboxes and chain gangs.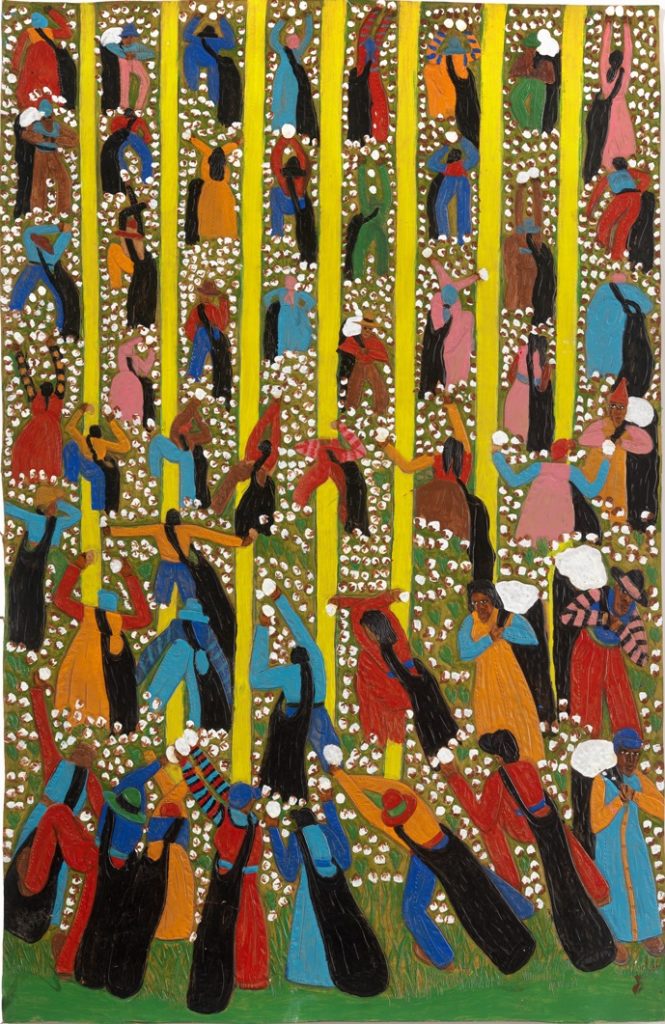 Yellow Rows, 2014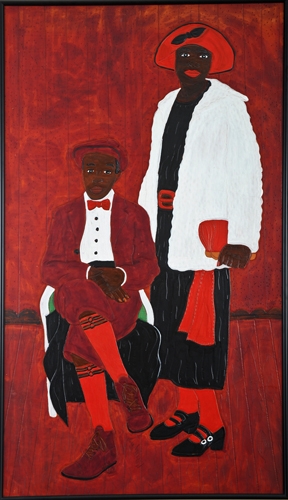 Madam & JT, 2008
While in prison he learned to read and write, and he observed an older prisoner making leather billfolds. Taking great interest, Rembert learned leather hand-tooling techniques to make his own decorative wallets.
While out with a prison work gang he noticed a woman hanging clothes and stated to his fellow inmates "There's my wife." She was 15 years old. After asking for water and creating opportunities to meet her as the gang worked nearby they corresponded, and upon his release in 1974 he and Patsy were indeed married. Moving first to Bridgeport Connecticut in 1975 and then to a dangerous neighborhood of New Haven in 1984, Rembert worked as a longshoreman and heavy equipment operator and Patsy was a bus driver while they raised their close family of eight children. He would often tell the children his many stories from growing up in Georgia.
Except for an occasional belt for the children or purse for Patsy, he had not worked in leather for many years, and his the wallets were not selling. However, common inner-city community work led to befriending Philip and Sharon McBlain, owners of an antiquarian bookstore in New Haven, and Rembert's inspiration to make a gift for them of a tooled leather picture copied from an old "Negro Drawings" book they had shown him. This led to interest from others, and Patsy suggesting "Why don't you take your history and put it on the leather instead"? He followed this encouragement and in 1996 began making the artwork for which he is now well known. At a civic a meeting in 1999 Rembert introduced himself to Jock Reynolds, director of the Yale University Art Gallery, which ultimately led to a well-received exhibition at the prestigious museum. In 2003, Litchfield Connecticut art and antiques dealer Peter Tillou was introduced to Rembert and his artwork by Claire Simler, an associate of his son Jeffrey who has an antique gallery. Peter Tillou fast became a patron and friend who continues to champion and promote Rembert's artwork to a wide and appreciative audience.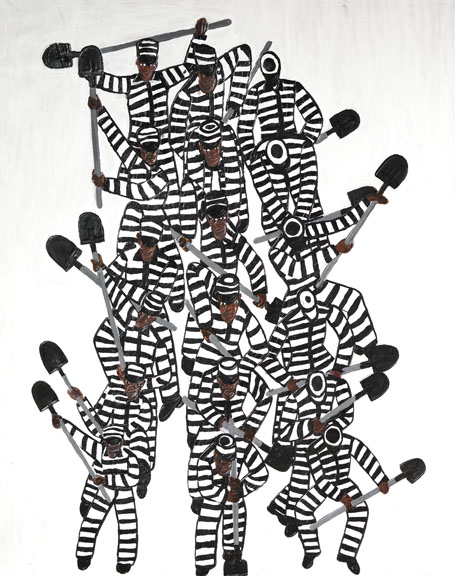 In the Ditch, 2009
Rembert is a gentle, gracious, out-going and big-hearted man with an easy smile. He likes to sing and tell his stories. His carved and colorful pictures show us a time (from not so long ago) of rural poverty in the segregated south and his memories of picking cotton and planting peanuts, singing in church and dancing in juke joints, and of cafes and pool halls, prison and chain gangs.
However, it is not just the stories that make Rembert's pictures so compelling; it is their explicit expressiveness, rhythmic lines, bold compositions, pattern and repetition, and brilliant color that makes them such visually spectacular works of art. Although totally self-taught, his art is often compared to African-American masters such as Horace Pippin, Romare Bearden and Jacob Lawrence.
Rembert remembers and depicts the hard and harsh times of his past, however his pictures are full of life and joyous vibrancy; they portray and represent the indelible human spirit of enduring while looking toward something better. (TILLOU FINE ART, 59 Cambridge Place, Brooklyn, New York 11238)
————-