"It's no wonder, however, that like art every and anywhere, Ethiopian art is continuously evolving, expressing and documenting social conditions from war and peace to farm life and landscapes."
Desta Meghoo J.D. writes a brief history of Ethiopian art.
IT'S NO WONDER
Ethiopian art typically connotes religious icons. Wide eyed angels painted in flat, layered and limited perspectives fill our minds, just as they fill the animal hide pages of ancient manuscripts found in the Ethiopian churches. Paints derived from plants, still maintain their hues and present day iconic painters hold fast to this style, which critics compare to Byzantine art. In the context of Ethiopian culture and the Ethiopian Orthodox Church population (over half the country), these ancient artistic expressions are reverent and will predictably be an eternal mainstay.
It's no wonder, however, that like art every and anywhere, Ethiopian art is continuously evolving, expressing and documenting social conditions from war and peace to farm life and landscapes. Stories of the day found their way onto colorful and dynamic paintings from as early as1896 Victory of Adowa. From battle scenes of white robed barefoot Ethiopian soldiers aiming swords and shields during a face off against invading Italian armies, dressed in stylish uniforms and armed with modern weapons to serene images of the lush flora and fauna found throughout the vastly wide and diverse country's terrain. Though the subject matter began to diversify, the style was still arguably Byzantine. This, due to the fact that artists were predominantly taught in the church.
As Ethiopia began to move onto the international scene, with envoys visiting Europe from the early 1900's, exposure to the arts began influencing the society at home through these well-travelled nobles. Commissioned photographs and portraits of Emperors, Empresses and high nobles in the Royal House of Ethiopia, derived from King Solomon and Queen Sheba's son Menelik I began gaining popularity. The Armenian Boyajian Family, known for outstanding photography, was even invited by Emperor Menelik II to Ethiopia in 1904 to join the Imperial Court. Subsequently Emperor Haile Selassie I would commission the famous 1930 coronation painting which captured the deep vibrant flowing red velvet robe adorned in hand made gold threading, topped by the jewel filled golden crown, ceremonial orb and scepter. Recently I had the pleasure and honor to display this masterpiece in a major exhibit at the National Museum of Ethiopia entitled RAS TAFARI: The Majesty & The Movement (RTMM).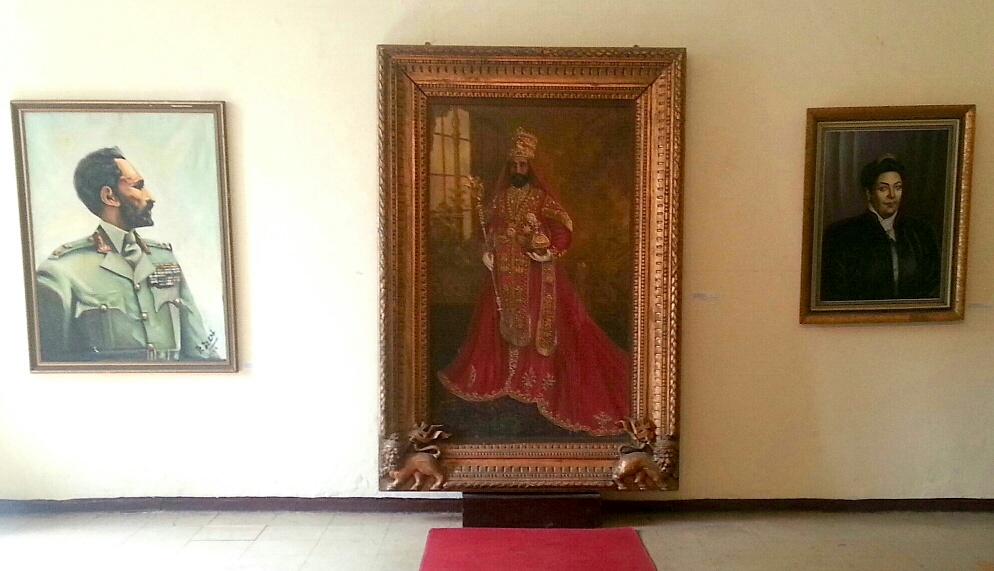 Gebre Kristos, Boyajian, Eme-Ealaf.
Also seen here, is what some considered a turning point from iconic to modern art with this oil on board done in approximately 1950 by Ame' Ealef Hiruyi, mostly known for his church paintings. While the style of the Boyajian is reminiscent of the European renaissance, though done much later, it captures similar lighting and technique with all the ornate details expected of the important figures of the day or those able to pay for such luxury. Ame' Ealef's work on the other hand, done barely 20 plus years after Boyajian's, is a swift evolution into a highly sophisticated and modern work which radiates dimension, depth, lighting and intellectual embrace on the canvas. He opened the way for not just new expression but a new era in Ethiopian art, undoubtedly affecting the trajectory of Ethiopian art to date. To the left is an oil painting by the famous abstractionist painter and poet Gebre Kristos Desta, whose oil painting of the Emperor Haile Selassie I was neither known nor seen by the general public until the RTMM exhibit.
By 1952 Emperor Haile Selassie would seize the opportunity to further promote and integrate his country on the international scene – through art. An avid art fan, collector and supporter, He established the Addis Ababa University School of Fine Art (AAU-SFA), sending teachers and students alike to Russia, France, Czechoslovakia etc. for years of training and education including post graduate studies. Several of these teachers can still be found on the campus of the art school re-named Ale Felege Selam, for the now 90 year old founding artist. It's no wonder that Ethiopia therefore yielded two generations of 20th and 21st century famous and impact filled artists including Tadesse Gizaw, Laureate Afework Tekle, Gebre Kritstos Desta, Eskinder Bogassian, Worku Mamo, Tadesse Belayneh, Mezgebu Tessema, Mikael Beth Selassie, Desta Hagos, Wosene Kosrof, Yohannes Gedamu, Tebebe Terefe, Bahailu Bezebe, Daniel Taye and Merid Tafesse to name a few. I have had the pleasure to know or work with some of these artists in Ethiopia and the USA.
In my almost 10 years living in Ethiopia I have seen the art scene explode! Though we may not be ready to bring the Basel here, the New York Times did name Addis Ababa 13 out of 52 must see cities in 2014 with caption "Addis Ababa, Ethiopia an ambitious art scene heads toward the international stage." www.nytimes.com/interactive/2014/10/travel/2014-places-to-go.html The article briefly reflects on the historical accolades but mentions a barely exhaustive list of galleries, residencies and art venues from the popular Sheraton Hotel annual show to the forest coddled collective of artists who hosts weekly shows. But allow me to share with you, my journey with some of the artists who have touched, taught and trusted me during my segue from music management into contemporary art consulting.
Since 1984 to 2007 my professional life was consumed with music. The roster included Rita Marley, Judy Mowatt, Augustus Pablo Israel Vibrations, Sonny Okosuns and Mulatu Astatke to name a few. However, when I came to Ethiopia in 2005 to coordinate Africa Unite, the 60th Birthday of Bob Marley attracting 200,000 music lovers, contemporary art was much more advanced and refined than the contemporary music scene. I fell in love with Ethiopian contemporary fine art.
Merid Tafesse, a 40 year old, avant-garde artist was my first client. His charcoal works were deep, dark – painful and poetic but even more compelling was his artistic and academic harmony. It's no wonder the Modern Museum of Art (MOMA) had previously accepted several of his drawings into their prestigious archives collection. His unique and much sought after art can be seen in various Diplomatic chanceries, museums, banks and private homes in Addis Ababa and beyond. His works have been featured in solo and group shows and/or residencies in Jerusalem, Dakar, Paris, Cape Town, New York and Miami amongst other cities over the past 15 years since graduating from AAU-SFA where he specialized in painting. Called the King of Charcoal, his fans and protégés are inspired by his mainstream use and popularization of the medium mostly known for studies and sketches. To quote Creative Loafing Atlanta November 4, 2011 article, "It is clear that Tafesse is in his element when he is defying the expectation of most."
Merid Tafesse, Title: I've Got Everything
Size:1.40 x .70
Medium: Acrylic on Canvas (Belgium Chancery, in Addis Ababa)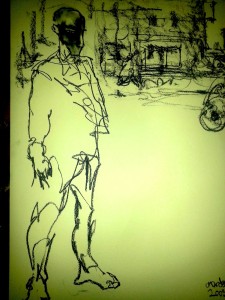 Merid Tafesse: Untitled
Size: 1m x .75
Medium: Charcoal on Paper
Another artist who I have had the pleasure to work with is Daniel Taye. Called the 'Van Gogh of Africa' by a CNN report on art, his church based background led him to the realm of visual arts in the mid 80's on a quest to manifest the images evoked through his church education. Also a graduate of AAU-SFA, he is regarded as one of the most outstanding Ethiopian painters primarily based on his sombre yet evocative landscapes. While his figurative works represent masterful depictions of familiar Ethiopian faces, scenes and social spaces.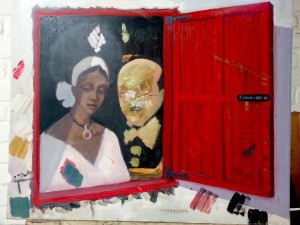 Daniel Taye, Untitled, Oil on Canvas .50 cm x.75cm. 2011
Last but not least is Desta Hagos, the first female artist to have a solo show immediately after graduation from AAU-SFA in 1969. She has enjoyed immense national notoriety. Though taught by Eskinder Bogasian, Tadesse Gizaw and Gebre Kristos Desta, arguably, she is the most prominent disciple of Gebre Kristos. Her work, though typically filled with flowers, female figures and classic Ethiopian social rural life, are nuanced by Gebre's typical circular forms, lines and play on lights as shown in this abstract work below.
Desta Hagos
Composition No. 11, Oil on Canvas, 1mx1m. 2014
It's no wonder that Ethiopian fine art is making its way onto the international scene, though quietly and steadily, much like the nature of Ethiopians. So watch, support and even consider visiting this unique and historic country that has myriad surprises when it comes to fine art.
Desta Meghoo J.D. specializes in consultation, promotion and management of the arts for development in Africa and the African Diaspora and is based in Addis Ababa, Ethiopia. She is a contributing writer for various publications and curates exhibits in Ethiopia and the USA.
Photos by: D.Y.M.D.C. & ASSOC. Artists and author retain all rights for this article and art/photographs.