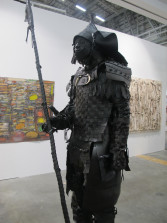 In fact arts' own capacity for re-composition and self-realization is contingent on its ability to change the world. This utilitarian trait of art isn't something forced upon it since art can choose otherwise. Art autonomy therefore is possible only when art chooses the path consistent with the agenda of constructing a revolutionary situation and subjectivity. Thami Mnyele Lives!
Concludes Athi Mongezeleli Joja
Installation view, Cape Town Art Fair.