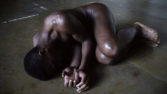 "My main sources of inspiration have come firstly from paintings. I admire painters like Rembrandt. Caravaggio and Jean-Michel Basquiat are my favourites. I am attracted to Caravaggio's use of light and mood in some of his paintings. His paintings are very dramatic and therefore I like to take influence from his work."
Christabel Samuel interviews Othello De'Souza-Hartley.
The Masculinity Project.