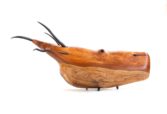 Spontaneity is a word that rings in Waswad's head as he sets out to work on a piece of artwork. He says he doesn't sketch or plan for the work and therefore works with his initial idea which he continues developing as the work progresses. He says he prefers to work with the raw idea, unhampered by rigorous planning and sketching which ends up destroying its originality.
Matt Kayem about the work of the Ugandan artist Waswad
Waswad's Amasendela, albizia and ebony wood, 87 x 30 x 40cm. Photo by the artist.