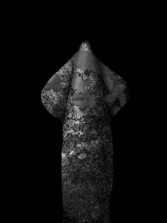 What I have seen now is a couple of bad exhibitions (the reginal presentations and the Pop-Up show), but more importantly, a number of solid, interesting and sometimes great exhibitions. They showed works that were invisible for many years, they showed new works of promising artists, they showed a fruitful mixture of young and old, they made comparisons possible with artists from the region, on the whole they created an inspiring picture of the Caribbean.
Rob Perrée on the art in Carifesta XIII.
Versia Harris, Incipience No 2, 2017.