Tawny Chatmon: Redemption Series
About:
Within the past 3 years, Tawny Chatmon has redirected her signature style of ethereal sunlit photography into mediums outside of just photography. Tawny is a self taught artist who has been working in the field of photography for the past 16+ years. Born in Tokyo, growing up an 'army brat', she had the unique opportunity to take in the cultures of three different continents all before the age of 12. By then she was in the United States and elbow-deep in her aunt's theatre company. She studied theatrical arts from the age 12 to early adulthood. After briefly attending a dramatic arts conservatory after high school, she switched paths and focused her interests on being behind the camera.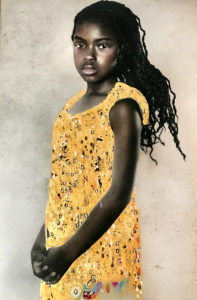 For Chatmon, her photographs are the first layer which she manipulates and unites with other photographic components often lending to them the eyes of someone their elder and more wise and almost always exaggerating their hair. Thereafter she often adds overlappings of gold leaf, paint, digital collage and illustration. Doing so, she produces a work that is more than just a work of photography but a new compositional expression.
She currently resides in Maryland with her husband and three children.
Redemption project
Is there redemptive power in visual arts? Do artists have the ability to control and shift the narrative through their work? These are questions that inform my creative process while creating this ongoing body of work; I believe both to be true. In the same way that literature continues to be a tool for shaping the human psyche, I believe visual arts carry the same ability.
In the United States and abroad, the hair types and styles that are distinctively akin to Black people and culture continue to be policed and labeled as unkempt, unruly, unattractive, and unprofessional. While we proudly celebrate and adorn these styles with beads, barrettes and other accessories within our cultural norms, they continue to be labeled unacceptable. In schools worldwide, there are rules set in place deeming cornrows, barber designs, hair beads, afros, locs, and protective styles that use hair extensions as "violations of the dress code". "Violations" that are punishable by ridicule, suspension, exclusion from extracurricular activities and expulsion. Still, in 2019, black women and men are faced with similar discrimination in the workplace.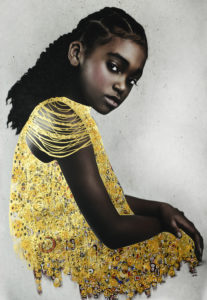 With this series, it is my intention to celebrate and reinforce the beauty of black hair, features, life, and culture. These portraits are meant to act as a counter-narrative and redemptive measure to uplift and elevate black hair, tradition and culture freeing us from negative stereotypes. An intent, not to be confused with seeking validation, but rather an unyielding affirmation of Black beauty.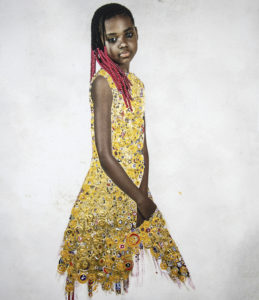 The painted dresses and clothing are directly inspired by the beautiful and vastly beloved works of Austrian painter Gustav Klimt, during his Golden Phase. This is intentional and I wanted the connection to be made immediately. Visually, Klimt's use of gold and decorative elements brought about strong feelings of grace, magnificence and beauty within me upon my first discovery of his work and have remained in my subconscious mind ever since. Likewise, these are the emotions I am looking to evoke within the viewer of The Redemption.
Copyright photos and texts: the artist