Photography therefore also has the potential to present a reality divorced from the artist's bias so as to challenge the prejudices of history. The objects in front of the lens must be decoded and contextualised as part of a wider civilisation and context. This is especially true for tribal African cultures.
Christabel Johanson on the representation of Africa through photography.
Kara man painted and adorned for courtship, Omo Valley, Ethiopia
African Culture through the Lens
The representation of Africa through photography
When reflecting on African culture the West has always had an ambivalent relationship with the place once known as the "Dark Continent". From the early explorers of the 1820s continuing into the turn of the century, Europeans have been fascinated by the difference, the spectacle, the "primitiveness" of tribal cultures. Some of these explorations led to discoveries, such as when George Stow and Joseph Orpen documented South African rock paintings as part of an ethnographic study, revealing that these "bush men" had religious beliefs.
*
However the effect of these ethnographic studies on the public resulted in the sense of spectacle towards African people. Often pictures taken on these journeys were used for propaganda as much as academia and contemporary photographs launched Africa as a troubled and poverty-stricken nation.
Even the missionary photographs painted a bleak picture of the continent and positioned the West as saviours civilising a "savage" community.
*
Colonisation had a large part to do with this and left a legacy of depicting African otherness. But even well into the 20th century, when air travel was not for the everyday man, ethnographic comparisons between whites and blacks were mixed into the continuing racist discourse that had preceded it.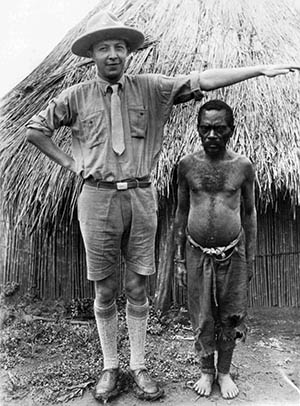 Paul Schebesta. Democratic Republic of Congo, Central Africa, 1930. Anthropos Institute St. Augustin
For the above picture, white "superiority" is the focus. The taller, clothed man symbolises the supposed advancement of the West versus Africa represented by the smaller topless black man.
This example brings forth the challenges of photography as a medium. Although a presentation of "reality", reality of course can be warped and filtered for the desires and bias of the photographer. Even if these agendas are for a "good cause" such as charity campaigns like the illustration below, there are countless examples of Africa as helpless and in need of Western aid.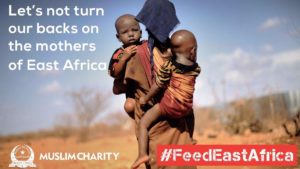 Muslim Charity – Helping The Needy
Fortunately through the passage of time, giving credit to the civil rights movement, freedom of movement and immigration, the expression of Africa's rich heritage has finally – within these last decades – garnered the respect and appreciation it deserves. By celebrating its identity and its place in global consciousness, our understanding of Africa debunks the stereotypes and racism that marred it in the past.
*
Photography therefore also has the potential to present a reality divorced from the artist's bias so as to challenge the prejudices of history. The objects in front of the lens must be decoded and contextualised as part of a wider civilisation and context. This is especially true for tribal African cultures.
As with the aesthetics of tribalism – as with any kind of tradition – there is a history and an art behind the rituals. Certainly within the last 50 years African studies and the freedom of travel has allowed many more to follow in these early explorer's footsteps.
This movement in understanding and celebrating African culture has allowed a new narrative in photographic collections to emerge.
*
Faces of Africa (2009) collected over 200 photographs across 30 years and presented intimate depictions of milestone experience across African cultures. Its authors were award-winning photographers Carol Beckwith and Angela Fisher.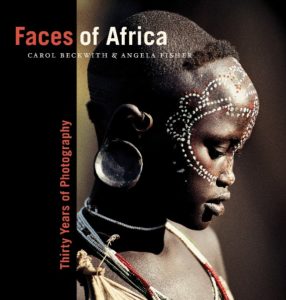 Born in Boston, Massachusetts in 1945 Beckwith made Africa her working base so she could live within the cultures that inspired her photography and painting. Australian native Angela Fisher was fascinated by the beautiful and symbolic decorative arts of East African Nomads. Fisher finished her work with indigenous peoples in Australia and moved to Kenya in 1970.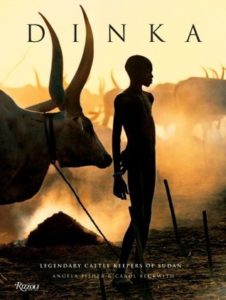 After completing their individual books – Africa Adorned, Maasai and Nomads of Niger – Beckwith and Fisher collaborated on a study of the peoples and cultures of the Horn of Africa. They published this photography in a series of books: African Ark (1990), their two-volume landmark African Ceremonies (1999) for which the authors won the United Nations Award for Excellence for, Faces of Africa, Dinka and Painted Bodies. Nowadays Beckwith and Fisher exhibit internationally and lecture widely at prestigious venues with magazine credits including stories in National Geographic, African Art, Time, Life, Vogue, Marie Claire and Elle.
The obvious difference between Beckwith and Fisher's work compared to earlier entries is the intention of the photographers. The duo's agenda is not exploitative but an exploration of different narratives, whether it is coming-of-age ceremonies or tribal rituals. "African Twilight is a unique record of many of the major ceremonies in Africa. We have gone deeper and further into Africa than ever before to find ceremonies still intact. Africa is our birthplace – we are all Africans – and these fast disappearing ceremonies are an invaluable record of our shared cultural history. Today over 40% of what we have recorded no longer exists," remarks the duo.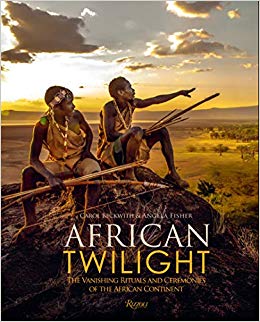 They recently visited London to launch their latest offering African Twilight (2018), which combines poignant photography with a documentary eye that remains faithful to its subject-matter rather than feeding into the racist depictions of the past.
Their colorful backlog includes studies into the Kuba Royal Kingdom in the Democratic Republic of Congo, the Bwa and Bobo Masquerades in Burkina Faso, or the Famidhana rewrapping of the dead in Madagascar.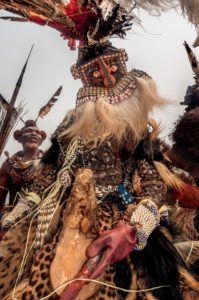 The 15th Century Royal Kuba Kingdom in the DR Congo is famous for its finely woven raffia textiles that are still worn by elders as dance skirts today. These magnificent textiles were once used as currency in Central Africa. © African Twilight: The Vanishing Cultures and Ceremonies of the African Continent by Carol Beckwith and Angela Fisher, Rizzoli, 2018.
"We always try to take our books and give our photographs back to people. We took African Twilight to the edge of the Sahara Desert in Niger show our dear friend Mokao, chief of the Wodaabe Nomads. He had only seen two or three books in his lifetime and spent hours studying every page from all directions. Finally he looked up at us and said in his language, "This is 'Magani Yegitata'" which means 'Medicine not to forget'."
Perhaps this duty of giving back draws a line in history between the past and now. Whilst previous gung-ho explorers into Africa have taken (the ivory, the kudos, the exploitation of its people), photographers like Beckwith and Fisher are now seeking heal the rift between the West and its former colonies through faithful representations of tribal customs and cultures. There is an understanding that these narratives are deeper messages coming from ancient cultures, combined with visually arresting stories that are important within their society.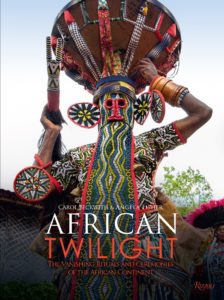 African culture has now stepped into the mainstream and has inspired artists and trends globally from the fashion industry to music. As for Fisher and Beckwith, after working in Africa for 40 years, this "savage" nation provides a civility that the West has lost. "The importance of ceremony that keeps us in balance with the environment and in touch with our own spirit worlds. Each time we return from Africa, we realise how many of these values have been lost in the Western World. In light of the conflict and chaos of today, we feel that it is even more important to listen to and take to heart the messages from these ancient cultures."
Through the medium of photography we can explore our differences and similarities; both of which are part of the human condition. "Although we appear physically very different to one another, naked or dressed, scarified or veiled, lip plated or made up, we are all the same human beings with similar human emotions and human needs. Understanding each other's cultures, celebrating our similarities and accepting our differences is not only essential to the evolution of human-kind, but paramount to the pursuit of world peace."
Christabel Johanson is a writer and a curator from London. She has had previous writing and poetry published and is currently involved in organizing her cultural nights "Christabel Presents…"