Meyer's tapestries are disturbingly provocative, layered and convoluted at the same time than explosively colorful and abstruse. They conceit and reveal, putting into play numerous symbolisms, but with a clear mission: bringing to light the realities that gay men in Swaziland face on a daily basis.
The American artist Kyle Meyer in conversation with Raquel Villar Pérez from London
Unidentified 100, Courtesy of the artist
Kyle Meyer
Weaving In and Out of LGBTQ Rights in Swaziland
The work itself is an extremely oppressive piece. Even though it is beautiful and colorful, I am oppressing them. I am not allowing them to have a complete voice.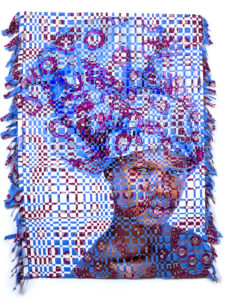 Unidentified 14. Courtesy of the artist
From trying to understand why Swaziland has the highest rate of HIV in the world to one of the most elaborated and mindful projects about the LGBT community in this small African country. Kyle Meyer's project Interwoven has gained international acclaim for weaving together beautifully manufactured artworks and socio-political engagement. Meyer's tapestries are disturbingly provocative, layered and convoluted at the same time than explosively colorful and abstruse. They conceit and reveal, putting into play numerous symbolisms, but with a clear mission: bringing to light the realities that gay men in Swaziland face on a daily basis.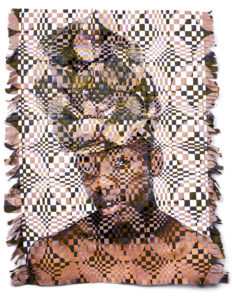 Unidentified 21. Courtesy of the artist
Under the 1907 common law (shared with South Africa) in Swaziland same-sex relations are considered sodomy and as such a crime punishable with either death or a lesser punishment at the discretion of the court. Fortunately, the law seems to be no longer enforced upon homosexuals, however, in this hyper-masculine society whose supreme leader King Mswati III, has reportedly termed same-sex relationships as 'satanic', LGBT people live in hiding. Meyer explains these individuals are ostracized on the streets, physically assaulted, etc. Hiding has to do more with having access to public health care, education or even being given a job. If the employer sees the person having feminine qualities or they're found out to be LGBT they won't be hired. There has to be awareness because these people are oppressed.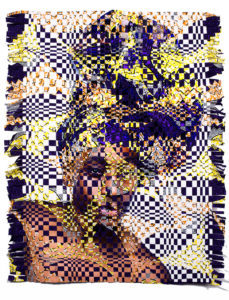 Unidentified 27. Courtesy of the artist
Interwoven has been a long project. It took Kyle ten years to eventually get to the way in which the work is presented to us right now. He first went to Swaziland in 2009 with a scholarship to investigate the reasons why the country has the highest rate of HIV in the world. In there, he started apprenticing for some factories and took the opportunity to photograph the people working in them. One of the work plants was a basket-weaving factory. Meyer explains how he fell in love with the craft immediately, and how weaving next to the weavers who taught him the skill allowed him to build a relationship with them. Kyle comments: the head wrap just came from a woman who always wore these amazing head wraps to work, so I asked: can you teach me how to make that? She taught me the basics, and when I was at home I would explore weaving more and also making these head wraps. I started doing these head wraps on myself, more like sculptures than the quintessential head wrap. I just used the fabric to construct a thing on my head. It was really fun to explore that craft. It is a craft on its own.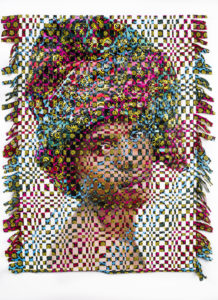 Unidentified 49. Courtesy of the artist
As a gay man himself, Meyer started meeting other gay men within the country and embedding himself within the LGBTQ community. He would attend parties wearing a wrap, and his fellow friends started asking him to make head wraps on them. Kyle remembers that at the beginning of the project, it wasn't as if I had a set idea, it was like experimenting, and just having fun with my friends. I would do these head wraps on them, feminize them, and photograph them. A lot of them had never been photographed before, so it was a great way of strengthening the connection with these guys.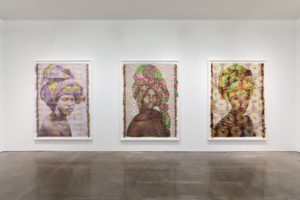 Interwoven, installation view, Yossi Milo Gallery, New York, 2018
It seems a simple process: the artist finds his model, lets him choose a fabric out of the many that are available, Kyle makes a wrap on the model's head, then the photograph is taken, printed on a large-scale, then both photograph and the fabric used for the head wrap are hand-cut and woven together. The results are ethereal, suggestive, and beautiful images. However, the fabric plays a major role on Meyer's work. As the artist notes the fabric itself is a deep cultural signifier: women use it as a head wrap, to tie their babies around, they use it to sit down, and they put it on the grass to sit on… it is a huge part of their culture. The artist wanted to make use of this intrinsic cultural asset as the metaphor of a culture that forces homosexual subjects to conceal their real self: I wanted to talk about being hidden behind this culture, like a screen that is put in front of them to silence them, so Kyle started weaving through the image of their faces. By mixing together the photograph of the subject wearing the head wrap and the fabric of their choice, Meyer's artworks become intricate to decipher visually and conceptually: they are layered and convoluted at the same time than explosively colorful and abstruse. They conceit and reveal at the same time the identity of his subjects. The artist creates a context that allows his models to experience their true self.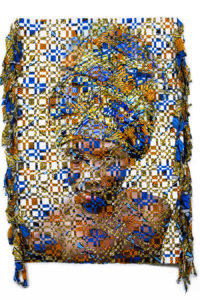 Unidentified 59. Courtesy of the artist
After spending a vast amount of time with LGBTQ people in Swaziland, embedding himself within the community and experiencing first-hand the realities they live, Kyle has created a platform to bring light to the situation. He explains: If I'm not doing this, the issues within the LGBTQ community within Swaziland wouldn't really be heard, and people wouldn't understand what is really going on there.
Interwoven is composed by more than 120 unidentified men. As confirmed by the artist there are no duplicates. Meyer works together with medical organizations looking after HIV positive people in rural areas to access to his subjects. Meyer's work functions as an archive of LGBTQ individuals in Swaziland, in the artist's words: it is definitely a very significant time to be doing this. There are organizations within the country that are fighting for rights. And they just had their first pride, so it is an important timing, somewhat historical. Hopefully, ten or twenty years from now when hopefully they do have rights, and people will look at the project, and will think: that is what it was like at that time, but now here we are hopefully in a country where gay rights will have been conquered.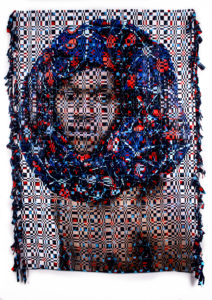 Unidentified 108. Courtesy of the artist
Kyle Meyer is an artist living and working in New York. His work is characterized by merging together digital photography and handcrafts such as weaving, hand-dying, or layering, adding a form of texture, dimension, and ultimately additional meaning to the work. While his first pursuit is predominantly experimental and process driven, there is also a perpetual analytical inquiry about his own identity as a gay man and the LGBTQ communities with whom he identifies.
Interwoven is being exhibited at Yossi Milo Gallery in New York until January 12, 2019.
Courtesy of the works: the artist
Raquel Villar-Pérez is an art researcher, art curator, and writer based in London. She is interested in decolonial discourses within contemporary art and craft practices from the Global South, mainly from Africa and Latin America, and how they resist the trends set by Globalization. She is especially sensitive to women experiences and notions of transnational feminisms, and how contemporary art echoes them.