Annan Affotey Ghana, b. 1985
Backyard_2022
About:
The introspective paintings Annan Affotey creates are influenced by the world around him, from the place of his birth to those he has since travelled to. Born in 1985 in Accra, Ghana to an artist father who inspired an early interest in creative expression, Affotey spent his early life in this city before moving to Milwaukee, USA in 2014 to live there for five years before setting up a more permanent abode in Oxford, UK. Deeply affected by the people he observed around him as well as the social reactions to these figures, Affotey took to art to represent the complexity of the worlds he observed.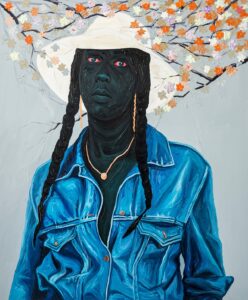 Blending in, 2022
Affotey began his career as a semi-abstract painter, employing techniques such as pointillism to construct the colourful worlds he observed his subjects inhabit in Ghana. Particularly influenced by the everyday lives of women he observed, he often painted kaya yei, those who carry goods balanced gracefully on their heads or people braiding hair, which he observed at the hair salon his sister worked at. The birth of his son led him to reflect on how he can contribute to shaping the world he wanted his child to grow up in, which led to a shift in his practice. Turning to portraiture, Affotey began creating soulful, pensive representations of friends, family, and public figures. For instance, his Ghannata Strong series depicts alumni of the famed Ghanatta College of Art and Design, both well-known contemporary artists as well as emerging talent in Ghana.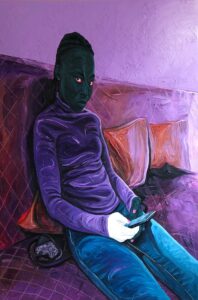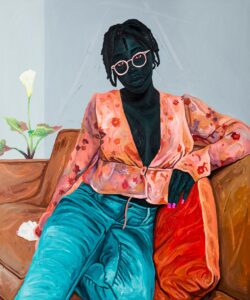 Connected, 2022/Esther's Flower, 2022
Across the range of subjects he paints, his portraits bear recurring motifs. Growing up in the intensely colourful world of Accra, Affotey says he bears an intimate relationship with colours, and is unafraid to use them liberally. The subject is placed against negative space painted in bright, brilliant hues. The single shade Affotey selects for the background of any portrait is shaped by his sense of the sitter's personality as well as the subject's preference, which illustrates the deeply collaborative artistic process Affotey practices. The Blackness of the figure's skin is rendered incandescent through the mix of blacks, greens, blues, and greys. Particularly striking are the red-tinged eyes he bestows upon his figures. Given that it is amore common phenotypic characteristic in Africa, Affotey never thought about the redness in his eyes until he moved to the US and encountered all the misunderstandings they were met with. Reflecting on the role of the visual in social dynamics, and how misinterpretations shape the lived experience of Black people. Paying keen attention to movement and body language, his portraits capture the idiosyncratic dynamism of the subject, imbuing these paintings with energy and interiority that compels the viewer into seeing the figure past first (mis)interpretations.