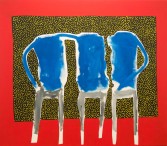 "People do not come to me, because I come to them. I exhibit in their environment, just on the street. That's taboo breaking. They often do not understand what art is all about but they are curious and ask questions. When I have not exhibited for four months they ask when the next exhibition will be. Some even send their children to me so they can learn to draw. So there is a radical change going on in terms of the appreciation of contemporary art in Bamako. Fortunately it's not limited to the international art scene!"
Rosalie van Deursen travelled to Bamako to talk with local artists about contemporary art in Mali.
Amadou Sanogo, Headless, 2016.