Africanah.org at 5: We celebrate the 5th anniversary of this magazine with the re-publication of a number of remarkable essays or interviews. The interview Rob Perrée had with Derek Fordjour, almost 5 years ago, was remarkable because of what happened later on with his career. The Ghanaian-American artist was at that time a starting artist, promising, known in small circles. Now he is one of the most successful black artists in the US.
Conspicious Arrangement, 2015
DEREK FORDJOUR: "CAN I BE AS AMERICA?"
New York, near the Holland Tunnel, in a high apartment building, with high security measures, that's where I meet Derek Fordjour (1974) in his small studio. A painting in a group exhibition in a Chelsea gallery had triggered my curiosity. The interview was scheduled for one hour, but doubled in time easily, because there was a lot to know about that one painting.
Rob
I read somewhere that, in your opinion, art is essential for black people. Can you explain that?
Derek
I don't know, it could sound a few ways. I think it's true that art is essential for all people, but especially for people who just exist in a country where they are.
Rob
Meaning?
Derek
I call African-Americans in this country non-voluntary immigrants.  The African didn't arrive here, by his own means, via his own will, but as a result of slavery. Being the most hideous form of slavery in the world at the time.  In the US. There was a consorted effort to strip those people of their language, culture and customs. So for me, for black American people especially, it is very important that a cultural preservation, be an important part of their cultural production.
Rob
And you see the artist as somebody who can preserve that?
Derek
That's one function. Of course there are many functions of an artist, and I think the objectives of an artist can shift through periods of time and through pieces. But that is one function that I think is beneficial to an African-American artist. But I don't think it is fair though to issue that as a broadcast mandate for every person of color.
Rob
So you work does not have to show that you are black.
Derek
No, that would be against the essence of art. Art is an unlimited expression, without restriction. But in so doing, I think you're also participating in a certain kind of culture preservation

Emergent Disposition, 2015
Rob
An artist have a message?
Derek
I think again it depends on the work that I'm making at the time. I think early on I made works that were very didactic. But the works that I am interested in now are not. There is duplicity of meaning that I try to embed in the pieces now. I want them to be read in a few ways. But I think that the message or the thing that I am interested in is essentially the same. I'm primarily interested in vulnerability.
Rob
That sounds contradicting to me. You're also very 'All-American'.
Derek
You're right. That is true. We don't think of Americans as particularly vulnerable. But, as we have seen in the last ten or fifteen years, America as a country is quite vulnerable. If you look globally, in terms of the creation of the Euro or look at nine eleven, there are several things that have happened that have exposed that. But that is not the driving point of the work. I think the Americana element in my work is one of layers. I am not primarily interested in the kind of political vulnerability. I am interested in the vulnerability of the individual.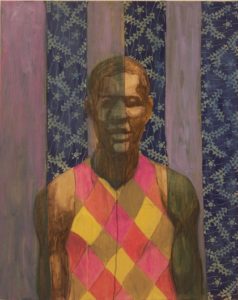 Modest Percolation, 2015
Rob
But still, especially your sport paintings, not a field where vulnerability counts.
Derek
For me any player involved in the enterprise of game or sport is vulnerable by his very nature. He wants to win. So we know in the drama of games that there will be a loser and there will be a winner. So every player by those dynamics is vulnerable to that outcome. That's one level of vulnerability. The other of course is the fact that if you're playing a game of teams, you cannot solely predict the outcome. Your effort alone does not. Then there is also this notion of acquiring skill, or preparation and the sort of readiness that every player has to have. And every player has weaknesses that he battles against. So there are vulnerabilities that are built in that I'm interested in. Sporting figures are an analogy for the conversation that I want to have, because we do assume that they are very confident and almost heroic.
Rob
Because that's what we like them to be.
Pablo's Univers, 2015
Derek
We are very attracted to that. So they are really allegoric. I guess in a way that the Hudson River Valley painters are. They paint nature, but they are really talking about, asking questions of anthological truths or deism or the existence of God and nature and that kind of things. In similar way, but much less grand, I want to use the visual language of sports as ways to discuss those kinds of vulnerabilities I think are germane to every individual person. We all find our values externally.  For me the uniform and the star, which you can see in a lot of my paintings, are symbolic in that sense. I'm interested in this idea of how we align ourselves with institutions or teams outside of ourselves as a mean of deriving value.
Rob
Sometimes you use the word strategy when you talk about your work.
Derek
Yes, absolutely. But strategy has a double meaning. There is an implication in strategy of some kind of a less authentic approach, that you are being highly manipulative. And I think artist in some cases are, but I am talking about an overall kind off strategy. I seduce people into thinking about certain things, without being preachy.
Rob
It's close to manipulating.
Derek
If it is really manipulative it can be limiting to the work. I think that people very often, particularly in contemporary art, are not used to looking and thinking at art critically. There is an intimidation factor. I want to create the kind of work that will work on several levels and that will be accessible.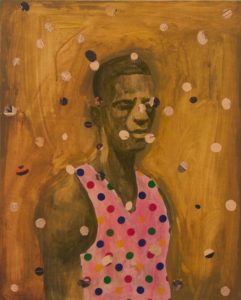 Relevant Data Pints, 2015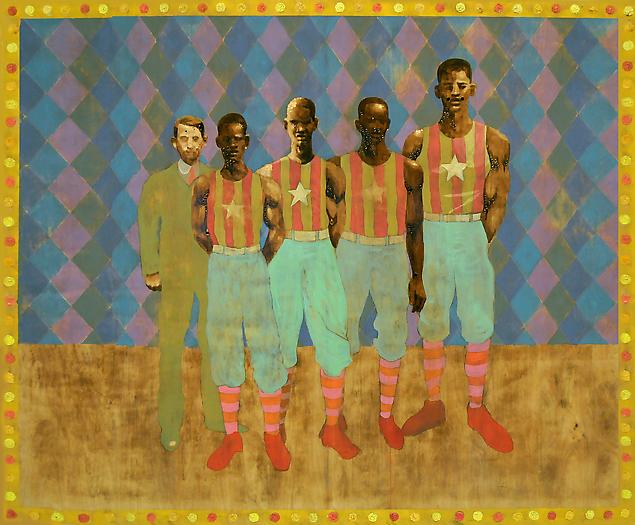 Fearless Foursome, 2013.
Rob
Accessible, yes, but then the viewer has to go further.
Derek
Yes, there has to be something more there. For example, if you look at 'the Cheerleader', it's a very simple portrait in one sense. But what drove me to create that image, or what I was thinking about formally, you know, goes much further then. But I think the appearance of the cheerleader is rather innocuous.
Rob
The gender issue is one of the layers.
Derek
That work has everything to do with gender, gender bias and gender disparities, but it is also about marginalized people or power dynamics. I was really interested in the idea that cheerleaders are marginalized to the sideline. Also literally. They have no impact on the outcome of the game, no essential function.
Rob
They just encourage.

No 16, 2014.
Derek
And then they conform to a certain beauty standard. To me that is a perfect allegory for the position of women in the American society. Think about the economics.  Everyone on the field that participates in process of professional sports, even the players that don't play much, they are at least a thousand times more in terms of salary. If you were to reverse the gender, it would never happen. You would never have men cheering on women. Never, right.  So for me the cheerleader is very loaded, because it's also a very American position. It was created in America.
Rob
Most of the women in your work are strong and the men are more feminine.
Derek
You really did look at the work.
Rob
Of course, that's my job.
Derek
You are right about that. It's a very subtle difference and yes I want to be something laborious about the female figure. Something strained or muscular and I do want to weave that strain in.
Rob
Why is there in almost all your paintings some sort of decoration on the background.  As if you put your 'models'on stage.
Derek
I spent a lot of time developing a pallet. In the first couple of paintings I had some of the motives correct, but the color pallet was not correct. I learned how important that was, but I looked at the wrong sources: bridal showers, toys and candy wrappers. Not until I went to Ghana – I think a year and a half ago – did it come together for me. There I saw under this equatorial sun all these really dark people, with bright colors, their homes were painted pink and it all came together. The function of the decoration is to reinforce this notion of carnivality, of entertainment or seduction. That is a big part of the way the enterprise of professional sports is presented. But beyond sports the edge for me is about the marquee, the marquee has origins in early American entertainment. Vaudeville, Broadway, right. So it is all about being on stage, all about being on the show. And I even like when you go through certain urban neighborhoods you can see the twenty-four-hours Bodega's, the corner stores, they have the marquees and the lights busted out, and they still turn that old tired thing on. Or if you go to the casino, which to me can be a very depressing place, but there is all the lights and the blinking. There is something about that to me that I think is very American, because it underscores this notion of capitalism or commerce, this state of selling ideas, all sorts of idea's. Even the American Dream they sell. So we are flashing our lights, like moving around the world. But you know, when you go back historically, people of color, African-Americans, really make their strides through entertainment. It was no other way. It was singing and dancing.
Rob
So American means: make a spectacle of everything? Like American television, it doesn't have much to do with content; it has to do with a spectacle.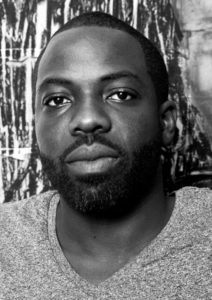 The artist (photographer not known)
Derek
There is nothing more popular then American television. But even when you go beyond entertainment itself, there is entertainment. Look at religion. There is even a packaging in a certain commercialization, in a way that religion is even sold in packages in America, and it's exported. So a place where you would think of a really noncommercial space within a capitalist kind of economic environment it also has this notion of marketing self-promotion. And look at the time we live in, this internet-age, with instagram and twitter. Everyone is now crafting a digital persona.
Rob
So the way people represent themselves is always different from the reality. That is what I have to see in your paintings?
Derek
That's what I'm trying to go after. That is why some of the figures have imperfections, these holes in their body.
Rob
The holes are also a symbol for the vulnerability that we've been talking about.
Derek
There you go. There's this act of diminishment. The figures are really not whole. There is the act of violence. There is wreckage.
Rob
For many years you were a portrait painter. That experience gave you the skills of painting?
Derek
Yes. I learned how to build a composition, to use light and to create depth. All that kind of stuff. For me coming from this background, trying to develop a personal voice, it became important that I was able to create a disruption in the surface, because for a portrait painter the surface is the pin ultimate, is like prestige. To create a disruption, was signaling a departure for me. In the beginning my way of painting was very technical and formal.
Rob
We were talking about America, the characteristics of the country. What's your fascination with the history of America, coming from another country, coming from Ghana?
Derek
My parents are from Ghana. I was born here. The message I received growing up is that I am Ghanaian. Ethnically speaking I am. I am an Ashanti. Both of my parents happen to be from the same tribe. My DNA will connect me to the Ashanti people. Culturally I was raised in America, in the American South. I feel very much and identify as an American. As a Black American. There is a cultural hybridity that I find interesting about that position. Which is also very American, because who are the indigenous people here? The indigenous people don't look like many of the people that are part of the country now. This idea of who has entitlement, who is essentially American, that's fascinating.  And then going back to sports where you have these ideas of the All-American.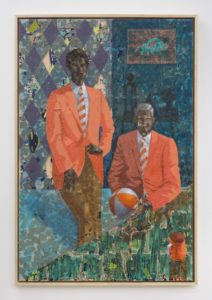 Signing Day, 2019, courtesy Petzel Gallery
Rob
So you paint as silly as a hotdog……..very American.
Derek
For me the hotdog really is probably one of the best things to talk about within this context of being American or not. Because growing up my mother would feed us macaroni and cheese, hot dogs and hamburgers.
Rob
On purpose?
Derek
Yeah.
Rob
To become an American.
Derek
That was part of her strategy. She didn't want us to go to school and say: we eat fish-head soup, and we want Fufu. She gave her sons American names: Derek, Ike and Rickey. We liked hotdogs and popcorn. So looking back on my life, it is clear that my mother developed a strategy for simulation. With the hopes of us being able to navigate more fluently. And we could. To me, that's a bit of a game.
Rob
You're pretty modest in your way of painting.
Derek
That's a nice way to say it,
Rob
But true, isn't it.
Derek
It is a very good observation. They're not painted particularly well. I am not using all my technical skills. The reason I don't is very intentional. I want to create this lack of importance. It has to refer to billboard painting, to the painting of circus props. The people who make these paintings are not always artists. Maybe it's just a bunch of craftspeople, it's routine work and there is no critical content. Using this kind of visual language puts the work in a sort of commercial space, the industrial kind of mass communication space, rather than a reference to the history of painting. It does not put the work visually in dialogue with European academic painting tradition. I'm instead using the style of the fifties, or the forties, the heyday of American commercialism. When those signs were hand painted. It has to do with Pop Art, with American advertising signage, with circus. All typical American institutions.  So that's why I choose to paint them in this way. It's in a non-precious handling.
Three Bend Deep, 2019, courtesy Petzel Gallery
Rob
In your drawings it looks as if you are freer, as if you experiment more.
Derek
That's true. The drawing has always been a space where I feel less referent. I come from studying painting. Before you approach the canvas, there is certain knowledge, conical knowledge, an art historical knowledge. I have a certain reference for that tradition.
Rob
That feels like a burden?
Derek
It is a burden.
Rob
Do you want to compete with that?
Derek
Yes I do. The reason why I made the departure from the kind of work I was doing before is because I do want to create work that matters. I do want to create work that is genuinely original. I am looking for the dialogue with the tradition. Making these academic paintings felt like being a good chamber musician. The music is written and I play it well, but fifty other guys can play it well. I want to make my own song. Kerry James Marshall said once that you are not making work for today; you're making work that has to still function in twenty years. That's a big way to think about the responsibility of what you are making. That takes the market out of it; that takes like trends out of it. With the work that I'm making now, I'm trying to tap into something that I think is been excluded from these very kind of puritanical notions of Americanism and Americana. I think there are some embedded disparities that are also very American, that remain marginalized from that space of Americana. I'm suborning the notion of Americana, and also using it to broaden that space.
Rob
You also make sculptures. Why?
Derek
I have fun making sculptures. They are probably the purest expression of my imagination. As I said, there is an intimidation factor to making a painting for me. In working with other media it does not play a role. I can make drawings with my toes. With sculptures I feel like a kid. I can make my own toys.
Rob
Can you say something about the balance between form and content in your work?
Derek
People come to my work and think that it's overly simple. I try to make things that are in a way easy to discount, because they're pretty, or they are decorative in some respect. I love this idea that even though something is humorous it can also still be serious. I'm trying to play with those things.
Rob
You made documentary films. You don't do that anymore?
Derek
I could make a film tomorrow, but it is a more elaborate, more expensive undertaking. What I learn through filmmaking was what I was good at. I don't know how to hold a camera, I can't talk about lenses, shots etc. I'm not really a writer; I can edit a script, not more. My position wasn't the director, but I was more a producer. In my studio, I function very similarly. I like to collaborate at different points; I can make my own things, I can imagine, I imagine all of these things, this is just my imagination realized. That's where my mojo is. It's not really how well I can make a drawing, because, as you said they are very modestly executed.
Rob
Do you have favorite colleagues?
Derek
One of my favorites is Wayne Thiebaud, the American painter of colorful commonplace objects. And all the Pop Artists. That was a golden era for me. Their work I was attracted to visually.
Rob
The influence of your mother…………. She made you All-American.
Derek
I think there is a certain entitlement that I aspire to as an African-American artist. I think there is a tendency to expect a certain kind of racial, political content from artists of color. I think that's the space that's been carved out that's doable, but if I wanted to just paint hotdogs and popcorn, or make balloon-dogs, can I also do that and be successful?
Rob
Of course you can.
Derek
Pop Artists were largely white males. They represented a certain social totally totem structure where the white male is the highest and he can do whatever he wants. Invoking the language of pop art being who I am does ask some of those same questions. It's when I insert a black woman as a cheerleader. I have another painting that I made of popcorn. It's like, can I be as America, also doing this in the shadow of the Obama Whitehouse. I'm very interested in what happens when black women occupy the position of the first lady. People say, well she ugly, she's this, she doesn't fit. And she doesn't fit psychologically with our notions of Americana.
This is a very seductive platform in which to engage these ideas. And that's what I'm interested in.
When I leave the building, the black security guys give me 'a-have-a-good-one' and smile. I cannot be a danger anymore?
Brief bio: Rob Perrée is art historian, indepent writer and curator. He is the founder and editor in chief of Africanah.org. He lives and works in Amsterdam and Brooklyn