My work used to focus on migration. However, it was a way to depict the human condition. Thus, it is not all about migration but more about the human condition. For me, the human condition gathers the inequalities existing between individuals. This notion also includes the way they consider each other. For a year now, my work has been exploring the topic of raw materials to depict this human condition
Cameroonian artist Jean David Nkot shares his creative process with Mukanzi Cynthia
www.jeuxenjeux.com, 2020, Courtesy Afikaris Gallery
Jean David Nkot and the Human Condition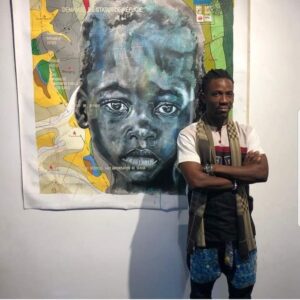 The artist. Courtesy the artist
I reached out to the prolific Cameroonian artist, Jean David Nkot, who's currently showing new body of work at Afikaris Gallery in Paris, France, for a chat and he graciously let me into his creative world and process. I first encountered Jean's art in June 2019 at an exhibition in Nairobi. I was drawn in instantly. The poignancy exuded in the narrative told by the art is too powerful to miss. Not in a sense that solicits pity, at least not to me, but in a way that deeply informs on the plight, fight and resilience of the real people at the core of the story of cross-Africa migration, which he so accurately depicts against a canvas of intricate cartographic layout. In a way that moves something within. The Institute of Fine Arts Foumban alumnus humanizes, gives voice and life to these people whose lives have been forcefully uprooted and scattered. Since then, I have religiously pored over his expansive and important work that speaks to matters in the continent. Jean wields the brush to translate what resides in his heart, eyes and mind; and without a doubt, you can tell he creates with the African people at the center of the story.
Jean, please take us down memory lane to when your artistry debuted and the shift you experienced between then and now?
In the beginning, I never thought I would become an artist. I was a handyman. And art wasn't something I imagined doing in my life. But growing up, art started to become more and more important to me, as tool of expressing my frustrations about what I observed in society. In 2006, when I joined the Mbalmayo Artistic Formation Institute, art became a vocation. In my beginnings, I was focusing on the sorrow of my characters. Now, I emphasize their struggle, rather than their pain.
And what would you say you have come to understand by zooming in on the struggles of your artistic subjects rather than their pain?
I learned to go beyond appearances, to try to understand why things are like they are. That's why, rather than highlighting the pain of the people I depict, I want to explain what they go through and how they fight against the territory. To that extent, external data adorn the composition. It is a way to support their story and explain this struggle. If I now focus most of all on the resilience of my characters, it is above all a message of hope, an invitation to go beyond despite our differences, to be inspired by other stories and life trajectories. The purpose is to inspire and congratulate the resilience and fight of the bodies.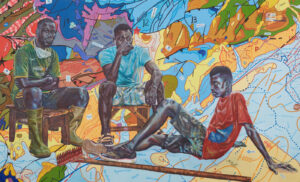 Between Business and Humsanism, 2020, Courtesy Jack Bell, London
What painting techniques and medium do you apply in your work?
I am mainly a painter using acrylic and posca on canvas. However, I often explore new creative paths. To that extend, you can sometimes spot collage or silkscreen printing in my work. If painting is my mere way of expression, I also do installations and sculptures. Whatever the technique I'm using, they all echo and complete each other. They propose a new reading of the topic I explore.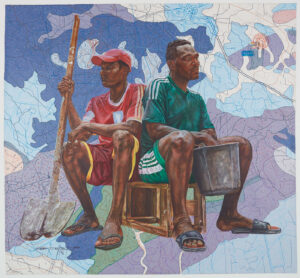 creuseur mine bisie, 2021, Courtesy Jack Bell, London
Speaking of topics that you explore; a lot of your work draws in on themes around trans-Africa migration and the implications of forced displacements in the continent. Are there more subject explorations laid out in your work?
My work used to focus on migration. However, it was a way to depict the human condition. Thus, it is not all about migration but more about the human condition. For me, the human condition gathers the inequalities existing between individuals. This notion also includes the way they consider each other. For a year now, my work has been exploring the topic of raw materials to depict this human condition. I show the global scope of a situation that is nonetheless localized: the extraction of minerals in the Democratic Republic of Congo and Rwanda, by highlighting all the actors involved. I question where the raw materials extracted in Africa go and who benefits from them. In a way, through my artworks, I regret the exploitation of the soil by human beings, whilst underlining the strength of those who fight every day for a better life in an adverse environment.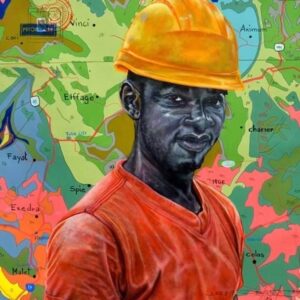 Courtesy Jean David Nkot
Why is it important for you to document these cross-border movements which are mostly fueled by violence and suffering?
Documenting these cross-border movements is a way to depict the human condition. I am particularly interested in studying the relation between the body and the territory during this displacement. My work about migration is political and openly calls for justice. I denounce the borders and the marginalization of the poor. I point out this desire to separate the world at all costs and to block the way to those tarnishing a political ideal. Thus, I need to document the story of these people who are more considered "undesirables" than human beings. I aim to restore their humanity and to pay tribute to their courage and fight.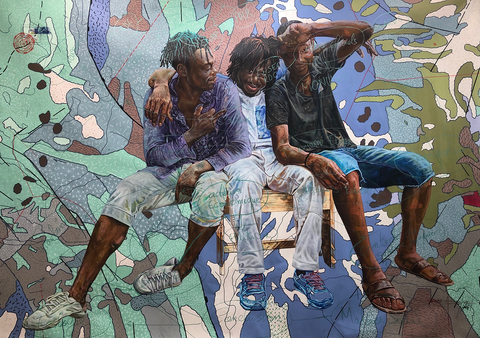 Po.Box, The hope of the soul, 2021, Courtesy Afikaris Gallery
That's powerful. And in paying homage to these people's struggle and fortitude through this form of art, do you think it forces the world to care more about their tribulations?
I want to shake consciences and make people question what is happening in the world. I want to open their eyes to the issues and situations of despair they tend to ignore. My art sheds light on people that history will never talk about. It precisely aims to give room to these people who are part of history but remain in the shade. I want to show the combat of these people who are fighting for a better life. More than just representing people suffering, I try to represent their attitude and their dignity. I want to show that even if every day is hard, it is worth being alive. Art offers us the possibility and the means, both ideologically and aesthetically, to say things that speak to everyone. It is at this specific moment that my artistic practice takes place. I use these tools to draw attention to this time of change. As an artist, I would like to immortalize changes. Hence, no one is ignorant of what has taken place during the period in question.
In wielding your art as a medium to interrogate humanity's actions and awaken consciousness, would you conclusively say it is serving the purpose you envisioned when you look at the response your work elicits?
It is difficult to answer yes or no, but I know that my work does not go unnoticed and does not leave anyone indifferent in some way. I give my best to each painting I make. I put all my emotions and life into it. Thus, to answer this question with exactitude is not possible for me because it all depends on the viewers. It all depends on what they perceive or experience in terms of emotion. I dare to hope that my paintings will lead them to see the world differently and question themselves. My work will not necessarily change this world. However, if it manages to cast the doubt, to open the debate, and to question the way we see others and the relationships binding us, I think it would be a good start.
Your recent topic of pursuit has been mining in the continent and where extracted minerals from Africa are channeled. In that line, what more are you currently working on?
I'm extending my research about raw materials to the agriculture industry. I'm particularly interested in the relations between production in Africa and exportation. I observe that most of our harvests are destined for exportation, and I want to question it. I want to highlight how African countries are being deprived of their natural resources.
Would we be mistaken for looking at you as an activist seeking social change through art?
I would not go as far as saying that I'm an activist. What I do know is that before being an artist, I am a human being who lives in a society, in a space, in a changing world. Thus, transformation is a subject that speaks to me and concerns me. I want things to change and I need to talk about it to make these problems visible and to create spaces for dialogue, to discuss them.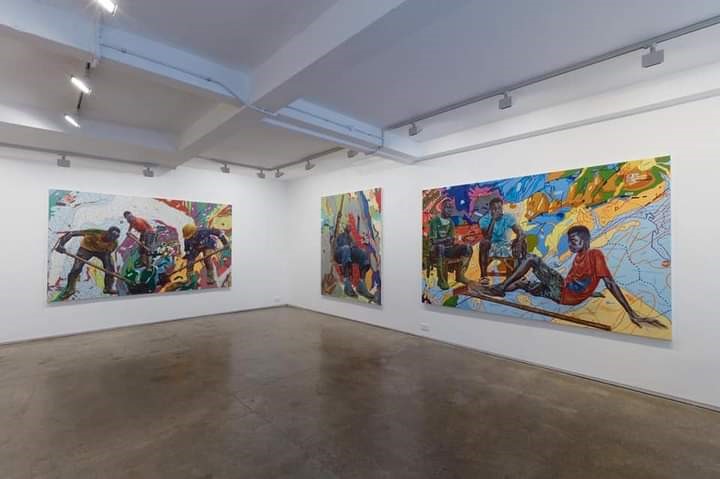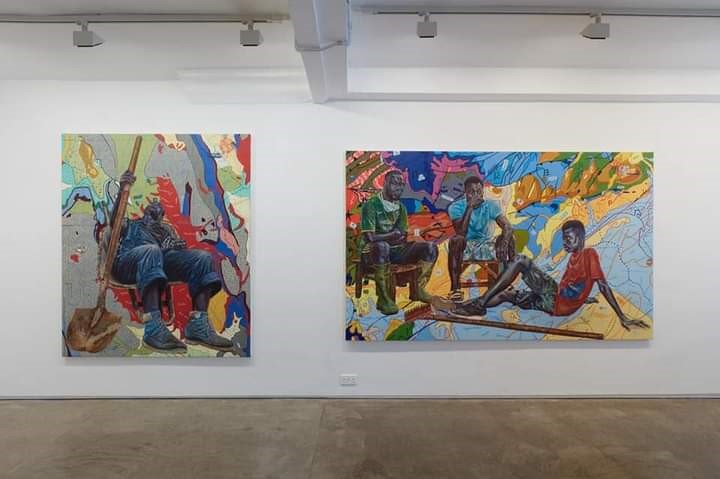 Installation views, 2021, Afikaris Gallery
Is the ongoing exhibition of your art, at Afikaris in Paris, part of your current work that's looking at production in Africa and exportation of raw materials?
My ongoing solo exhibition at AFIKARIS, titled Human@Condition, delves more specifically into the theme of mining. I point out the consequences that ores extraction has on the local territories in terms of ecological and human impact.
Please elaborate further on the specifics of this current body of work.
My solo show Human@Condition, bears witness to the evolution of my work from a technical point of
view as well regarding the topic which I address. While I previously used to first draw my characters and
then apply around them the pattern of the map, I now paint the portraits directly on top of the
cartography. The transparency created leaves more room to focus on the main message. On the other
hand, in the works on display, I free my portraits from the weight of their history and emphasize their
struggle, rather than their pain. The very notion of resilience runs through this new body of work. I study
how the bodies manage to be integrated within a space that is not favorable to them. I'm interested in
the moments of joy and capture the smiles behind the suffering. I call for neither pity nor compassion
and praise the abnegation and strength of the anonymous people I paint.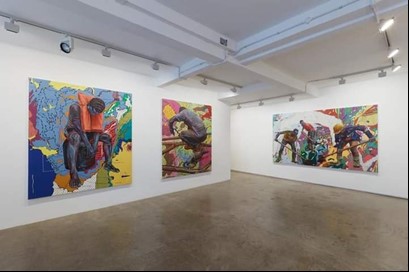 Installation view, 2021, Afikaris Gallery, Courtesy Jean David Nkot
Which artists do you admire and what is it about them or their work draws you
to them?
Hervé Youmbi and Jean Jacques Kanté are sources of inspiration for me in terms of aesthetics, color,
and composition. Concerning the manner in which I treat my subject and the violence of the body, I'm
inspired by Francis Bacon, Philippe Pasqua, Jenny Saville, and Marlene Dumas.
Will you exhibit your work in Kenya again in the near future?
I don't have any exhibition planned in Kenya yet. But I am open to any opportunity to show my work there.
And lastly, in a continent where there's inadequate appreciation for art, would you say that your work
has gotten to point where it sustains you financially?
My art is my only financial resource. It allows me to live correctly, and I feel blessed for that. This is
mainly possible thanks to the work of my galleries located in Paris and London. Indeed, the main
collectors of my work are not based on the African continent. However, I feel that something is changing
and I was happy to see the rising interest in my work of African collectors during my last solo show at
Espace doual'art in Douala.
Jean David Nkot (b. 1985) is a contemporary artist who lives and works Douala, Cameroon. In 2010, he got a painting A-level at the Institute of Artistic Training of Mbalmayo (IFA) before joining the Institute of Fine Arts Foumban, where he obtained a degree in drawing/painting. In 2017 he joined the Post Master Moving Frontiers organized by the National School of Arts of Paris-Cergy (France) on the theme of borders. Throughout his training in the fine arts of Foumban, he received several artistic distinctions (Best sculptor, installer and painter). Conscious of what his elders can bring him he is frequently in the workshops of Hervé Youmbi, Salifou Lindou, Jean Jacques Kanté, Pascal Kenfack, Ruth Belinga.
A painter of the human condition, bodies and territories structure his artistic approach. His artworks question and shake consciences by exploring and exposing faces submerged by inscriptions. The recurring pattern of cartography questions the fight of bodies on territories. Far from drawing the attention of the viewer on the identity of his characters, Jean David highlights the expression of the turmoil inhabiting them in the manner of Zhang Dali, Francis Bacon and Jenny Saville.
Bio: https://afikaris.com/collections/jean-david-nkot
Mukanzi Cynthia
Mukanzi Cynthia is a Nairobi-based independent journalist, multi-genre feature writer and art enthusiast. While her versatility in writing has seen her enjoy covering various topics ranging from art, culture, entertainment, health, travel, home and living to innovation and more, she is keen on reporting on cutting-edge issues surrounding human rights, inequality, gender, sexuality, race, class, power structures in Africa and its connection to the rest of the world.