KWESI BOTCHWAY
About his work:
What immediately fascinated me about Kwesi Botchway's work was its enormous power of seduction. Whether I like it or not, I am drawn to his portraits. Probably the colors are primarily to blame, but there is more that makes me curious. In fact, I do what the artist invites me to do: I invest in his work so that I can fully appreciate it.
The metallic colors Botchway is experimenting in this new body of works are not a superficial representation of reality. His colours have (symbolic) content, they are actors in a personal story. They talk about identity, pride, dignity, and beauty. They also talk about power, about the African origins of the people, and the natural resources of their motherland. As well as talking about the position of women in society, about Blackness, and about the underlying motives of an artist who is proud of his origins. He wants to paint a positive image. He wants people to see the importance of putting details into perspective. He is very passionate about his self-imposed task.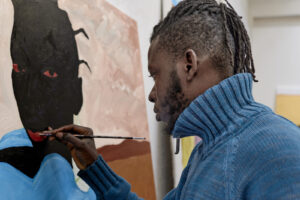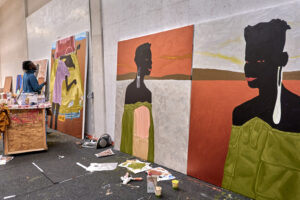 At The Warehouse residency
Botchway also knows that the genre he uses, the portrait, has a long but mainly Western tradition. He wants to add a chapter to this by interweaving his African origins, especially made visible by his use of color, with an impressionist painting style that refers to artists such as Vincent van Gogh. He likes to describe his style as Afro-Impressionism. His portraits clearly reflects that style. He uses a subtler, more idiosyncratic way of depicting the faces. On closer inspection one can see a type of grid pattern placed in purple over what appeared to be rendered in monochrome black-purple. A grid of characters, linguistic characters?
Kwesi Botchway is a young artist from Ghana, born and raised in Accra. As a child he was already busy with painting, stimulated by his mother. He studied at the Ghanatta College of Arts and Design and then continued his studies at the Frankfurt art academy. He is currently doing an artist-in-residence program in Brussels. Upon completing the program, he will return to his new studio in Ghana.
Kwesi Botchway is represented by Maruani Mercier, Brussels
Botchway is also the first artist to enjoy a residency at The Warehouse, where he is currently working on his first solo exhibition with the gallery scheduled for early 2022.