Margaret Ngigi
Nairobi, Kenya
About:
Margaret Njeri Ngigi, 24, also known as 'Sherie's Secrets', is a fine artist, photographer and filmmaker. "I've been an artist at heart all my life," says Margaret, "As a child, I was glued to a TV set during the Art Attack show and any art I made I proudly displayed in the house for everyone to see!
In school my friends came to me for help with drawings, diagrams or calligraphy and I always participated in all music and drama festivals. After school, I joined the Tijan International Schools of Art and Design and a theatre group Ufalme Africa in Mombasa, and then studied Fine Art at Kenyatta University. During the first year there, I was taken by students' "photoshoot craze" when we would hire cheap photographers to do our group photographs. I joined the Davasha Photography Academy and I discovered the whole new world that I never thought existed. Influenced by the great Kenyan photographers Osborne Macharia and Thandiwe Muriu I fell in love with portraiture. And my initial fascination with beauty eventually turned into the deep need to address the pressing issues of society that directly involved me. It was exciting. I felt empowered."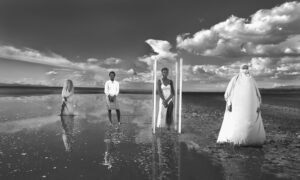 Murky Waters V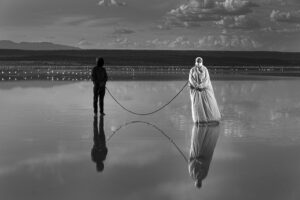 Murky Waters VI
Drawing on her life both internal and external, people who surround her, and the community she lives in, Margaret's experiences of growing up as a woman, the positions of women in society and feminism have been the key interests in her latest projects. A passionate storyteller, Margaret's speaks of her recent work:
Caged series is a reflection of the limitations we put on ourselves and then do the bare minimum to remove them. It tackles the 'mental slavery'. As Bob Marley wrote in his Redemption Song: "Emancipate yourself from mental slavery. None but ourselves can free our minds."
'Wrapped Up in My Head' series was inspired by many people that I see around me who suffer from mental health problems such as depression. They feel trapped on the inside even if they seem okay on the outside. I wrapped up my models' heads in bandages to express how suffocated they feel and placed 'crowns' on top of their heads to show how they seem on the outside.
'Murky Waters' series is about what being a woman in my society feels like. The painful reality of violence and sexual harassment, of girls being coerced to prioritise starting families at an early age over education, and of religion being employed against women. I used images of women from different background because we all are affected by the same issues.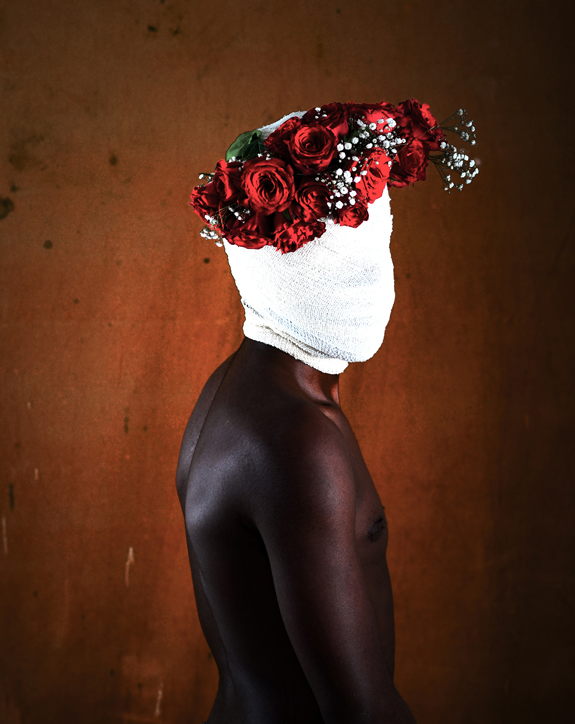 Making photography, Ngigi discovered filmmaking. "I have an eye for set design and how pictures look on screen."
Margaret is now doing her Masters degree in film production at the US University of Africa. "My parents have always been very supportive of my creative journey throughout. My father, who owns a hardware shop in Muranga, Central Kenya, bought me my first photocamera, even though he did not fully understand why I want to venture into photography and film which he thought are not serious career paths. My mother has been my greatest fan and supporter. She always believed that my creativity will take me far. I have now exhibited my work around the country and got nominated for the Best Set Designer in the 2019 Kalasha Film Awards and was one of the winners of the renowned pan-African creativity competition for young people MASK Prize in 2019."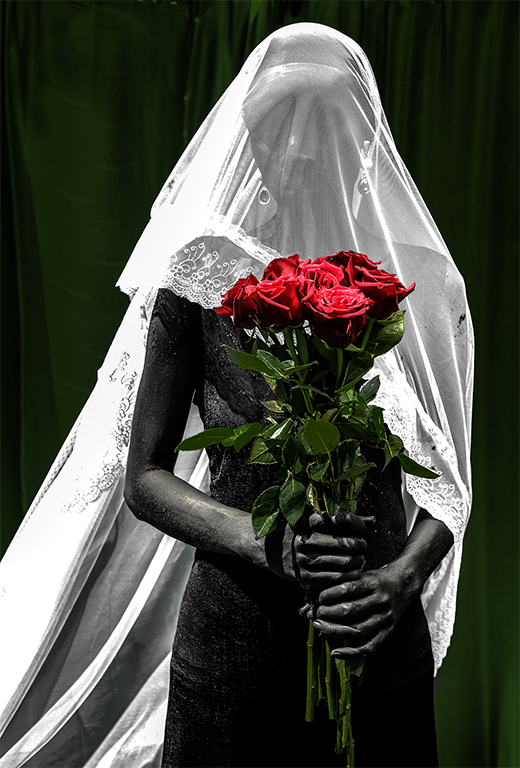 Copyright: the photographer