Pasko
About;
Pasko, Pierre Pascal Merisier, was born in Petion-Ville in 1974. He has studied art in Haiti most notably with the artist Tiga and was awarded a scholarship by the French government to study engraving.
He now lives in France. He has exhibited his work in France, Haiti, the US, Canada, Norway, the Dominican Republic, and Cuba.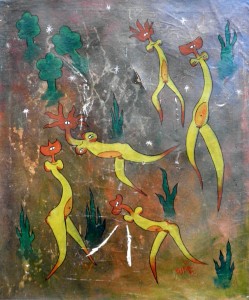 According to Pasko, through his paintings he would like to "Re-establish harmony between man and nature" (Les Ateliers Jerome.) It's an old ambition that we can see in for example Fragonard's paintings and in the work of many other artists around the world.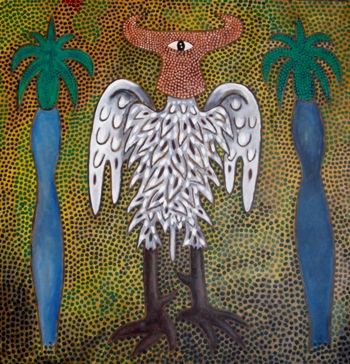 In order to do so, Pasko draws and paints oddly shaped beasts / humans, as the subjects of his paintings, some with one arm, some with one leg, some with wings, that we assume are propositions of human sentiment while in nature. Haiti is a very deforested country and we can safely assume that Pasko is also proposing that this is how certain humans feel while living in singular nature. We can also add the fact that many Haitians with faith in Voodoo have a met tet, or a spirit that they've been chosen by who they serve; the portrait of that person is also the portrait of the spirit. Some of his humans / beasts do not have heads, eyes, or have one eye. Some have moon shaped heads. Some have one arm and one wing, others have two wings and no arms. None are uniform. His subjects vary and make up one project: translating Haitian-ity into painting or drawing.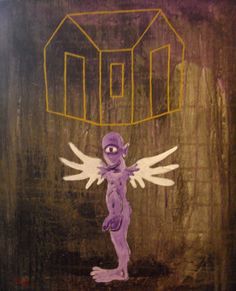 "My shapes, in both my drawings and my paintings, are primarily pulled from the little drawings of the painter from Cap-Haitien, Haiti, Jacques Richard Chery. I've removed the fruit baskets from their heads, and I've used the fruit shapes to paint their heads and create hybrid shapes" (Les Ateliers Jerome.) That he deforms his subjects to re-establish harmony between man and nature is philosophical and poetic. Pasko was mentored by the poet Gary Augustin, one of Haiti's best poets of the 1990's.
Tiga
Corps d'argile
nés de la paume
nos visages dessinés
aux couleurs du songe
inventent l'arabesque
formes de terre
traversées du regard
la lumière est une parole habitée
par l'étoile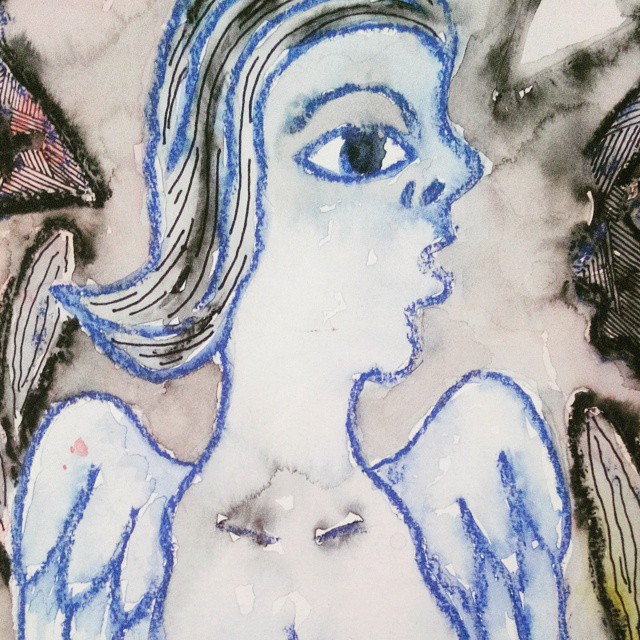 Gary Augustin wrote this poem about one of Pasko's teachers Tiga (Jean Claude Garoute,) a great figure in Haitian painting. As you can see by the line "nos visages desssines / aux couleurs du songe," or "our faces drawn / in the colors of a dream," Augustin poetry is very philosophical and Pasko's paintings and drawing could be explored in the same light as Augustin's poem.
Text: Adolf Alzuphar