We were having problems with art galleries, which were making it hard for artists to showcase their work. People who have been in the art industry longer were controlling the space in a way that locked artists out saying that you had to be in the industry for a certain number of years for you to showcase; because they had it tough coming up the ladder in their days and so they wanted younger artists to taste that struggle. That's absurd.
Artist Steve Karinge in conversation with Mukanzi Musanga.
Depiction of Kenyan Hollywood star Lupita Nyongo in the Marvel film Wakanda, 2017
Steve Karinge
Kenyan visual artist Steve Karinge talks about his journey in the craft and his vision in the art space
Steve Karinge descended on the Nairobi art scene with a buzz in 2016. His name was made rounds on social media as people marveled at his work, Faces of Kenya, which was his first ever project. He was the new artist in town and he used this fame to build his career and work alongside other artists to make a better space for them to grow and reach the world with their work. Steve is currently working on his sophomore installation that will coincide with the Black History month, which he says is perfect because he will be paying homage to some of Kenya's greatest changemakers.
When did you realize you wanted to make art?
My art is inborn talent. I was making art in my school books the moment I stepped into a classroom when I was about 2.5 or 3 years. I scribbled around in my books, drawing cartoons. Cartoons had a big influence on my creatively when I was a child. My parents never had an issue with me doing that to my school books (chuckles). My dad was also an artist before he took on a white-collar job. They didn't have real art careers back in their day because people never took it seriously. I think he saw the artist in me and was okay with it.
Kenyan lawmaker Ledama Olekina, 2021
It's like the talent was reincarnated in you and you took it a step further than he could back then. Right?
Absolutely. My dad is a great artist. You would be amazed if you saw what he used to create. He was very good at it and artistic about everything. He knew this was the path I would take and he never had a problem with me expressing myself artistically.
He never at any point discouraged you from pursuing it based on his experiences like some parents would?
No. He never did. He respected my journey. After formal education, specifically college, I enrolled in the national youth service which is a paramilitary programme. I did military training for a year or so and did more courses there. I did telecommunication engineering. Soon after, I decided to pursue art as a career. Coming from the military training, I was so used to rules and you know creative people are not good with rules. I was running away from that. I remembered how I always used to make art in school and people would be so amazed and I wanted to get back to it on another level. I wanted everybody in the world to see my work.
So, at this point, you knew the kind of art you wanted to make as you sought a career in it?
I knew I was a visual artist and I wanted to start things off with portraiture. I started focusing on art in 2016. I realized I didn't want an 8-5 job of sitting on a desk and working for somebody because I'm a creative and wanted to do something that I could express myself in. I was also learning photography and filmmaking through YouTube. I had a lot of knowledge on cameras and editing software. I was doing photography, videography and filmmaking and now visual art. They complemented each other. At the end of the day, I was also trying to make some money while doing what I love. So, yeah, I wanted to do portraiture which a lot of people don't do given that it's a difficult part of art. My debut project was called Faces of Kenya.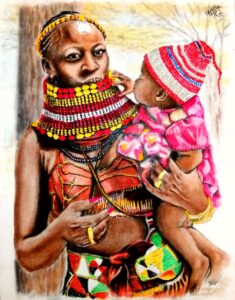 Musician Akothee in traditional Turkana attire, 2019
Faces of Kenya did thrust you in the limelight and created quite a buzz. Besides it being your first, what was the significance of this project?
I had never done anything of this kind before. I was looking for something that majority of the people could relate to. I wanted to portray people that the public look up to; public figures that mean something to them. I was also looking for a way for people to pay attention to the art and that's why I chose the subjects I painted. I also have a deep interest in particular places of power with people who are visionaries and doing the right thing in terms of where they are placed in society; those that are engines of change. I would meet this people who were celebrities or respected authority figures and take photos of them and turn them into art. I got a lot of great feedback from people who engaged with my work on social media and even gained mainstream media attention. I was pushing really hard to get this work seen by the world. Mainstream and social media propelled me out there and people realized there was an artist doing portraiture and capturing the likeness in a different kind of way.
You told me earlier your upcoming sophomore project is of the same name; will it carry the same theme as your first one or will it be different?
The Real Faces of Kenya will be more different. I call it the Real Faces of Kenya because as much as we appreciate what everybody else has done, we have to look back at history and see where it all started. This one will be about history and how people from the past connect with us in the present. It will be more of a national scale project. For the first time we are having an artist doing a solo exhibition in one of the museums in the country. That artist is me and the work will be showing at the Nairobi Gallery, which is the oldest building in Nairobi and houses various historical figures, art and artefacts. I thought it would be the best place for me to launch something that would mean a lot to the country.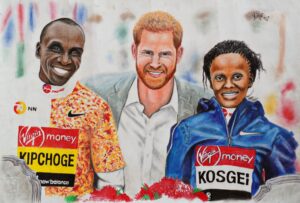 Kenyan Olympic marathon gold medalist Eliud Kipchoge and Brigid Kosgei pause with Prince Harry in London after winning the London Marathon, 2019
So more like paying homage to the builders of the foundation of where we stand today?
Yeah, and also shading light on historical information and knowledge. There are so many people in our generation who don't even have knowledge what transpired in the past and people that achieved some of the important things we enjoy today. It will be an educative process. We don't have a proper culture of passing down knowledge anymore like our ancestors used to. I will look at it more like storytelling in form of an exhibition. It's going to be about our country.
And what are the biggest needs that are detrimental to the success of this show?
Funding is one and an overlooked aspect in the art space especially in this part of the world where we have fewer resources because there is less attention given to art or things of artistic value. People don't understand the weight of art in society and so we don't invest much in it. To purchase material needed to produce this kind of work requires a lot of money. That's why there are a lot of skilled artists who are unable to create. I personally know artists who are so great but are unable to produce art. They can't afford the necessary resources needed to put up a show of their work. We have a lot to express as artists and funding is very instrumental to growing the industry and all forms of art; the whole creative industry requires a lot of resources to thrive.
When will the Real Faces Of Kenya installation be?
In February 18 2022. February worldwide is also black history month so it's going to be covering these aspects of black history month. For us, as a people, it will feature our values, history and culture. A lot of people who will be featured in the project are Kenyans but also, citizens of the world, who are known globally for being exceptional in sports, politics, humanitarianism and more. We are looking to run the exhibition for a week to give more people time to experience it. We'll have some merchandise in relation to the project on sale. So, we hope people will come to support us.
You garnered so much attention with the Faces of Kenya project and as you ride on that wave, is there a way you have secured your work against any form of copyright infringement?
I'm glad you asked this. One of our shortcomings in this industry is lack of proper information and clear guidelines in our systems to protect artists' work. When we talk about it, it becomes a big problem. You know a few years ago, I made an art piece for the famous Brazilian retired professional footballer, Ronaldo de Assis Moreira, popularly known as Ronaldinho, when he came into the country. The firm that hosted him took the portrait promising to hand it to him but they didn't. Such cases make it hard for us to protect our intellectual property. We live in a country where corporates can take advantage of creatives and get away with it. The systems we have don't protect our work and things don't work the way they should. Most people don't follow the law; even the leadership does not.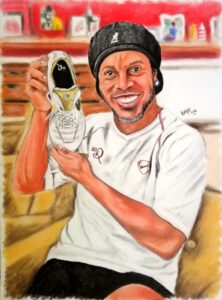 Retired Brazilian footballer Ronaldinho Gaucho, 2018
This is clearly a big problem. And while we know the systems are broken, what are you doing individually to change things in your own way?
We face so many frustrations and this inspired me to found a community-based organization called Vipaji Initiative. This programme has a multitude of artists whom I work with to better things in our own way. Vipaji welcomes all forms of art but we started with visual arts. I wanted to show artists that there's another way out. We were having problems with art galleries, which were making it hard for artists to showcase their work. People who have been in the art industry longer were controlling the space in a way that locked artists out saying that you had to be in the industry for a certain number of years for you to showcase; because they had it tough coming up the ladder in their days and so they wanted younger artists to taste that struggle. That's absurd. They were standardizing this and some of the people enforcing it were not even artists or had no background in art. I wanted to get away from that and show other artists that there are limitless ways that people can appreciate your art, especially with social media. You don't have to wait for people to dictate when your art can be seen. I decided to operate outside of that system. I'm working hard to make sure the initiative properly supports artists.
Mukanzi Musanga is a writer and journakist from Nairobi