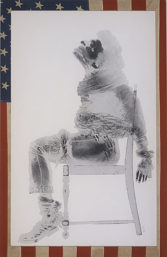 To this end, the one thing all 150 pieces in the exhibition have in common is the unwavering belief that somehow their existence would bring black people out of the cultural, political and social quagmire they were trapped in, and in doing so move them closer to the promise of equality.
Christabel Johanson visited the Soul of a Nation exhibition in Tate Modern in London.
David Hammons, Injustice Case, 1970.