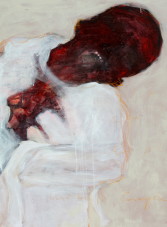 "I begin to understand that perhaps it is not so much that she is against interpretations that deem her drawings sinister or dark, but rather that she hopes a few intuitive spectators will understand that they project their own emotions on to what they see. More than that, she wants me to acknowledge that the agony and the ecstasy can be felt simultaneously and equally, and that life often exists in the grey."
Zihan Kassam on the 'Straightjacket' series of Beatrice Wanjiku.
Lifts beyond conception.